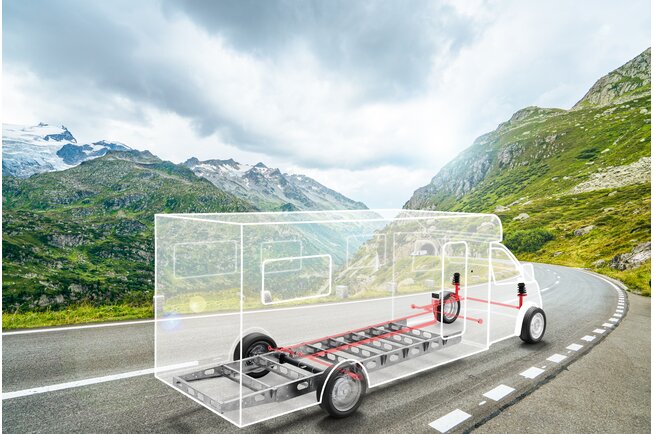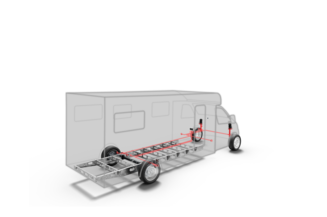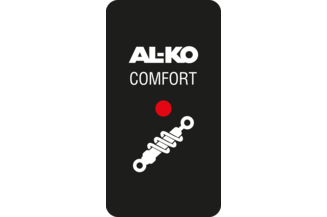 Description
COMFORT DRIVE
The proactive chassis: the new COMFORT DRIVE automatically adapts to the road surface
Wouldn't it be great if there was a chassis that could respond to road conditions? A proactive piece of equipment to support you when driving your motorhome, so you can cruise along winding roads stress-free? A helping hand to keep you comfortable along bumpy lanes and prevent you from being jolted to and fro?
This is now a reality thanks to the new AL-KO COMFORT DRIVE. The ultra-modern, semi-active motorhome chassis automatically reacts to driving manoeuvres such as braking, accelerating and cornering and compensates for uneven terrain with its automated shock absorber setting - for a relaxed journey no matter where you're heading.
What really is a "proactive chassis"?
Better comfort, better safety: your motorhome's chassis should be able to withstand all kinds of knocks, bumps, potholes and uneven terrain and keep your vehicle from pitching or wobbling.
To give you the least bumpy ride possible and keep you comfy as you travel the roads this world has to offer, AL-KO has now developed a semi-active damping system for motorhomes: the brand-new, innovative COMFORT DRIVE. This system intervenes at key moments to reduce, or that is to say, compensate for any uncomfortable motions.
What can COMFORT DRIVE do for your motorhome? The benefits at a glance
The semi-active chassis COMFORT DRIVE makes for a more comfortable, safer ride. And how does it do this exactly?
It compensates for the bumps, vibrations, clattering and the like caused by uneven terrain. The semi-active chassis enables your motorhome to adapt to different driving surfaces and compensates for any unevenness – within the given physical limits. This optimises grip and traction, especially on slippery surfaces.
Fewer vibrations and less accelerating jerk: COMFORT DRIVE can reduce vibrations and accelerating jerk in your motorhome by up to 20 percent.
For a more stable vehicle: the semi-active chassis reduces swaying and tilting by minimising the rolling movement of your motorhome around corners. This makes for better road holding and more safety when driving. The vehicle snakes less often and brakes more smoothly, with a shorter braking distance.
Help with emergency braking: if you need to emergency-brake in a sticky situation, the system's shock absorber function will change to give you a helping hand.
Less noise when driving: fewer vibrations also mean your vehicle produces much less noise too.
Choose your driving mode: the AL-KO COMFORT DRIVE comes with the choice of two driving modes, normal and comfort, so you can adjust the mode to suit the route you're driving.
Adapts to how your vehicle is loaded: how you load your motorhome has a huge impact on weight distribution. The semi-active chassis takes this into account and can adjust damping accordingly so your vehicle stays well-balanced while driving.
How exactly does the COMFORT DRIVE semi-active chassis work?
It calculates the expected vehicle movement and changes the shock absorbers' settings accordingly – automatically and practically in real time. This significantly reduces the movement along the vehicle axle and noticeably minimises knocks and bumps. The COMFORT DRIVE chassis for motorhomes can either be installed in new vehicles at the factory or retrofitted.
It features seven sensors to continuously monitor the vehicle's behaviour, that is to say, the movements between the tyres and vehicle body, and relays this information to the shock absorbers. In turn, the shock absorbers then continually adapt their damping properties to the road conditions in order to ensure an optimum driving experience. What's more, the chassis automatically reacts to how the vehicle is loaded, as well as any sudden side winds, and also features an interface which connects to the motorhome's electronic stability programme (ESP).
Normal mode improves lateral stability and comfort while driving and mainly comes in handy for windy roads which require a lot of steering. Switch on comfort mode, on the other hand, to make driving along longer, straighter roads like motorways much more comfortable, as if you're positively floating along.
What's the difference between the COMFORT DRIVE and an original chassis?
Vehicle manufacturers produce their standard chassis components for the widest possible range of users, especially in the fields of trade, postal delivery and transport, focusing on functionality and flexibility when it comes to loading - and this is exactly where the differences lie.
Whilst delivery vehicles, for example, have very different loads depending on the job and mostly travel short distances with frequent stops, motorhomes are real long-distance explorers. Packed with an almost full load, they can cover several hundreds or thousands of kilometres on each trip, at a relatively continuous pace and with few brief stops along the route. So drivers and passengers can really enjoy their holiday, the ride should be as comfortable, quiet and relaxing as possible.
This is why ALKO has designed the COMFORT DRIVE to meet the exact needs of motorhome owners: thanks to the sophisticated technology, the chassis can always tell how much suspension and damping it needs to use for the current road conditions, for consistent levels of safety and comfort on the move.
How is it different to an active chassis?
Active and semi-active chassis differ in the way they register road surfaces and driving situations and consequently adapt and regulate their properties.
Active chassis can detect uneven terrain and different driving situations before they are even encountered and change the settings in advance. These systems use information obtained through various pieces of equipment inside the vehicle, such as cameras, radar or lidar, and communicate with each other via internal electronic interfaces.
Semi-active chassis, on the other hand, work by registering how the chassis and body components are moving and accelerating and by continuously monitoring these components using built-in sensors. This kind of chassis then adapts the settings of its components based on the movements detected as part of an electronic management system.
Where is the COMFORT DRIVE installed in the vehicle?
The COMFORT DRIVE is installed on the chassis, or the shock absorbers to be more precise. The sensors used to measure vehicle movement are attached to the vehicle body as well as to the bicycle carriers. Springs and absorbers are also installed at the front and rear axles and the control unit is placed under the driver's seat. The semi-active chassis system is integrated into the existing suspension and works together with the shock absorbers to adjust the vehicle's damping settings.
If the AL-KO COMFORT DRIVE is fitted, all shock absorbers on the vehicle (left and right at the rear axle/rear wheels and front suspension struts) are replaced with regulated shock absorbers. In addition, sensors are installed on all wheels and the chassis too. The control unit in charge of the communication between the regulated shock absorbers and sensors is located in the driver's seat box. The system can be switched from normal to comfort mode using a button built into the dashboard for long journeys on the motorway, for example.
What types of motorhome is the AL-KO COMFORT DRIVE suitable for?
At present, the semi-active chassis by AL-KO is suitable for motorhomes with the Mercedes-Benz Sprinter as the base vehicle in combination with the AL-KO AMC chassis.
Is it possible to retrofit the AL-KO COMFORT DRIVE?
Yes, COMFORT DRIVE can be retrofitted for two-axle vehicles based on Mercedes-Benz Sprinter with AMC chassis. The PSM module or the pre-fitting of the PSM module by Mercedes-Benz is absolutely necessary for this. Installation can be carried out by any AL-KO customer centre or a certified wholesaler.