AL-KO's tips for female campers travelling solo
Tips for relaxed, independent travel for solo female campers. With technical aids that provide significantly more comfort and lessen the physical burdens of travelling.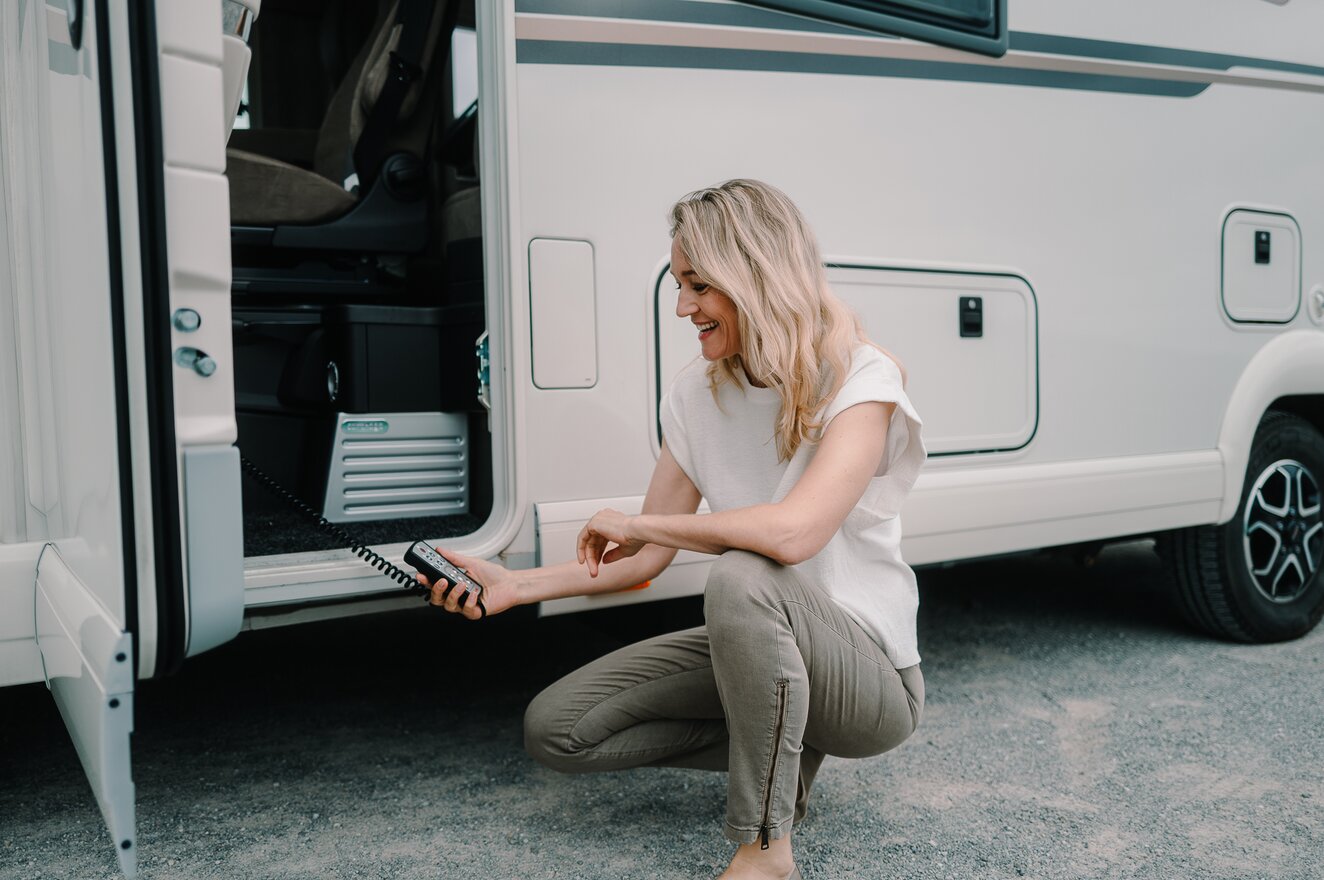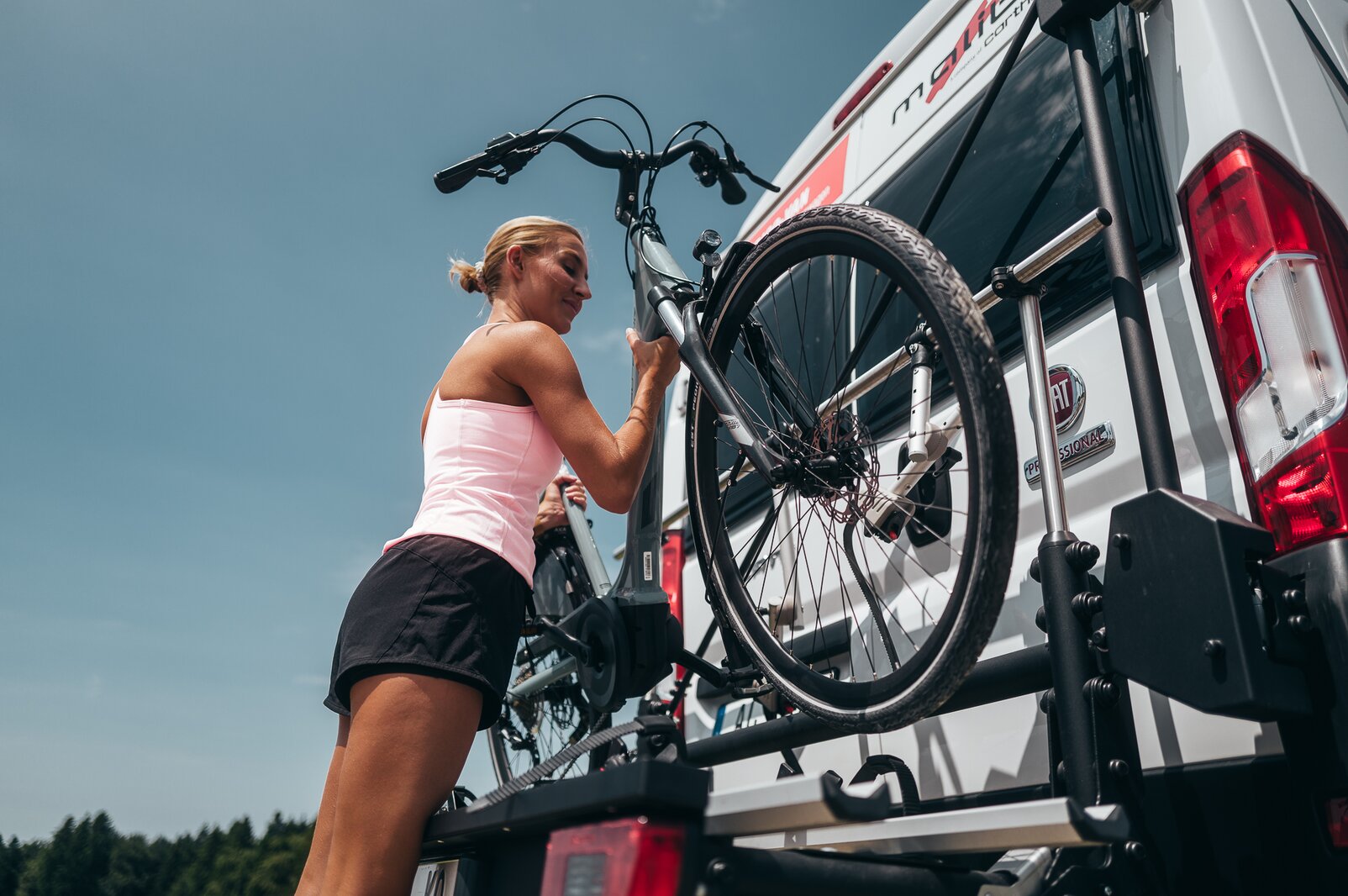 Nobody's Fool
Safe and comfortable on the move
Travelling on your own has many advantages: time for yourself, no one asking to renegotiate the day or route, and you are free to strike up new friendships with other travellers. Are there differences between men and women when it comes to travelling alone? Even though perhaps there shouldn't be any – yes, there are. You may have already noticed this in the reactions women get when they tell friends and family about their plans for a solo camping trip. However, it is not just about staying safe; it is above all about knowing the right technical aids to give you significantly more comfort and ease the physical effort of travelling. This blog post presents our top tips on how to travel in a campervan independently and with zero stress.
Make sure you know the essentials before you go
Where is the fuse box? How does the power circuit work? What is the minimum fuse rating I'll need at the campsite? What do I need to consider in terms of the water system? These and other questions come up sooner or later when you are travelling in a van, motorhome or caravan.
Depending on how familiar you are with the technology, minor hurdles can be quickly identified and resolved. A solid knowledge base helps in any case – including to help you research the problem more efficiently on the internet or to explain the problem more clearly. That's why we recommend familiarising yourself with the basic functions and technology in your campervan, without necessarily going into every detail. We also highly recommend bringing a well-stocked toolbox with you, because some small repair or other is almost always needed on the road.
Technical aids for more comfort
From simple tricks to sophisticated technology, there is a range of convenient solutions on the market that can make life on the road more manageable (not only) for solo travellers.
Fully automatic support systems
Every camper has been there: you park the caravan, kneel down and start cranking the supports. For more comfort when travelling, we recommend an automatic support system, such as the electronic UP4 or the hydraulic LevelC for caravans. With these systems, four (UP4) or six (LevelC) supports can be extended at the touch of a button to level out the caravan. Anti-theft protection comes already integrated in the UP4 system by means of a special spindle end with a special adapter.
But supports are not only of interest to caravan owners; these systems can also offer more comfort and a secure stand for motorhomes. Mechanical steady legs have to be cranked manually; hydraulic support systems, on the other hand, work almost by themselves, so you don't have to use any force or effort to bring your motorhome into a secure, straight stance.
We at AL-KO offer the fully automatic HY4 levelling system for exactly this purpose: it supports the van or motorhome and compensates for any unevenness or sloping ground. The four hydraulic units are operated by an electronic control system. The cylinders move at the push of a button until they touch the ground and lift the van over the axles into a horizontal position. The levelling is accurate to the millimetre and completed within a few minutes. If you are travelling alone in a relatively smaller van, two supports may even be sufficient – the HY2 system would be suitable for this. Another alternative is the E&P Level M system, also consisting of four supports.
Anti-snaking system for caravans and trailers
Especially when driving on narrow roads or winding passes, it is reassuring to feel safe in the knowledge that you can trust in your vehicle's technology. An anti-snaking system such as the ATC (AL-KO Trailer Control) can support you here: this electromechanical component is attached to the axle and connected to the wheel brakes. The installed sensor technology detects potentially dangerous situations, such as those caused by evasive manoeuvres or gusts of wind and counteracts these at an early stage to stabilise the vehicle combination.
The ATC constantly controls your caravan's driving response and movements during the entire journey. The ATC is comparable to the ESP (Electronic Stability Program) found in cars, but it intervenes much earlier – namely at the first sign of slight swaying.
Manoeuvring system for caravans (Mover)
Whenever you are travelling with a caravan, a challenging parking situation is sure to crop up from time to time. To save you from being totally dependent on the help and support of friendly camping neighbours, we recommend installing a manoeuvring system such as the AL-KO MAMMUT manoeuvring system.
Thanks to these small motors, which are attached to the wheels, you can effortlessly park and manoeuvre the caravan with millimetre precision using just a remote control, and easily overcome obstacles of up to 4 centimetres or gradients of up to 28 percent – an invaluable tool for solo travellers as well as for people with age-related or physical limitations.
Carrier systems for motorhomes
For motorhomes, you have the choice between loading your bike on a rear carrier or in the rear garage, if the latter is designed for this. Frame-mounted rear carriers have a lower centre of gravity and therefore offer significant advantages in terms of stability, load capacity and safety compared to carriers mounted directly on the motorhome's rear wall, as well as having a lower loading height – so they are ideally suited for women travelling on their own. The VELO III or the MIKRO II are our smallest products for transporting scooters.
If your motorhome's rear garage is large enough to fit bicycles and/or motorbikes in it, we offer carrier systems designed with a pull-in for comfortable loading. Another advantage: this better protects your bike from all weathers and potential theft. If you are travelling in a caravan, you have the option of either placing your bicycle on a suitable drawbar carrier or on a bicycle carrier for the car (roof rack, tailgate carrier, towbar). There are also various solutions for this on the market.
For panel vans or vans, pivoting models are recommended to ensure you have free access to the rear doors at all times. If you are travelling alone, a smaller model for up to two bikes or a scooter will probably suffice, for example the AGITO-VAN or AGITO-TOP, and the new TRIGO-VAN also offers comfortable handling. Our AGITO 120 / 150 or the KAWA II from the AL-KO product range are ideal for when you want to take a scooter along. How comfortable the carrier is to load depends on its mounting height; otherwise, a carrier that can be folded out to ground level may be worth considering.
Seats from Aguti offer space and a full range of flexible configurations for female passengers. Regardless of your size and seating preference, long journeys will pass quickly and in comfort thanks to a variety of independent adjustments. The seat, including the headrest, slides out, and each can independently be moved forward, while the backrest also reclines to a relaxing angle to ensure a comfortable solution for every traveller.
App controls for more comfort on the road
The apps from AL-KO make motorhomes smart. They can be operated intuitively and do not require any specialist knowledge – for more safety and comfort on the road.
For motorhome owners, a 'smart home' means they can check the fill level of their gas bottle, water tank or batteries via an app, that fixtures such as the auxiliary heating or air conditioning system can be switched on remotely, or that the steady legs can be extended and retracted. In short, they can control as many vehicle components as possible in one app – and that's just what ONDA can do.
Wireless control is possible, whether via Bluetooth, WiFi or voice command. The vehicle can also connect to the online cloud, naturally in compliance with EU data protection regulations.
App: Remote Control BDS-180
This duo battery system allows you to manage two leisure batteries. This means managing the batteries during charging and discharging processes and monitoring the battery status. Two leisure batteries of different age and capacity can be connected, so long as the battery technology is the same. If a battery is damaged, the device isolates it and reports the problem. The associated app allows you to control all functions in comfort using your smartphone or tablet:
Selecting the BDS-180 operating mode (automatic / manual)
Voltage display for both leisure batteries graphically and in volts
Display of charging and discharging current in real time
Display of the remaining autonomy of the battery being used
Display of both batteries' charge and discharge cycles
Display of the batteries' "health status"
Display information about any anomalies in the batteries
Display of the BDS manual
Updating the BDS-180 firmware
Safety precautions when travelling
Burglary and anti-theft protection measures
On the technology side, there are a lot of solutions to protect against burglary and theft on the market. To help you whittle down the options, consider your destination as well as what feels sensible to you.
Many campers (and not only those travelling alone) rely on an additional door lock on the body door: this could be a simple chain, an additional external lock or reinforced door security on the existing lock. Window profiles or drawbar locks for caravans are also popular anti-theft protection devices.
For the front doors of campervans and motorhomes, retaining straps and holding bars have proved their worth, fitted so that neither door can be opened from the outside as the connection holds them both closed.
A universal deterrent and warning solution is of course an alarm system – both for when you are in the vehicle and when you need to leave it parked and unattended. For the latter scenario, wheel clamps or swivelling the driver and passenger seats around and locking them together have also proven effective against attempted theft. These sorts of visible barriers are often enough to deter potential burglars.
Man's – and indeed woman's – best friend, a dog can be a great companion for many campers. If you are travelling alone, a dog not only provides company but also an enormous sense of security, as they are more keenly aware of sounds than humans and often have a natural protective instinct.
General safety tips for solo road trips
Women are generally said to possess excellent intuition and to be more in tune with their gut feelings. These gifts can be a huge help in feeling safe on the road, which is an important part of travelling alone.
Whether you are settling down on a pitch or campsite or going self-sufficient in a car park or on a beautiful beach, it is helpful to set up at your chosen spot during daylight hours so you can better assess your surroundings for the approaching night-time. This allows you to familiarise yourself with the conditions on site. It's best to listen to your inner voice here – because you may well feel safer in the solitude of the deep forest than on a pitch full of people in the middle of a city.
Opening only the roof vents instead of the side windows at night can also contribute to a feeling of safety, depending on your location.
We wish you an adventurous and unforgettable camping trip!