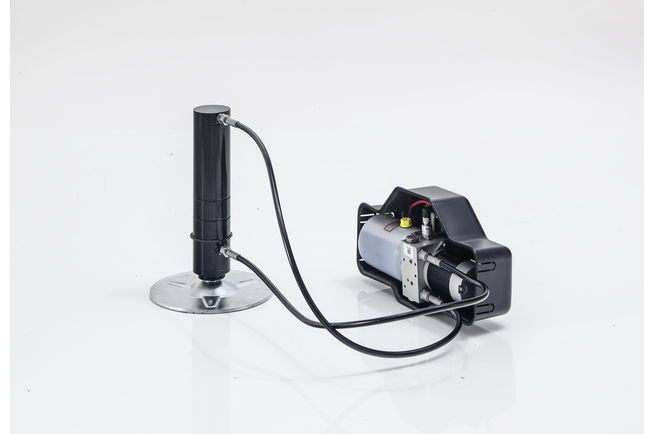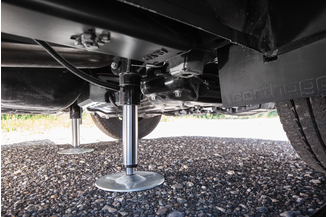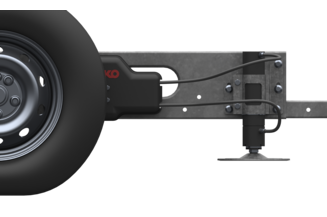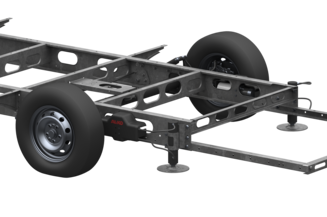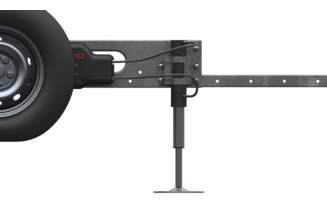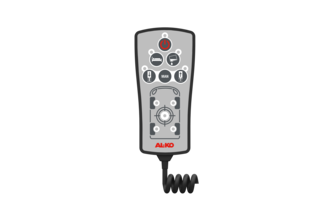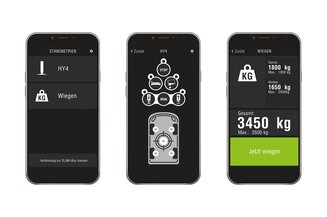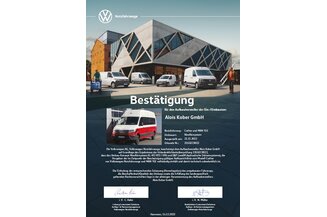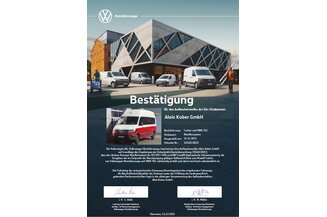 Description
HY4 hydraulic levelling support system
The most innovative fully automatic support system
No more inclined angles, no more unsteady ground under the feet. With HY4, the new, innovative support system from AL-KO, you can level your motorhome quickly and easily in the desired standing position. Wherever you are, wherever you stop. At the push of a button.
In contrast to other support systems, where the steady legs are supplied via long hydraulic lines by a centrally installed pump with an oil tank, each steady leg of the HY4, which weighs 68 kg, has its own pump unit. This can be mounted flexibly in the vicinity of the steady leg. This not only reduces installation costs, but also means that holes are no longer needed in the vehicle interior. Once purchased, the HY4 support system can be easily removed when replacing a vehicle and then fitted to the new vehicle. The AL-KO HY4 and HY2 are the first hydraulic levelling support systems to receive a clearance certificate from Mercedes-Benz. This certifies the safeguarding of Mercedes-Benz brand values and basic vehicle characteristics with regard to safety, operational stability, driving dynamics, assistance systems, legal requirements and other important features. True to the AL-KO brand promise "Quality for life", our engineers think even further ahead.
Regardless of the ground. Neither soft ground nor gravel pose any issues for the hydraulic levelling system. Uneven ground and inclines can be easily compensated.
The HY4 is available for all vehicles with an AL-KO chassis, as well as for X250/290 motorhomes and vans on a Ducato/Jumper/Boxer chassis. The system is also available for Mercedes-Benz VS30 motorhomes on AL-KO SLC and AMC chassis as well as original chassis and for Mercedes-Benz VS30 RWD vans.
Your benefits:
Clean and space saving – no more bulky hydraulic components inside the vehicle.
Optimum weight distribution – thanks to four independent hydraulic assemblies mounted directly on the chassis.
Intuitive LED remote control – millimetre-precise levelling in only one minute
Freely programmable additional functions
Automatic, precise, gentle and quiet levelling
Durable, robust and maintenance-free
High professional quality – certified mounting bracket from chassis specialists
With clearance certificate from Mercedes-Benz
Weighing function and app control for HY4
The weighing function for the AL-KO HY4 prevents incorrect loading and dangerous overloading of motorhomes and vans. The system measures the gross weight and the respective axle load via measuring points on the longitudinal and transverse axes. This makes complying with weight limits easy and ensures payloads in the vehicle are optimally stowed. Control and display are via the AL-KO 2LINK app, which can be downloaded free of charge onto your own smartphone. This is based on installing the AL-KO 2LINK box with a Bluetooth interface.
Following this upgrade, it is even possible to level the vehicle via the 2LINK app. The smartphone user interface is similar to the standard remote control interface, and thus still very easy to use.
HY4 weighing function at a glance:
Total vehicle weight, front axle weight and rear axle weight are calculated separately
System control and display via the AL-KO 2LINK app (available free of charge for iOS and Android)
Measuring accuracy up to 3%
Can be retrofitted to existing systems
All the existing benefits of AL-KO HY4 remain unaffected
For vehicles up to 6 t
HY2 – The practical entry-level model
Like the tried and tested, fully automatic HY4 levelling support system, the 'little brother' also impresses with perfect vehicle support, anti-theft protection and most importantly the tried and tested concept of the decentralised pump units on each steady leg. At the same time, the AL-KO HY2 has a significantly lower weight of just 34 kg and represents a cost-effective alternative to the system with four steady legs. AL-KO HY2 guarantees maximum operating safety: the two steady legs extend automatically and ensure absolute stability. If required, the support can also be optimised by manually operating the steady legs. A freely programmable memory space is available for individual adaptation. Retrofitting to HY4 is possible without any problems.
HY2 at a glance:
Automatic vehicle support on the rear or front axle
Operation via intuitive remote control
Freely programmable memory space
Retrofitting to HY4 possible
With clearance certificate from Mercedes-Benz
| | |
| --- | --- |
| Ground clearance min. (in mm) | 140 mm |
| Lifting height | 360 mm |
| Oil volume per unit approx. l | 0.7 l |
| Supply voltage via vehicle battery | 12 V |
| Permissible temperature range | -30 - 80 °C |
| Weight | 68 kg |
| Max. perm. total weight vehicle | 6000 kg |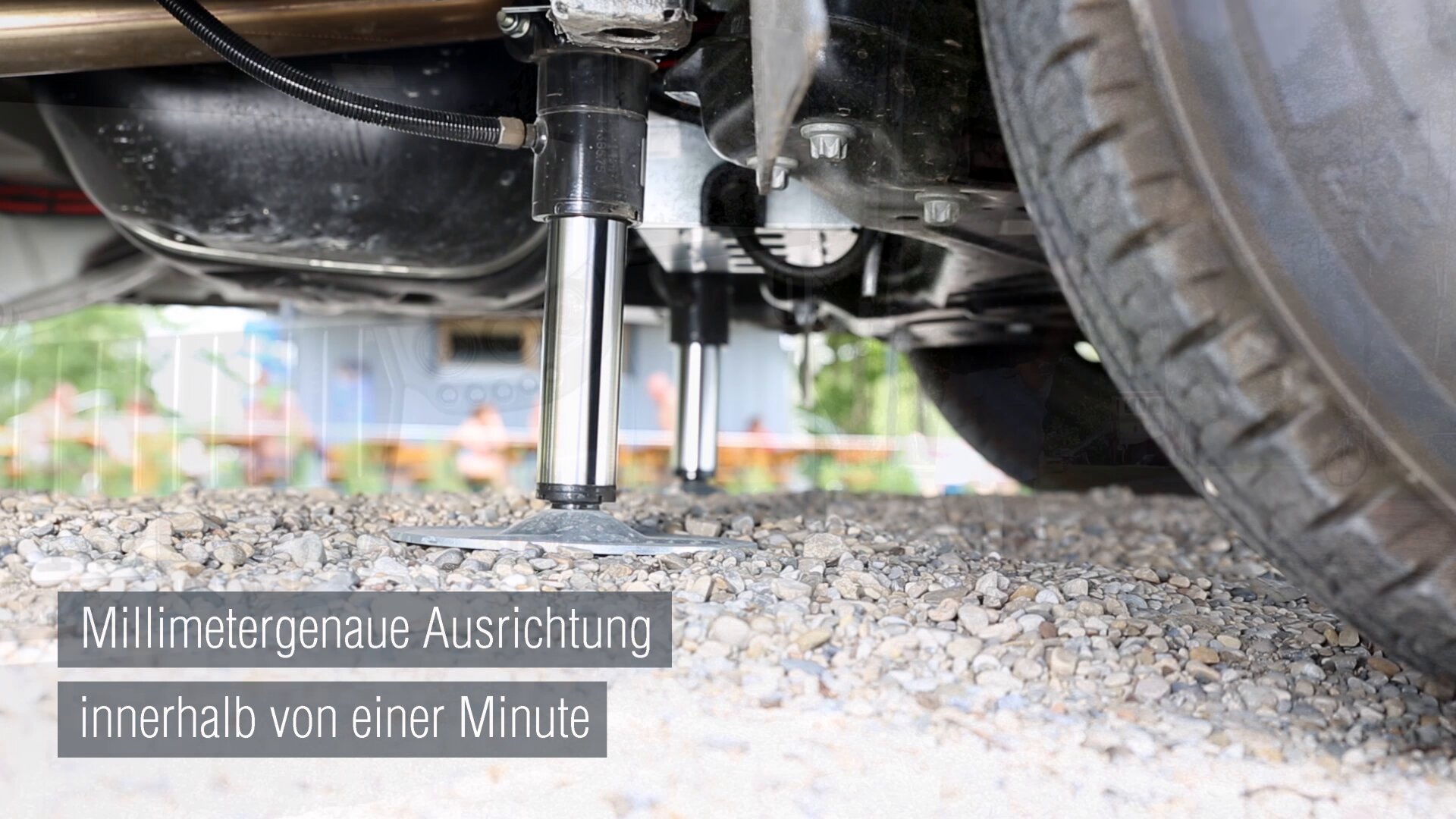 HY4 hydraulic levelling support system
Catalogue
TÜV entry in the vehicle registration certificate