Carrier systems for bicycles and motorbikes
Whether for short trips around the campsite, little errands to the nearest town or extensive tours – if you take your bike or motorbike with you on your trip, you can stay mobile and flexible at your holiday destination and do something good for your health and the environment at the same time.
There are a number of systems for safely transporting bicycles, e-bikes, scooters and the like to your destination – from rear garage loaders to rear carriers for scooters to trailers for quad bikes or several bikes. When buying, it is important to pay attention to quality, safety and easy handling.
With rear carriers, for example, it is advisable to choose a frame-mounted model, as this has a lower centre of gravity and therefore offers a clear advantage in terms of stability and safety. For panel vans in particular, it is also advisable to get swivelling variants that allow access to the rear doors. Whether you are transporting e-bikes or a scooter, you should make sure that your chosen bike carrier has sufficient payload.
Regardless of whether you have a campervan or motorhome carrying a bicycle, motorbike, scooter or a combination of all of these – SAWIKO has the right solution for (almost) every travel scenario!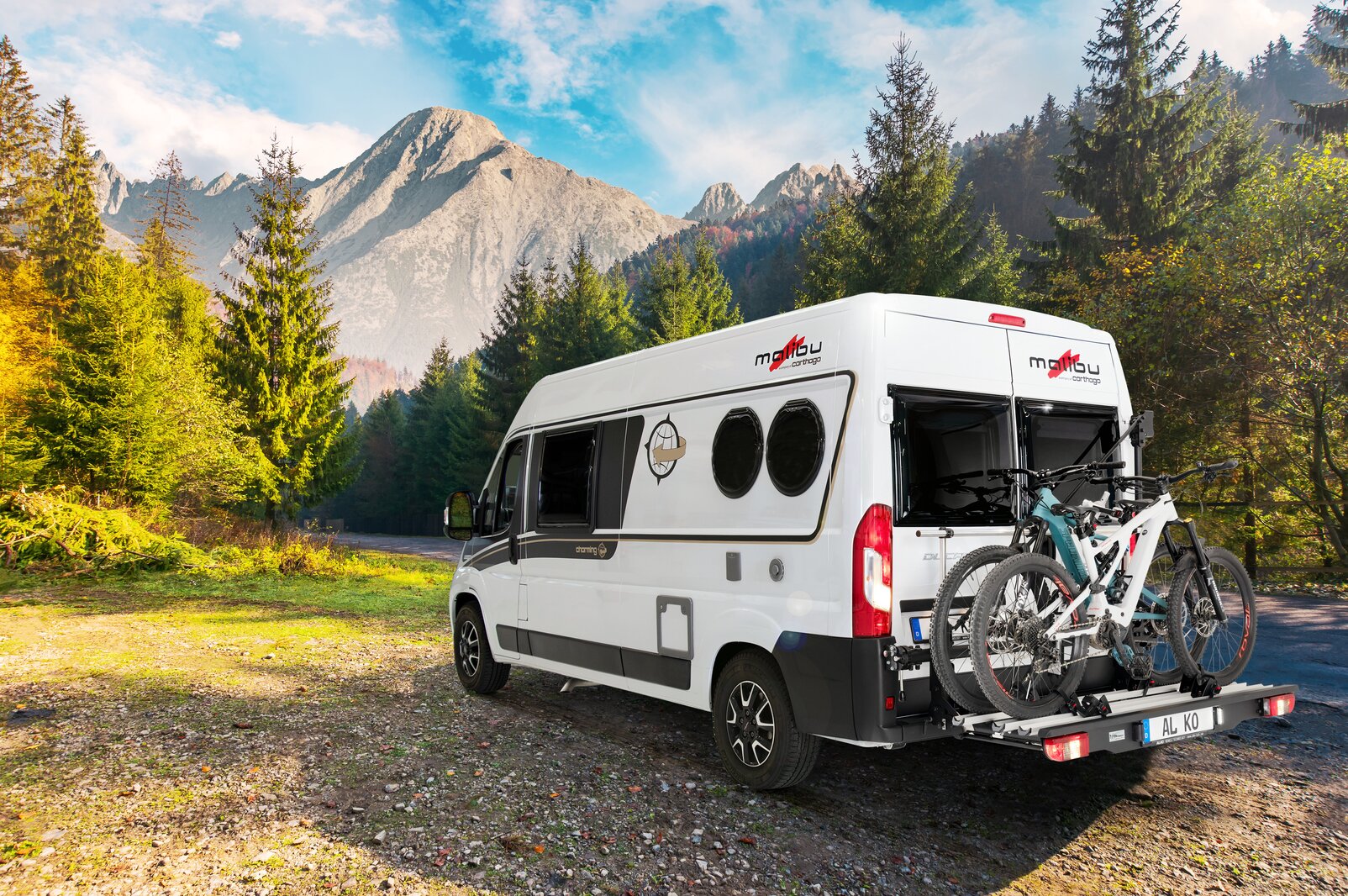 Bicycle carrier systems for vans
TRIGO-VAN
The new user-friendly bicycle carrier for panel vans.
Other manufacturers often block the hinged doors and obstruct access into the vehicle. This is not the case with the brand-new TRIGO-VAN. It ensures free access to the rear doors at all times. Thanks to its user-friendly and ergonomic design, the rear carrier can be manoeuvred effortlessly and safely, even when loaded with a maximum of three bicycles. With a payload of around 80 kg, the TRIGO-VAN is ideal for two bicycles, including standard e-bikes.
The transport platform can be folded up while the towbar remains fully usable. And as you would expect from SAWIKO products,
the TRIGO-VAN is also exceptionally robust and has been thoroughly tested for durability in the AL-KO Technology Centre using the latest test procedures. Thanks to its design and assembly,
the construction is inherently stable and reliably prevents damage to doors and hinges. It can currently be fitted to the FIAT Ducato, the Peugeot Boxer and the Citroen Jumper.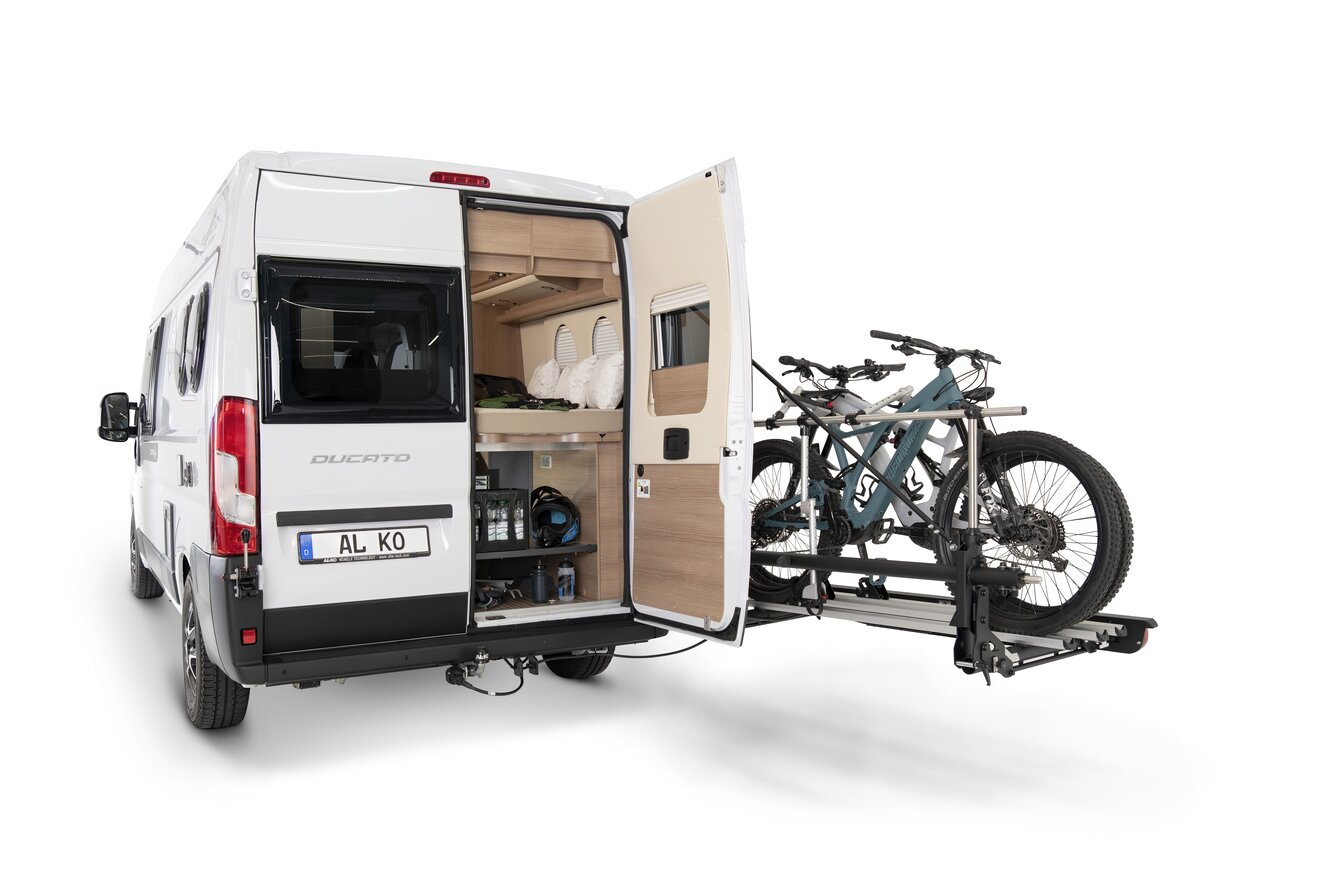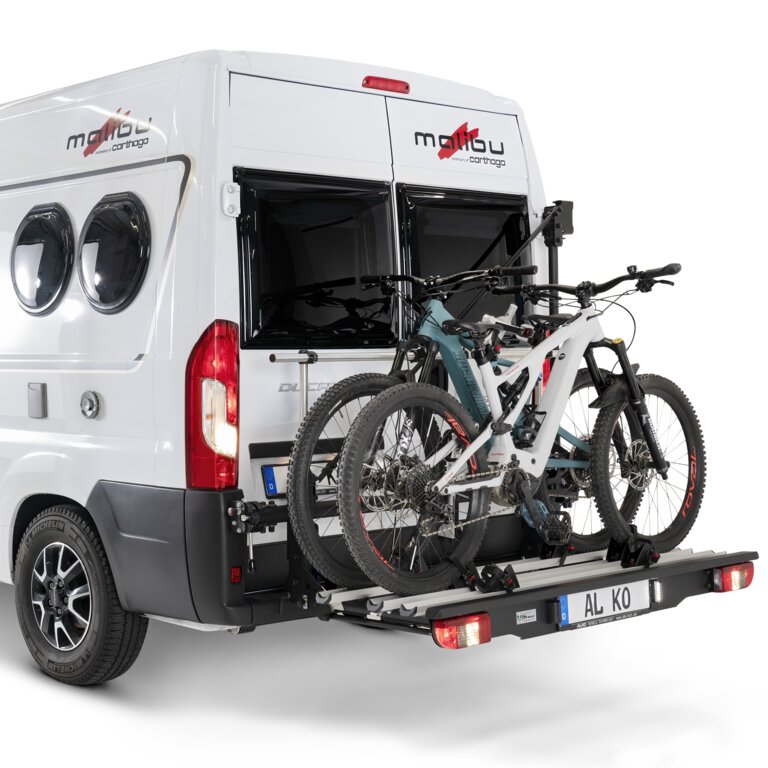 KAWA II
The rear carrier cum jack-of-all-trades: With its modular design, the KAWA II is extremely versatile. No matter whether it's used to transport bikes, scooters or a combination of the two – the KAWA II offers the right solution for all areas of use and can even be 'loaded up' from 150 to 200 kilograms if required.
AGITO VAN
This rear carrier for Ford Westfalia Nugget, Ford Tourneo Custom and now also Fiat Ducato panel vans has a payload of 60 kilograms in the basic version and is designed to transport two bicycles, but can be extended to three. Thanks to its practical swing arm, the rear door can still be easily accessed with this model. A transport box can also be mounted.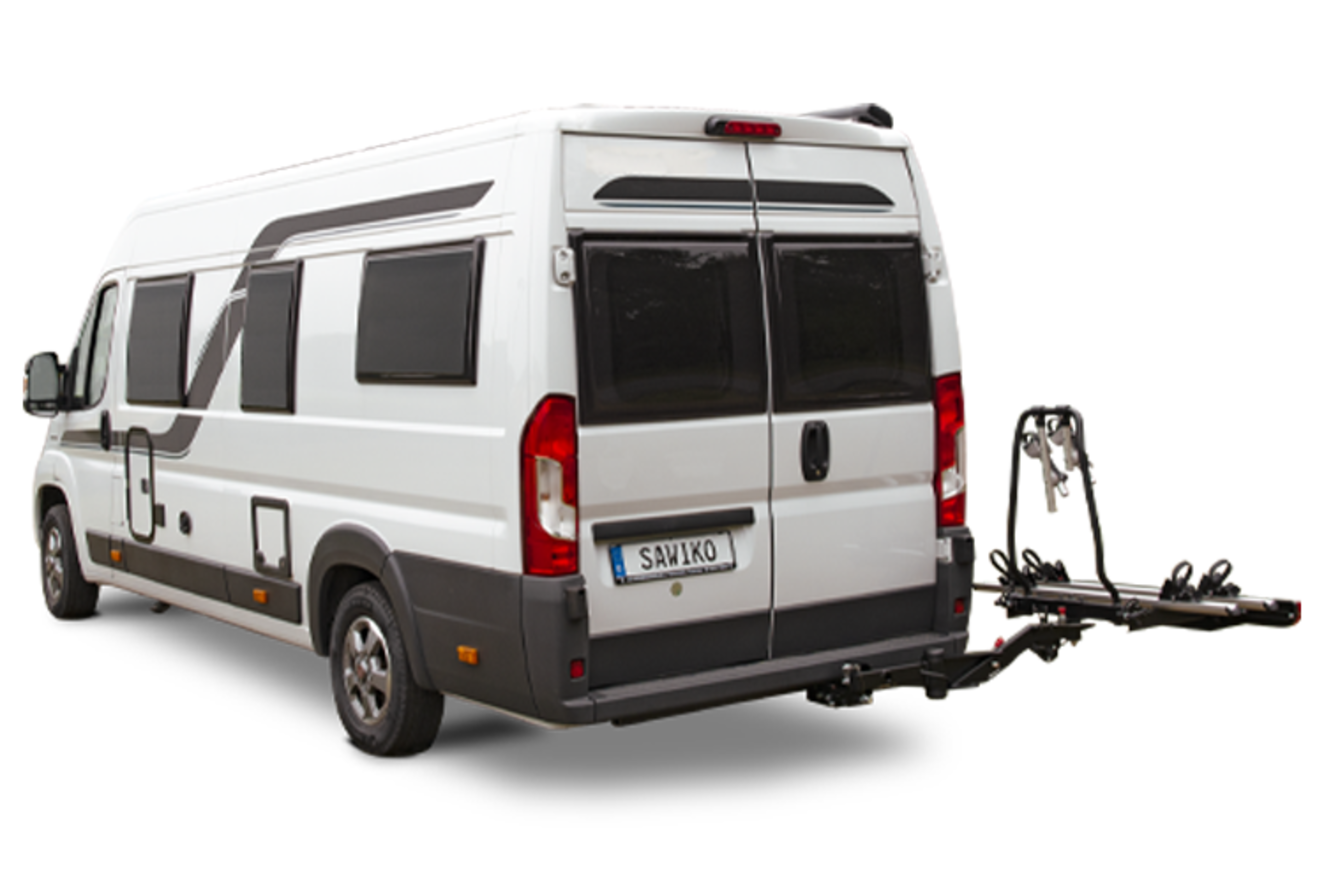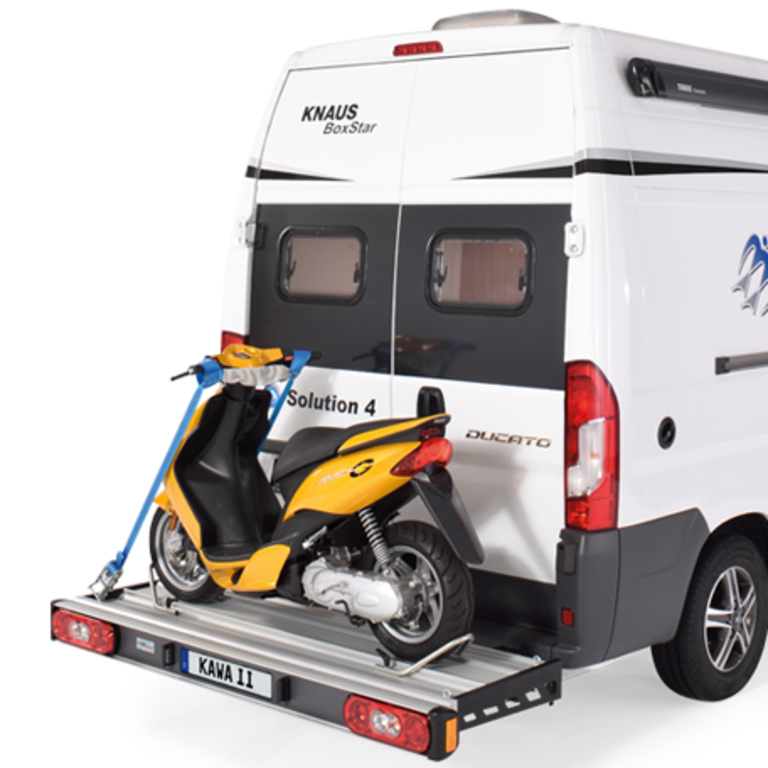 AGITO 120/150
The AGITO 120 and 150 models, two rear carriers specially designed for panel vans, can hold up to 120 and 150 kilograms respectively. It can be used to transport up to four bikes or e-bikes, or even one light scooter, effortlessly. The special feature of this aluminium support system: The rear doors always remain accessible even when loaded, as the AGITO can be completely swivelled out on a jockey wheel.
AGITO TOP
Its "little brother", AGITO TOP can also be swivelled out when loaded and has a foldable transport platform. With a payload of up to 80 kilograms, it is also suitable for e-bikes.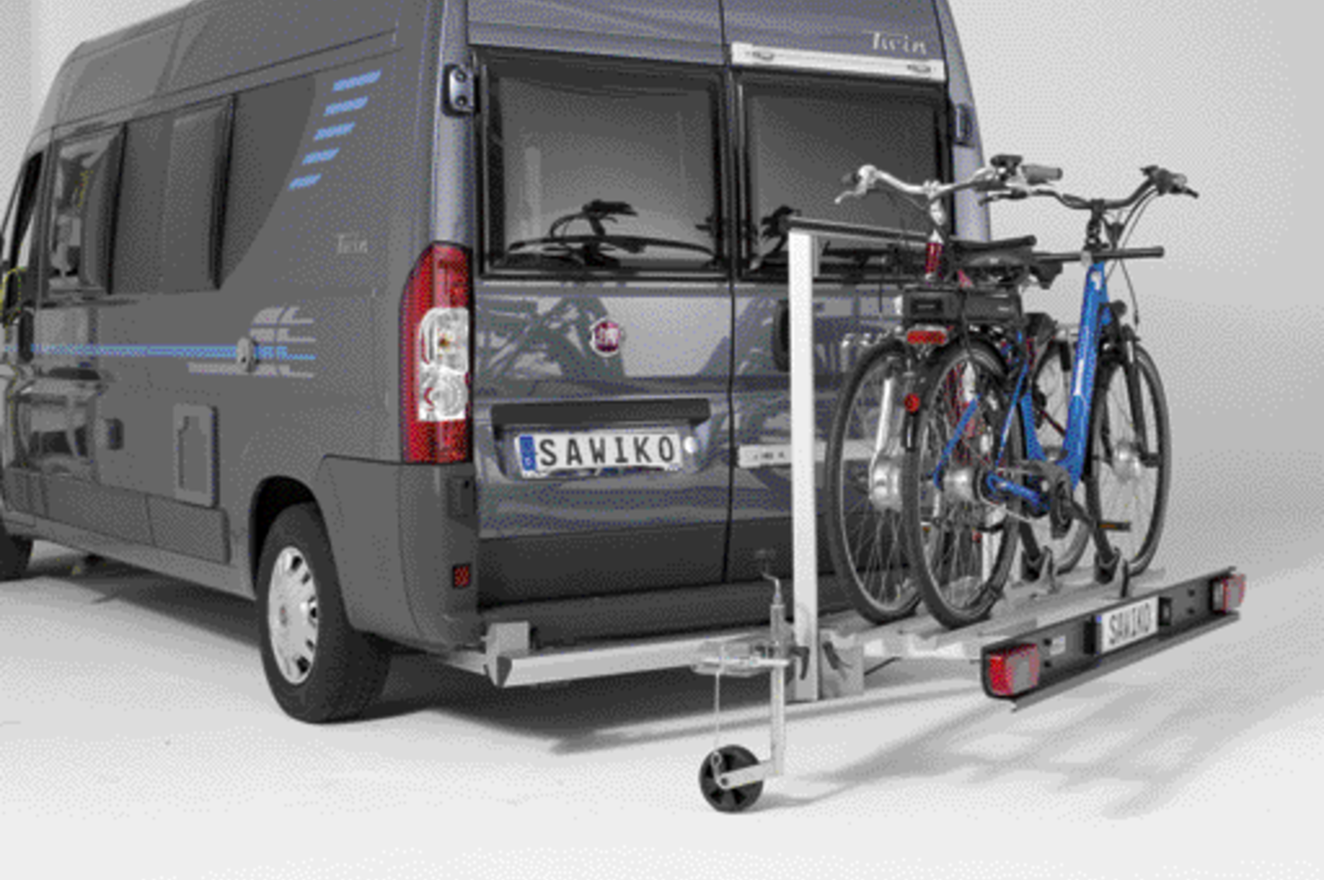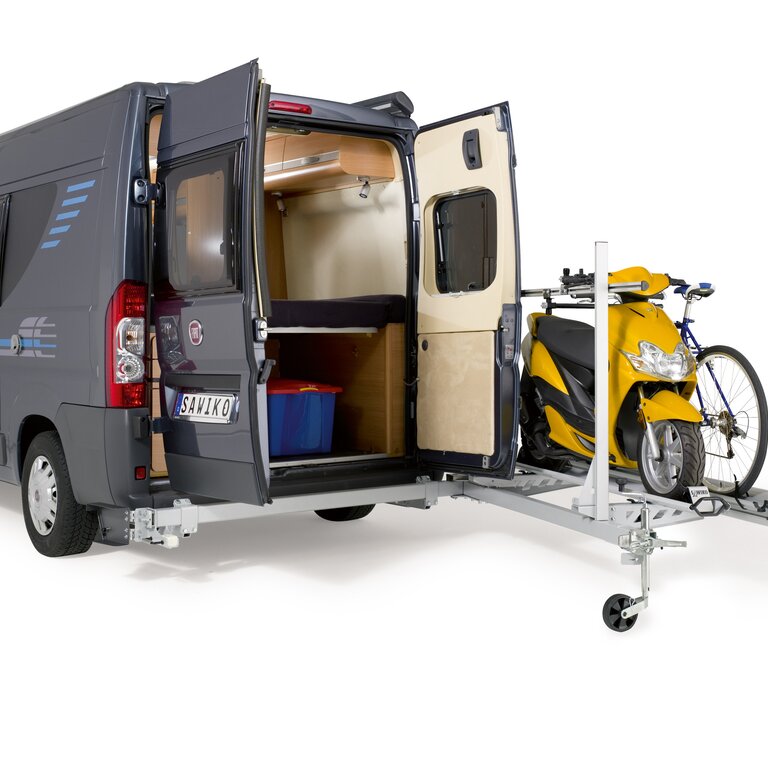 FUTURO BASIC
The FUTURO BASIC with its fixed platform is light, robust and, thanks to its 4-point attachment to the body and door hinges, ensures even weight distribution at the rear – without putting any strain on the doors.
The model has a swivelling bracket. This allows the platform to be easily swivelled to the side, even when loaded, for quick access to the loading space, gas or water supply. It is designed for a maximum of three bikes.
FUTURO E-LIFT
If you value comfort and convenience, you should take a closer look at the FUTURO E-LIFT. The design and function of the carrier is the same as the FUTURO, but it has one very special feature. It can be electronically lowered more than one metre by remote control, making it much easier to load bikes or e-bikes. Its payload is designed for up to 60 kilograms.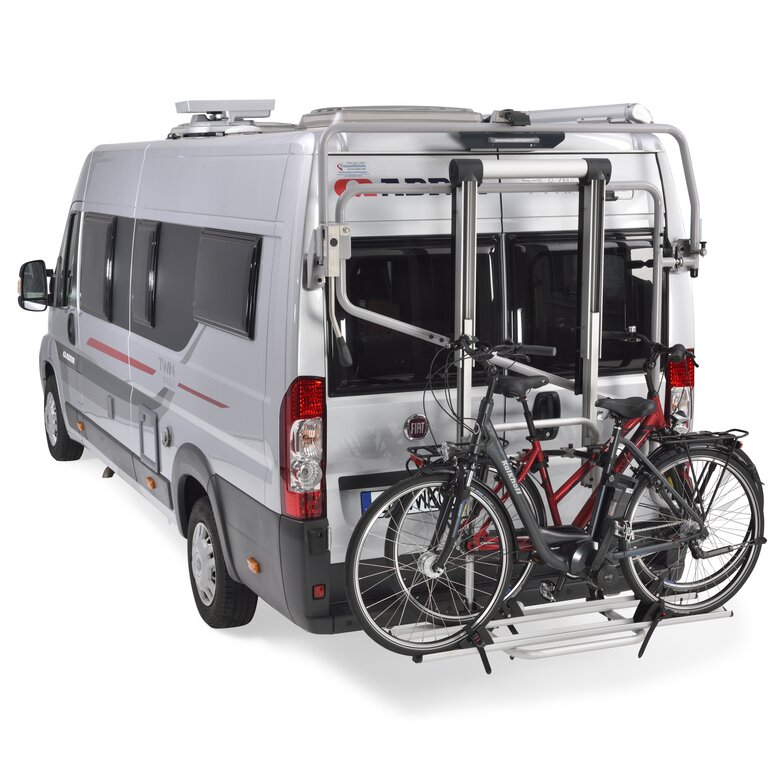 Bicycle carrier systems for motorhomes
TRINEO GARAGE LOADER
This lightweight and space-saving rear garage loader is designed for a payload of 160 kilograms. This makes it suitable for most scooter models, as well as for two bicycles. The system consists of a guide rail and a removable front wheel sled, and the motor is added in the electric version. Also included are a ramp, two lashing straps and two remote controls for the electric motor.
REAR GARAGE LOADER FOR MOTORBIKES
The SAWIKO garage loader with electric cable winch is designed for "heavy equipment". The motorbike or scooter is pulled onto the sled via a front wheel rocker and fastened there. The cable winch does the rest, so that even solo drivers can transport their vehicles without any problems. This system also comes complete with rails for the rear garage, drive-on rails, skids, wheel chocks and remote control.
BASIC
The most affordable model from the SAWIKO rear carrier family is the BASIC. It can accommodate four bicycles or a light motorbike weighing up to 100 kilograms. Furthermore, it is possible to convert it into a tarpaulin box to create more storage space. For this, the bike rails are swapped out for a sturdy wooden floor. A weatherproof PVC tarpaulin protects the load.
VARIO
Four bikes or up to two bikes and one scooter can be transported comfortably with the VARIO. Weighing less than 30 kilograms itself, it has a payload of 150 kilograms. And best of all, the carrier can be mounted without tools and can simply be folded up when not in use.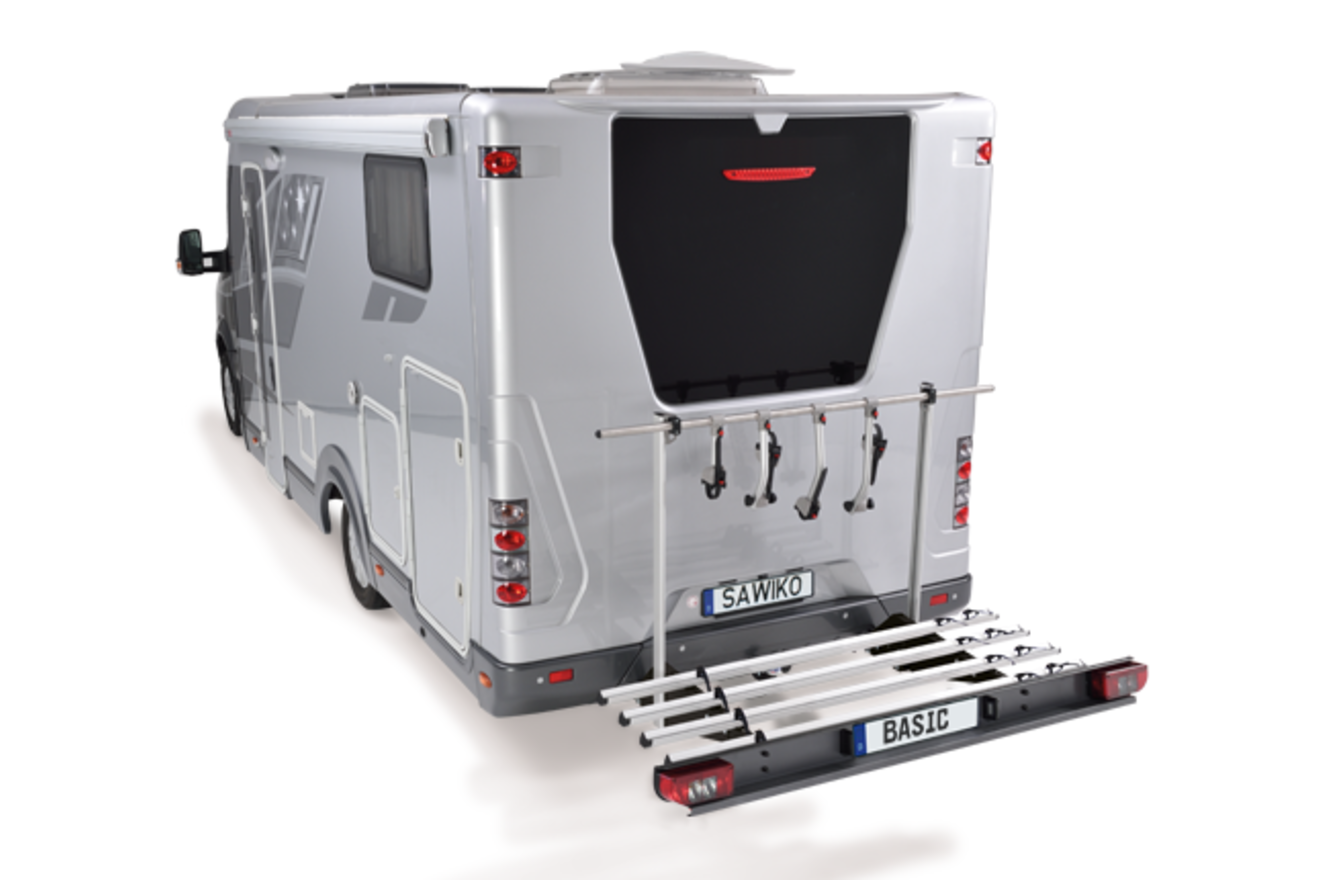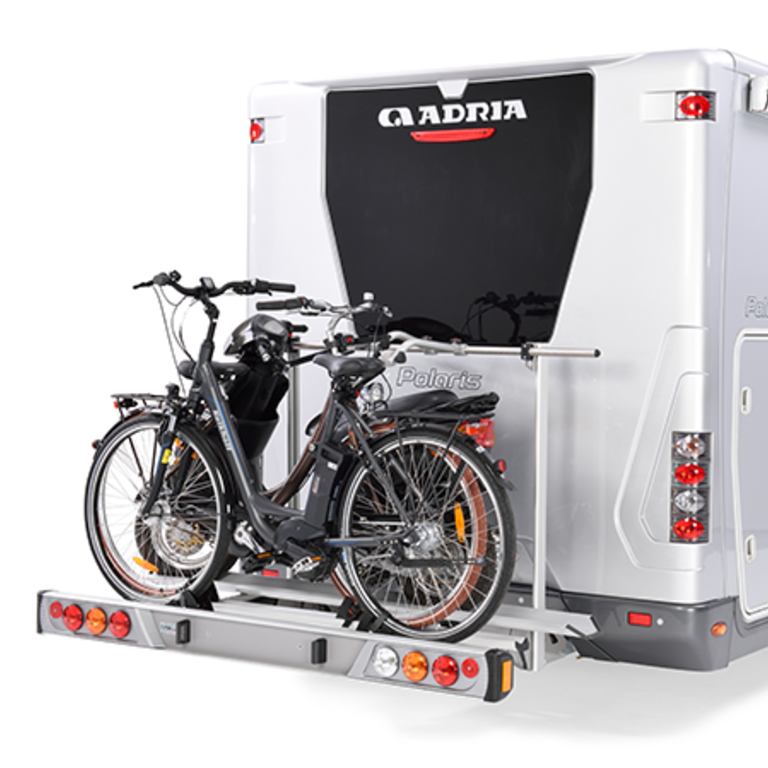 VELO III
The VELO III is a real flyweight: This rear carrier weighs just 16 kilos and yet can achieve big things – because with its payload of 80 kilograms, it is also perfectly suitable for e-bikes. As with the VARIO, the VELO III's platform is foldable and space-saving.
MIKRO II
MIKRO II, the next evolution of the popular classic, can accommodate up to four bicycles or one scooter. The payload here is 120 kilograms – perfect for most 125cc scooters!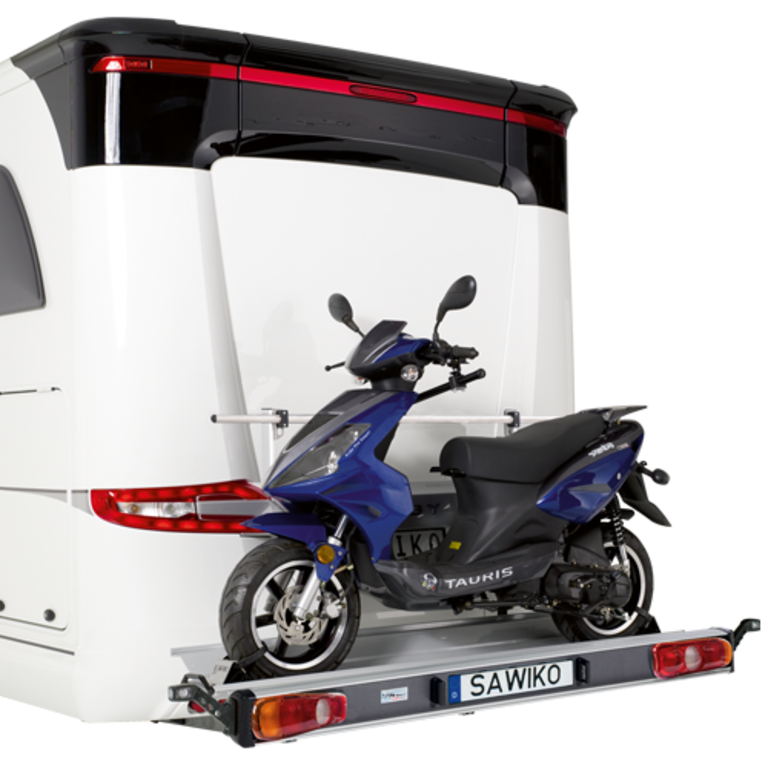 LIGERO III
The predecessors LIGERO I and II were combined and expanded to create the LIGERO III. Up to four bicycles or one scooter and two bicycles can travel on this lightweight aluminium carrier. The payload has increased to 150 kilograms in the new version.
For all vehicles with a towbar
TRAIGO 500
If you need a little more, the light and compact TRAIGO 500 with its 350 kg payload is ready and waiting. Thanks to its variable conversion kits, it can transport up to four bikes or e-bikes, or one scooter, as desired.
WHEELY / WHEELY DUO
The WHEELY is the most universal solution for two-wheel transport. In its DUO version, it offers space for two motorbikes / quad bikes, several bicycles or even a small electric vehicle. In addition, it can be extended with a huge range of accessories – for example, sturdy side walls or conversion kits for motorbikes (even three-wheel scooters!) or, especially for the WHEELY, with a tarpaulin box.
The small, manoeuvrable aluminium trailer has a weight of 215 kilograms (WHEELY) or 280 kg (WHEELY DUO) and is available in 750 or 950 kilogram variants. When not in use, it can be tilted and stored in just 2 square metres.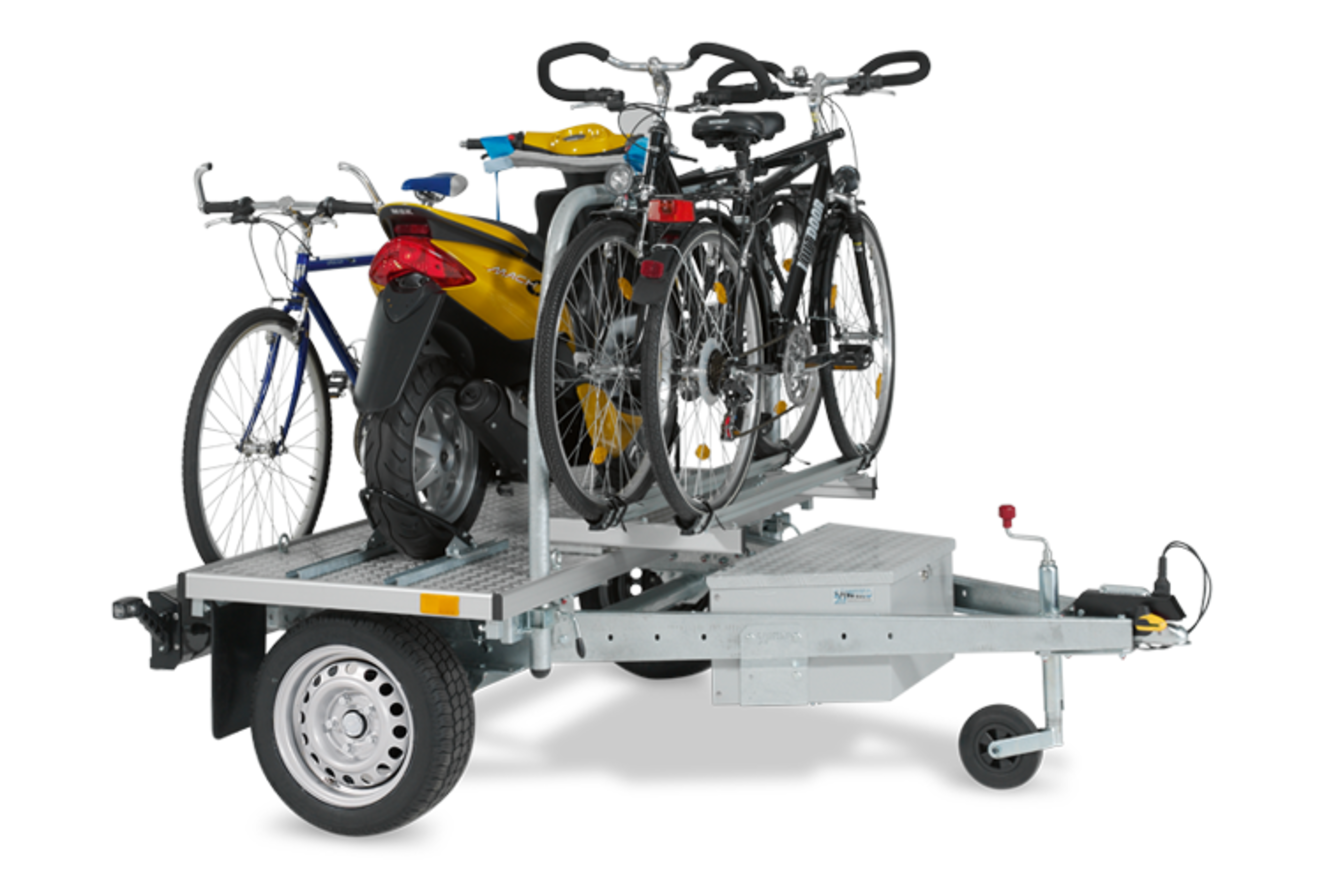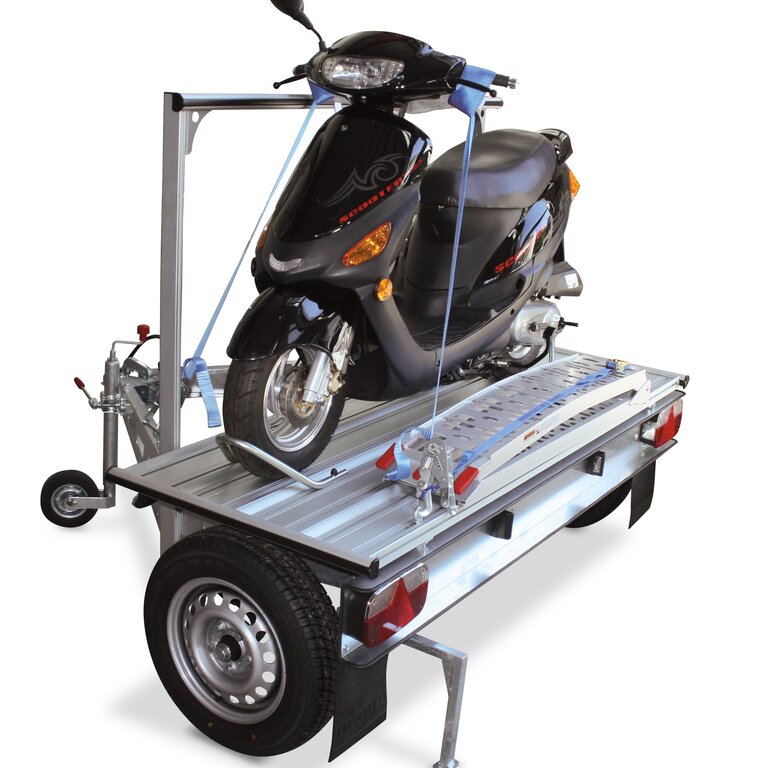 An overview of all bike carrier models and their potential uses
Note: No distinction is made between bicycles and e-bikes in this table, as the corresponding guide rails are suitable for both variants. However, care must be taken not to exceed the carrier's specified payload.
| Model designation | Type | Payload | Vehicle class | Suitable for |
| --- | --- | --- | --- | --- |
| BASIC | Rear carrier | 100 kg | Motorhome | max. 4 bikes or 1 scooter + 1 bike |
| VARIO | Rear carrier | 150 kg | Motorhome | 1 scooter, 4 bikes or 1 scooter + max. 2 bikes |
| VELO III | Rear carrier | 80 kg | Motorhome | max. 2 e-bikes or max. 3 bikes |
| MIKRO II | Rear carrier | 120 kg | Motorhome | max. 4 bikes or 1 scooter + 1 bike |
| LIGERO III | Rear carrier | 150 kg | Motorhome | 1 scooter or max. 4 bikes or 1 scooter +2 bikes |
| TRIGO VAN | Rear carrier | 80 kg | Panel van | 3 bikes or e-bikes |
| AGITO 120 | Rear carrier | 120 kg | Panel van | 1 scooter or max. 4 bikes |
| AGITO 150 | Rear carrier | 150 kg | Panel van | 1 scooter or for 1 scooter + 1 bike |
| AGITO TOP | Rear carrier | 80 kg | Panel van | 2 e-bikes or 3 bikes |
| AGITO VAN | Rear carrier | 60 kg | Panel van | 2 bikes or 2 e-bikes |
| KAWA II | Rear carrier | 150 kg | Panel van | 1 scooter or max. 3 bikes |
| FUTURO BASIC | Rear carrier | 80 kg | Panel van | max. 2 e-bikes or 3 bikes |
| FUTURO E-LIFT | Rear carrier | 60 kg | Panel van | max. 2 e-bikes or 3 bikes |
| TRAIGO 500 | Trailer | 350 kg | All vehicles with towbar and corresponding towable load | Conversion kits for 1 scooter, 4 bicycles or 2 bicycles |
| WHEELY | Trailer | 535 kg or 735 kg | All vehicles with towbar and corresponding towable load | Conversion kits for 1 scooter or 1 motorbike |
| WHEELY DUO | Trailer | 470 kg or 670 kg | All vehicles with towbar and corresponding towable load | Conversion kits for 2 motorbikes or TWIZY/QUAD |
| TRINEO | Rear garage system | 160 kg | Motorhome | max. 1 scooter |
| Rear garage loader for motorbikes | Rear garage system | 370 kg | Motorhome | max. 1 scooters or 1 motorcycle |