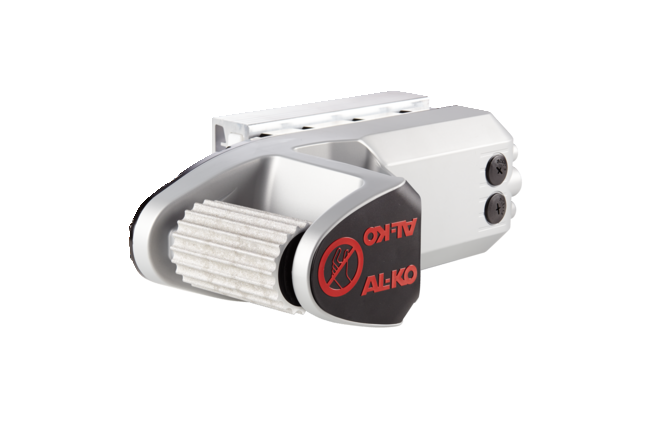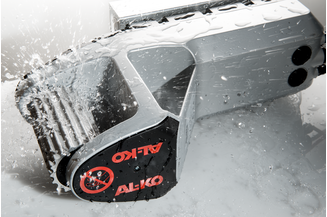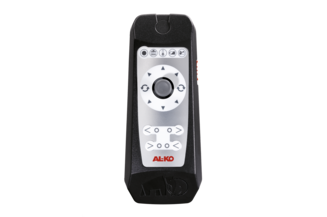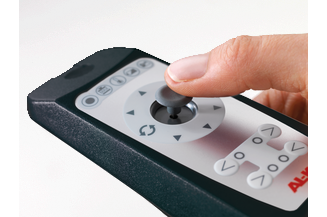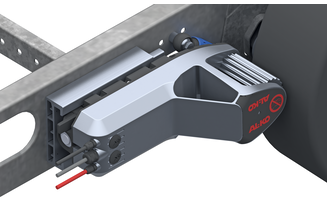 Description
MAMMUT CTRAIL
The clever manoeuvring system for commercial trailers
The AL‑KO MAMMUT CTRAIL manoeuvring system makes light work of positioning your trailer with millimetre precision. Whether on rough ground or slopes, the system moves the vehicle easily and effectively. With just your thumb and without having anyone to help you.
Optimum grip
Two motors are integrated into every drive unit: one for the positioning drive and one for the wheel drive. One push of the button on the remote control and the sturdy sandblasted drive rollers mounted in double bearings press against the wheels. The permanent electronic control of the contact pressure ensures optimum grip under all conditions. The second motor in the drive housing is responsible for the wheel drive.
Fingertip manoeuvring
Only the AL-KO MAMMUT CTRAIL offers a manoeuvring system with joystick control. Contrary to button operation, you can use one hand to easily steer, accelerate and brake.
Playing it safe
To prevent inadvertent operation, the system has to be enabled via magnetic switches. The remote control is simply held against the sensor on the drawbar to activate the system.
Simple installation
Weld the two drives to the frame via the cross member and adapter plates. Connect positive/negative cable to the battery. Mount magnetic switch on the drawbar. Ready to go! The complete control unit on the single-axle variant is protected in the MAMMUT CTRAIL and does not have to be installed and wired separately.
Battery/charger
We recommend maintenance-free AGM batteries with suitable and matching charging technology. For trailers with a permitted gross weight up to 1,800 kg without additional consumers (e.g. light, water pump), AGM batteries with a capacity of at least 80 Ah. AGM batteries with spiral cell technology should have a capacity of at least 66 Ah (SA without autonomy) or 75 Ah (SA with autonomy).
Jockey wheel
Manoeuvring drives may overload jockey wheels on soft ground. Narrow wheels can dig into the soft or loose ground. Consequently, AL-KO recommends:
Use a tall, wide wheel
Use a sturdy jockey wheel with a load capacity of more than 200 kg, e.g. the AL-KO Premium jockey wheel
Your benefits
Easy, smooth and infinitely variable manoeuvring thanks to joystick with soft start and soft stop technology
Infinitely variable speed control (max. speed approx. 0.5 km/h)
Immediate stop on inclines: Release the joystick and the trailer is braked to a halt immediately
Top grip under all conditions due to electric control of the drive rollers
360°rotations possible
Overcomes obstacles up to 4 cm high 
On inclines of up to 28%
Maximum contact pressure applied to the wheels by the electric wind on function of the rollers
Maximum ground clearance thanks to flat design
Lightweight, without battery from 32 kg (SA)
Robust solid metal housing with metal gear unit
No TÜV registration required thanks to general operating permit
Power consumption: Peak current 120 A (SA), idle current max. 5 mA
CAN bus-compatible
LED displays in the hand-held radio transmitter for: System is ready to operate, max. Gradeability reached, max. Drive temperature reached, battery status of handheld transmitter, battery status of drive
Manual emergency turn of positioning drive
Sturdy drive rollers that protect the tyres
Diagnostic capability at the diagnostic interface in the vehicle
| | |
| --- | --- |
| Type | Single axle S24 CTRAIL (welded version) |
| Max. perm. total weight vehicle | 2500 kg |
| Max. Climbing ability % | 28% at 1,200 kg total weight 17% with 1,800 kg total weight 10% with 2,500 kg total weight |
MAMMUT CTRAIL
Catalogue
Catalogue
Preconditions for installation: Square tubular frame or similar strong chassis. Distance between tyre inner face and mounting plate: min. 125mm. When using shock absorbers, the minimum distance between tyre inner face and chassis outer edge must not be less than 120 mm. Installation area free of lines and other interference contours. Gusset plates & cross beams manufactured by the customer: Installation of the individual gusset plates & cross members – Carry out installation with two persons.