Manoeuvering systems for caravans: Comfortable and safe manoeuvering at the push of a button
A caravan vacation can offer freedom and independence, which are invaluable to many travelers. But while the journey to your dream destination might be filled with adventure and excitement, manoeuvering the caravan at the campsite, on your driveway at home or into winter storage can prove a real challenge. This is where the increasingly popular manoeuvering systems come into play: These not only make manoeuvering more comfortable, but actually even fun!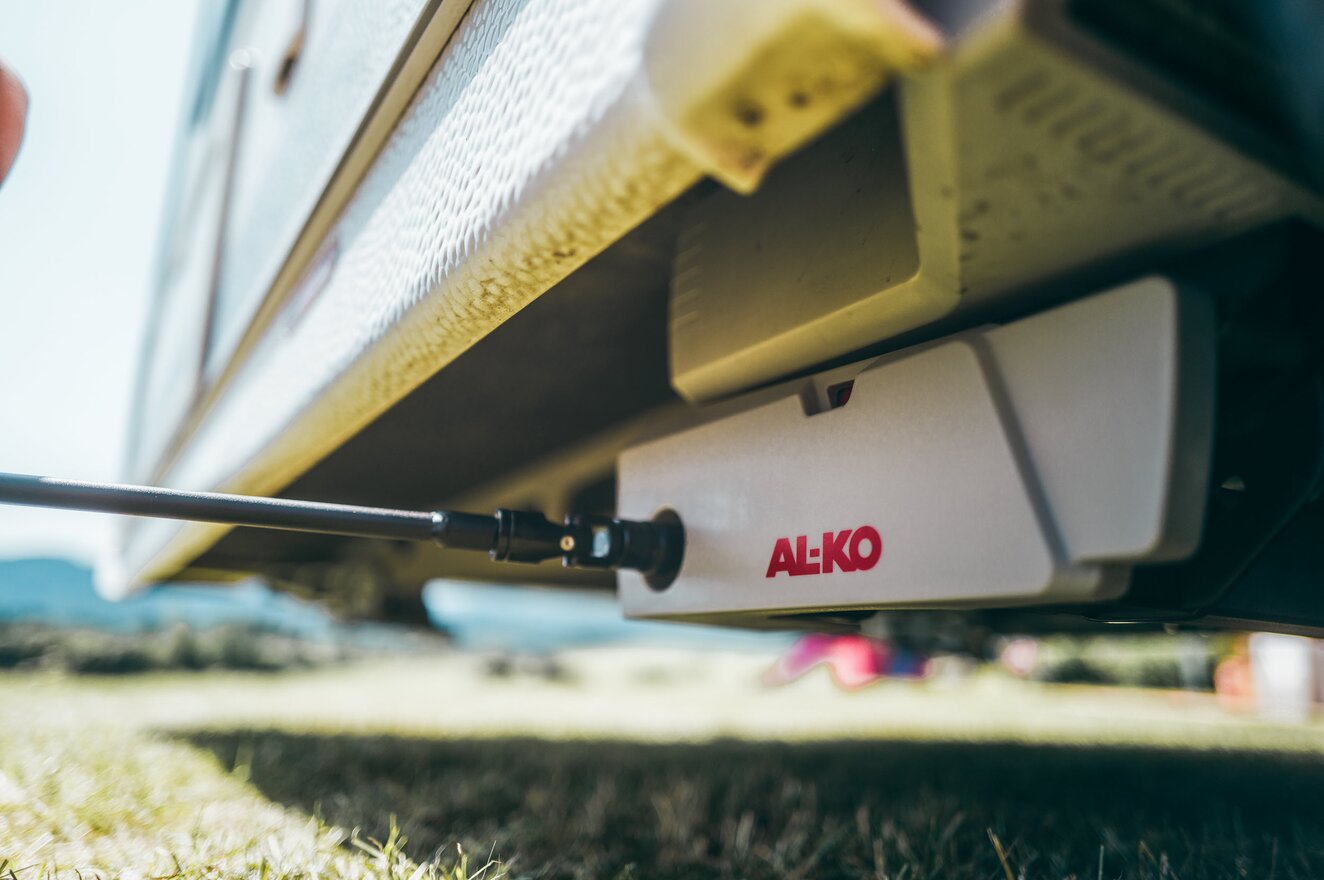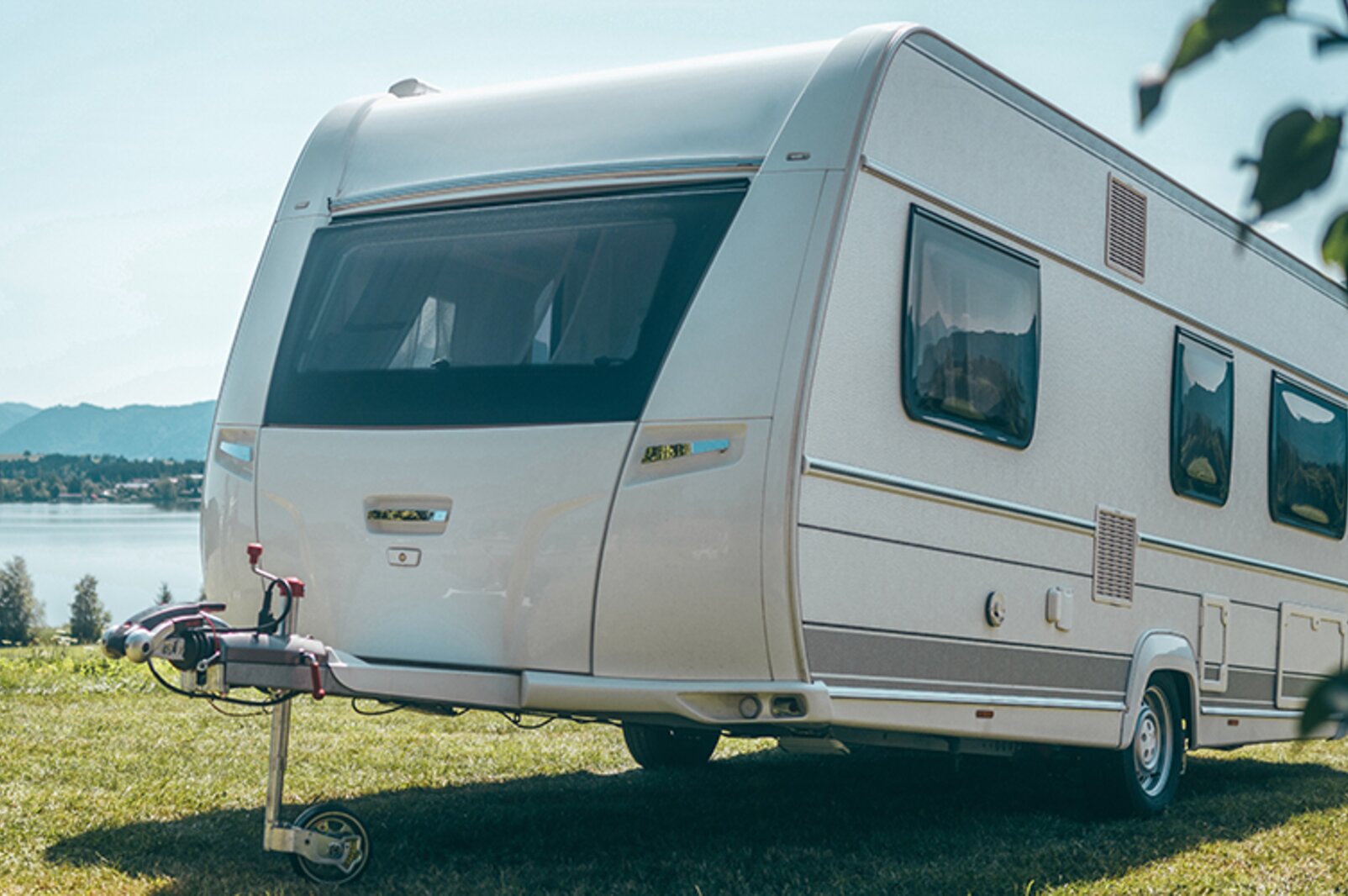 What is a caravan manoeuvering system?
A manoeuvering system, in very general terms, is an electronic tool used to move a caravan without any muscle power or a towing vehicle.
These systems are usually mounted on the chassis or wheels and allow the caravan to be moved, turned, and positioned in the desired location precisely and easily. They are particularly useful on sloping, uneven or cramped campsites, or when the caravan needs to face a particular direction.
The drives on the wheels are usually controlled by remote control. For any outsiders who are not (yet) familiar with this, the caravan then appears to move by magic – which often causes amusing reactions among campsite neighbors.
What manoeuvering systems does AL-KO offer?
AL-KO offers you the choice between two different manoeuvering systems:
The fully automatic MAMMUT and the semi-automatic RANGER.
Both variants can be easily retrofitted to almost any caravan. However, we advise you to have the installation carried out at one of our customer centers or at a specialist partner workshop, as the installation is often somewhat more complex.
The MAMMUT provides precise and high-quality manoeuvering comfort with its unique joystick remote control and sophisticated technology. A variant for use on commercial trailers is also available.
Its millimeter-precise control and ability to turn even heavy or long caravans 360 degrees on the spot make it an indispensable travel companion.
The MAMMUT can overcome obstacles of up to 4 cm in height and manages impressive gradients of up to 28 percent (single axle) or up to 15 percent (tandem axle). It can be used on single-axle vehicles up to 2.5 t gross weight and tandem axles up to 3.0 t.
The RANGER is suitable for single-axle caravans up to 1.8 t or for tandem axles up to 2.5 t.
Like its "big brother" MAMMUT, it also allows precise manoeuvering and can rotate the caravan 360 degrees around its own axis. Obstacles up to 2 cm high or gradients of up to 18 percent pose no problem.
Since the RANGER is engaged manually by hand crank, which does require some mobility and strength, we recommend it for people with no physical limitations, who don't mind a little workout before parking.
Who is a manoeuvering system suitable for?
Manoeuvering systems are suitable for a wide range of caravan users – especially anyone who might have difficulty manoeuvering manually or who simply wants more comfort and control.
The following types of people would benefit from such a system:
Solo travelers: Manoeuvering a caravan can be an arduous task for anyone travelling on their own. A manoeuvering system allows you to position your caravan effortlessly with full control, without having to rely on other people for help.
Older travelers: As you age, the physical strain of pushing and pulling a heavy caravan can become exhausting. A manoeuvering system minimizes physical exertion and allows older campers to continue enjoying their trip without worrying about manoeuvering.
People with disabilities: For people with limited mobility or other disabilities, manoeuvering systems offer a practical solution for moving their caravan without any physical effort.
Owners of heavy caravans: Large and heavy caravans are often difficult to park manually, even with the active help of campsite neighbors. A manoeuvering system provides the necessary power to move even these caravan models with ease.
Manoeuvering system benefits
A manoeuvering system offers numerous advantages:
Precision: Manoeuvering systems allow precise control and positioning of the caravan, which is especially useful in tight parking spaces or difficult terrain conditions.
Safety: The systems reduce the risk of accidents or damage to the caravan as well as to boundary posts, walls, or other vehicles by providing controlled steering.
Comfort: A manoeuvering system means you no longer must push or pull the caravan manually, which is especially advantageous in bad weather or on uneven ground.
Independence: A manoeuvering system allows you to move the caravan without external help – which in turn significantly increases your independence when traveling.
Protection of the towing vehicle: You would normally need a rear-view camera or a second person to guide you when hitching the caravan to the towing vehicle. Otherwise, your car bumper might get damaged. With a manoeuvering system, on the other hand, you can conveniently drive the caravan up to the hitch of the towing vehicle and be ready to leave in no time at all.
Manoeuvering systems for caravans are a great solution for making your camping experience safer and more enjoyable. So, you can enjoy your travels to the fullest – regardless of your health or the size and weight of your caravan. Contact us – our experts will be happy to advise you!
You can find more information in our digital brochure on the Mammut and Ranger manoeuvering aids.