Dental treatment on four wheels
Visits to the dentist can often be unpleasant – especially for elderly or sick people, for whom even getting to the dentist's can be a real challenge. That is why vehicle manufacturers are working on solutions to make medical care mobile. In this article we present a special case: a dental practice on four wheels.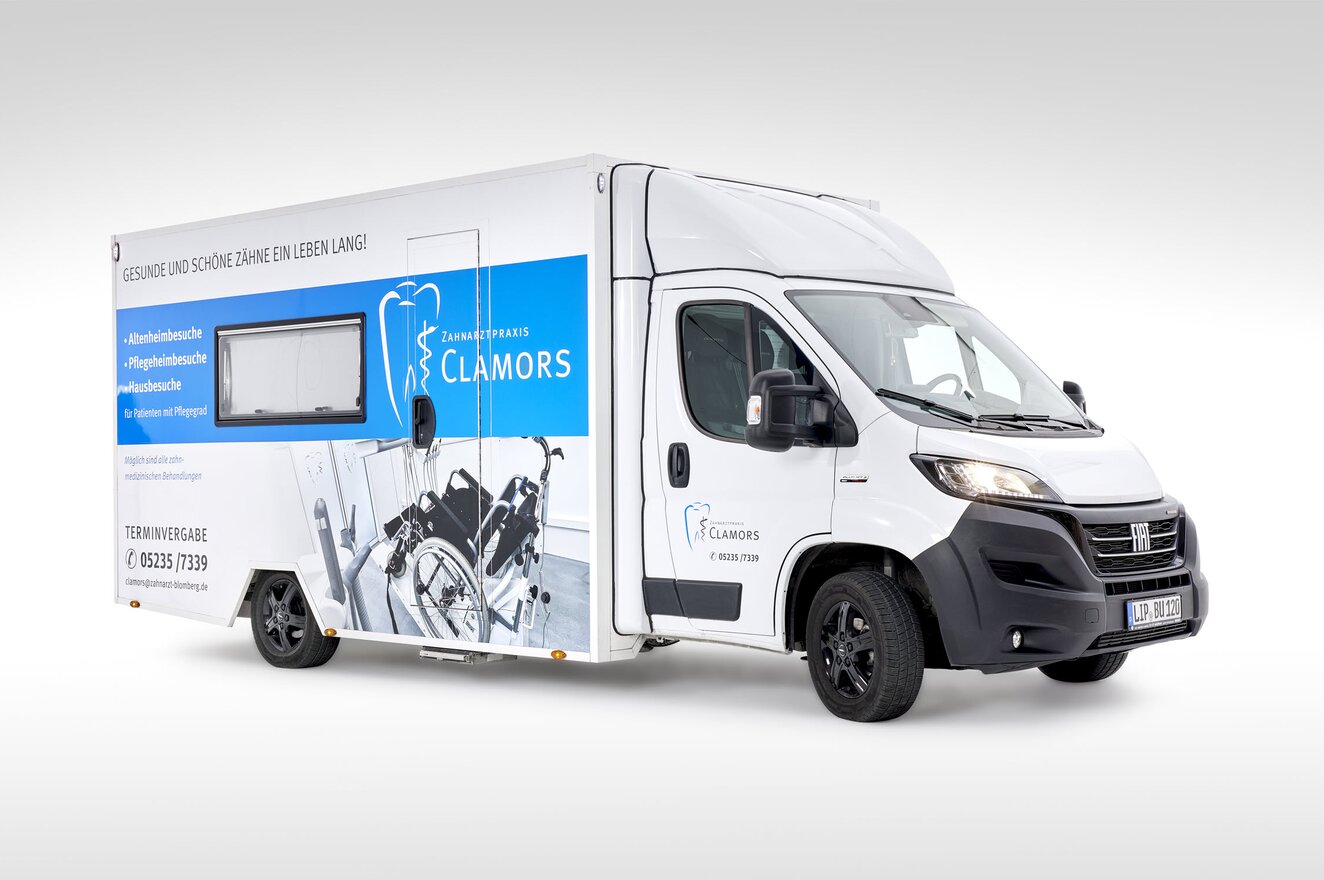 The mobile dentists on the road with a low frame from AL-KO VT: The Clamors brothers' rolling dental surgery in Blomberg, Germany. © BumV® GmbH & Multitrailer GmbH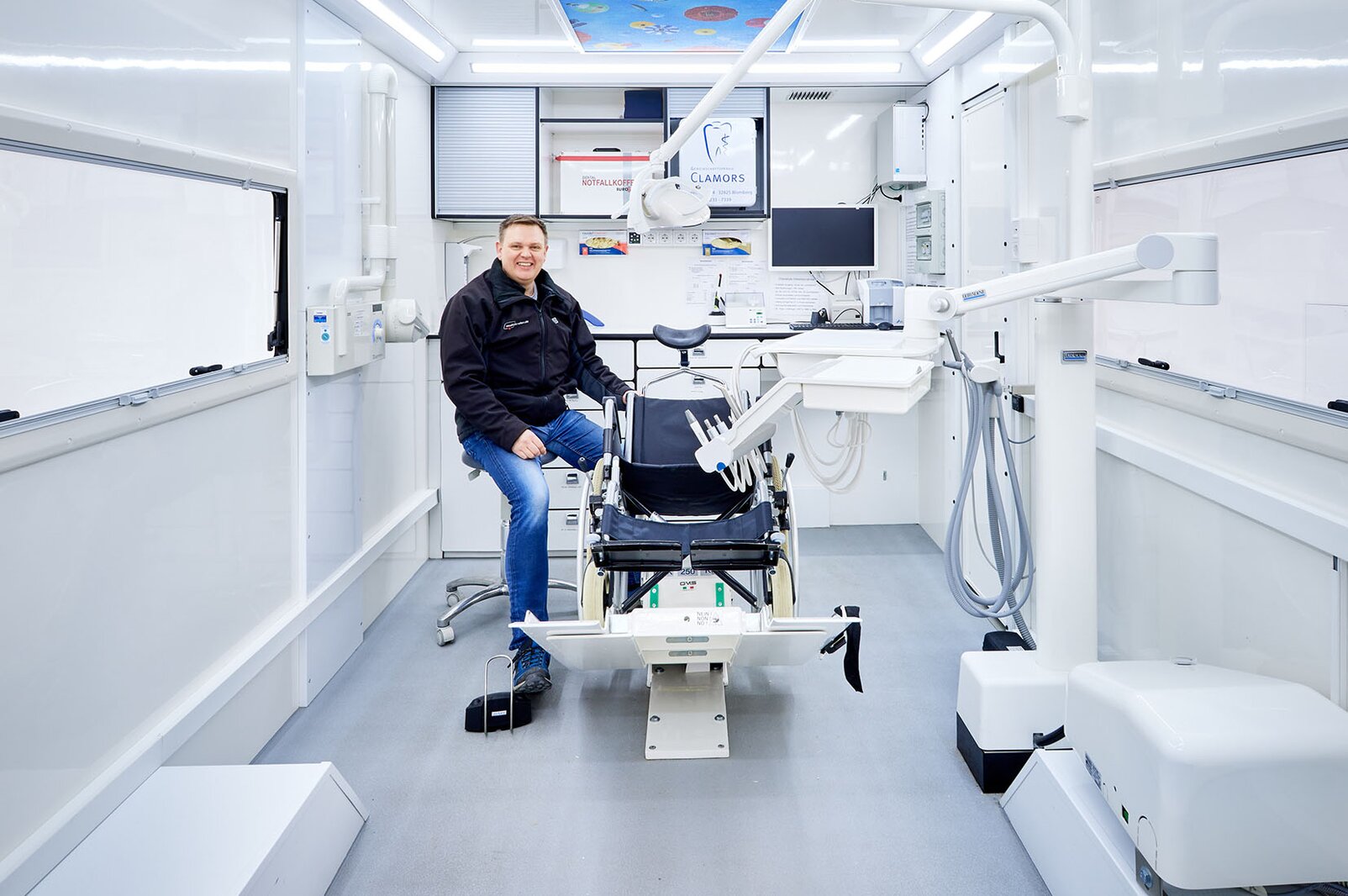 A mobile treatment room was created with Marco Jacke, Managing Director of Multitrailer GmbH from Steinheim in North Rhine-Westphalia in Germany. © BumV® GmbH & Multitrailer GmbH
AL-KO chassis in use – the BUMV mobile from Blomberg
Healthcare visits made easy
Dental treatments for care home residents or geriatric ward patients can be a real challenge. The dentists from the Clamors dental practice in Blomberg, Germany, have conquered the problem with a mobile dental practice based on an AL-KO low-frame chassis, the so-called BUMV (German abbreviation for Treatment and Medical Care) mobile. This has simplified barrier-free access and local care for senior citizens with limited mobility, as well as for dementia patients.
At the beginning of 2022, the two brothers had the idea of helping elderly people directly where they were staying. They also wanted to spare dementia patients or physically impaired nursing home residents the often difficult journey to the practice while making it possible to offer them professional dental treatment. The AL-KO Vehicle Technology Group's Key Account Managers immediately started looking into the framework conditions. It turned out to be a task that was as exciting as it was challenging, and the project gave the company an opportunity to demonstrate its flexibility.
AL-KO low frames for individual projects
Variability required and desired
The low-frame chassis from AL-KO VT was perfect for the dentists' special requirements. In this case, it is 300 millimetres lower than a normal chassis, has variable wheelbases for vans weighing up to 4.5 tonnes, and can be individually adapted to the body. A mobile treatment room was created with Marco Jacke, Managing Director of Multitrailer GmbH from North Rhine-Westphalia, based on a Fiat Ducato that offers a variability that meets all of the customers' demands in terms of axles, track width and gross weight. In addition to built-in air suspension, this includes a special spring strut for the front axles and new complete wheels that can easily absorb the load capacity and significantly increase driving comfort.
AL-KO VT: Your partner for special ideas
Dentists on wheels – self-sufficient and mobile
The ability to variably adjust the axles and wheelbase makes the chassis and independent wheel suspension perfect for the mobile dental practice. "The weight of the vehicle was not allowed to exceed 4.5 tonnes, and the dental equipment is quite heavy and is not automatically evenly distributed. The important thing, therefore, was to be able to adapt the entire vehicle basis to these requirements," says Marco Jacke, Managing Director of Multitrailer GmbH.
The mobile dental practice's equipment has a special feature: besides all the equipment needed for patient care and a treatment chair weighing more than 150 kilograms, the vehicle is equipped with a connection to the central computer in the main practice. In addition, it has a power and fresh water supply and, notably, a tilting device so that patients can be treated directly in their own wheelchairs. The low-frame chassis, in turn, allows elderly patients a low entry angle via an automatic sliding door for easier access to the Clamors brothers' van.
The crucial advantage for the two dentists is that the mobile station can also remain in front of a nursing home for several days if needed in order to carry out follow-up treatments. "The patients' needs are very diverse. You have to find new and innovative ways to help them. Taking an entire practice on the road requires precise planning and components that go beyond the standard found in a conventional practice. Our mobile dental practice means we can now insert implants or crowns, pull teeth or apply fillings in the vehicle – and we can do it within ten to fifteen minutes of arriving on site," says dentist Sören Clamors.
AL-KO VT Chassis beyond the standard
The right solutions for special requirements
Multitrailer manager Marco Jacke goes into the details: "The technology, functions, devices and electricity for the almost 70 medical devices, such as a heavy X-ray machine, take up a lot of space and result in the vehicle having a high gross weight and an additional length of about 50 centimetres. That meant a standard vehicle chassis was out of the question here." Because the mobile practice's patients are usually not very mobile themselves, it was important that there were no access barriers caused by steps or a high ramp. "The basic idea of a mobile practice is to make the route as accessible as possible, right down to the last few metres," Jacke continues.
AL-KO VT chassis offer the right solution for almost every special purpose vehicle construction requirement. And that goes beyond standardised trailer and van concepts, as dentists Sören Clamors and Björn Clamors can now also attest. This has worked so well that the two dentists have applied for a European patent for the mobile dental practice concept at the German Patent Office, and another vehicle is already being planned – of course, based on an AL-KO low-frame chassis.