Derubis and AL-KO VT push the boat out for caravans
A young company from Bosnia and Herzegovina is preparing to redraw the boundaries of what is possible in the caravan market. AL-KO VT supports the Derubis concept with state-of-the-art mobility components.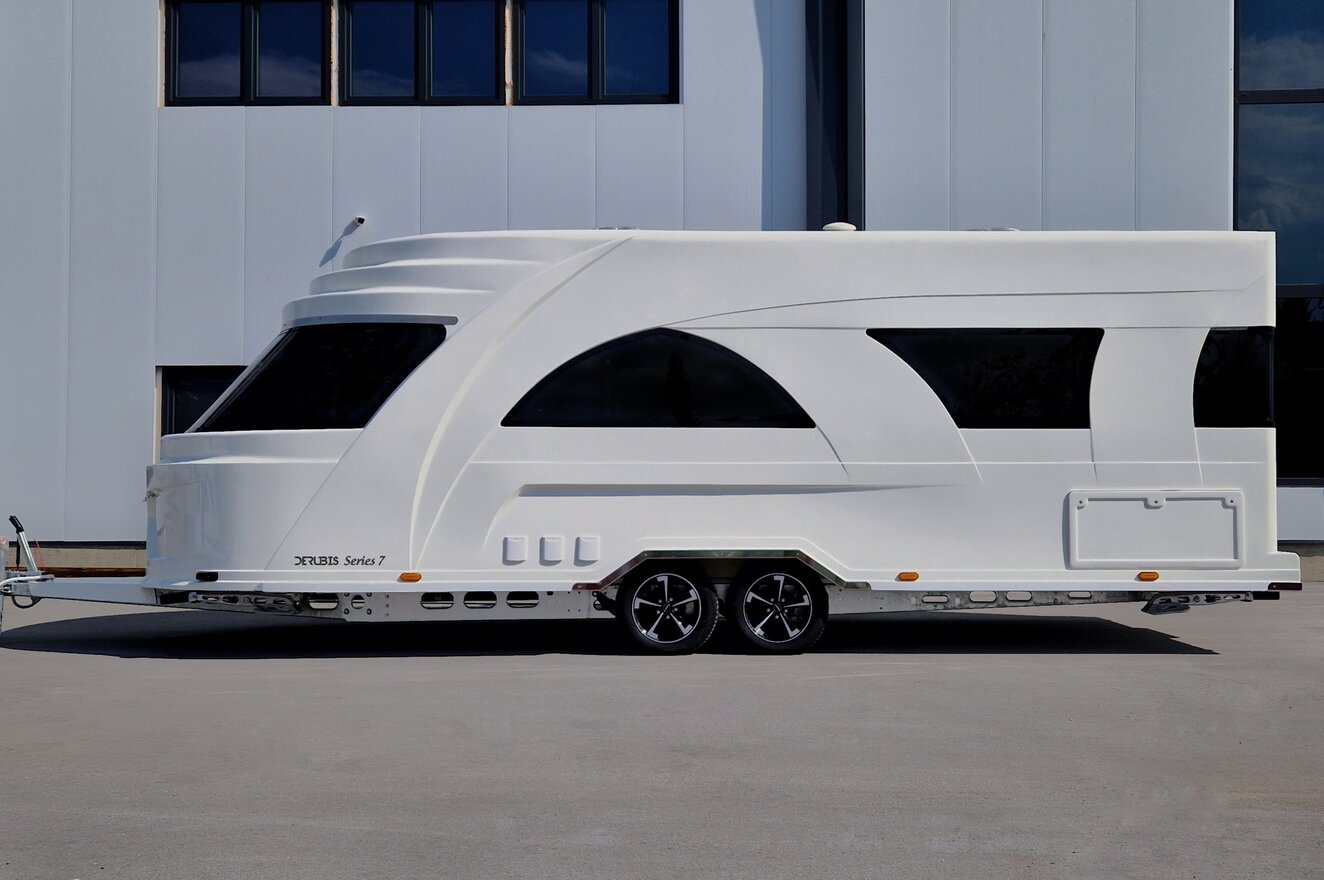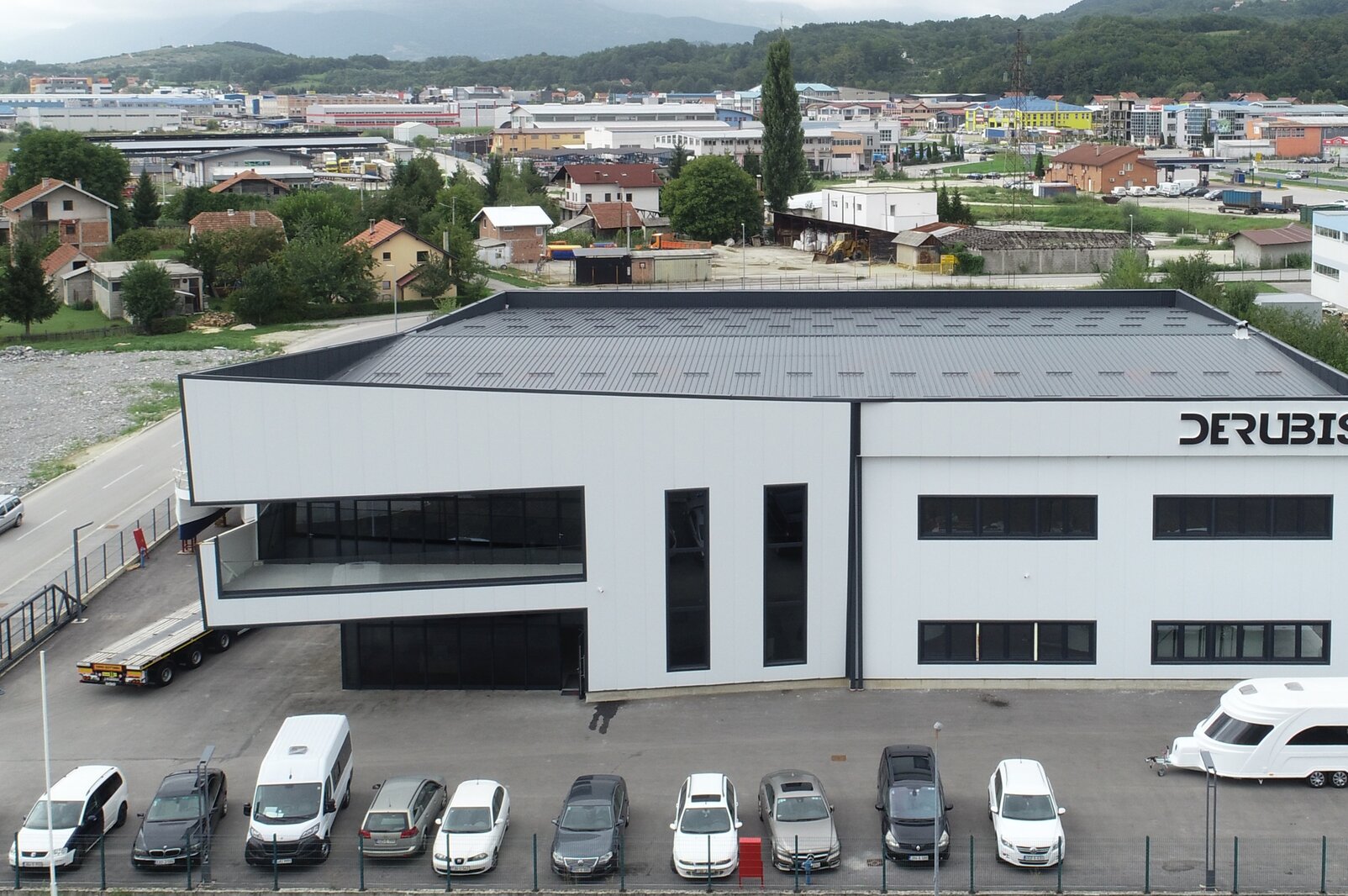 Shipbuilding on axles from AL-KO VT
Shipshape on wheels
All life comes from the sea. And the industry's new direction is certainly making waves, with the potential to breathe new life and new possibilities into the caravan market. But first things first: Derubis has 30 years of experience in ship and yacht building. Over this time, the company not only ran a tight ship as far as hulls made of glass reinforced plastic (GRP) are concerned. Its expertise also extends to the design of elegant and varied interiors. The overall structure must be able to withstand the harshest conditions on the water. Corrosion, moisture, torsional stiffness – a yacht must overcome all such issues impeccably to stay on an even keel.
GRP monocoque body as a basis
Reinterpreting the hull as superstructure
Derubis Caravans is now bringing its experience from the nautical sector to the road. The basis for this is the GRP hulls, which Derubis is converting into GRP monocoque bodies. Armin Rizvanovic, co-founder and CEO of Derubis Germany, says: "The entire body of each of our caravans is made from one single piece. So, we don't need to batten down the hatches to stop moisture penetrating through the connection points of different wall elements. They simply don't exist." If you want to let some air in, simply open the window or door. On top of this, a Derubis caravan is stormproof. Permanently. In a monocoque, the largely closed outer shell absorbs most of the forces acting on the vehicle as its load-bearing structure. All the other parts are attached to it. Monocoques are light and torsion-resistant but elaborate to manufacture.
Storm-proof and extremely torsion-resistant: Monocoques from Derubis
Hailstones can sling their hook
The base plate is also seamlessly laminated in as an integral part of the monocoque. The entire housing is so robust that it can go for miles and miles across rough, bumpy tracks and gravel roads without damage. The off-road route to the pitch or extreme weather conditions with large hailstorms and heavy rainfall, which are increasing as climate change advances, are no problem at all for this sort of structure.
Walls as first rate as those at home
The freedom to put shelves ... anywhere!
The GRP monocoque's second big advantage: The interior furnishings can be set up wherever the customer wants them. Shelving, kitchen units, cupboards etc. play no role in the outer structure's stability. Whereas in a usual caravan design, storage compartments and interior furnishing elements play a supporting role in the truest sense of the phrase, the Derubis monocoque can be furnished as freely as your rooms at home. Customers can decide where they want the air conditioner, washbasin, or flat screen to go. The GRP wall supports them wherever they are placed. Lejla Kraljević, co-founder of Derubis Caravans, says: "The result is a feeling of space very similar to what you have at home. It's just here the view from the window keeps changing."
Wide choice of furnishings for Derubis caravans
Chrome strips or plush drapes?
Customers are as free in their interior design as they are in placing the furniture. Chrome strips are just as possible as precious wood for wall paneling or discreet, indirect lighting with colored LED light strips. Kraljević adds: "For those who like to surround themselves with a touch of luxury, we give them every opportunity to do so." Coming from the yacht outfitting business, the professionals at Derubis have a lot of experience with special requests and know what's possible in terms of design – as well as what's not actually possible at all.
Substructure on proven AL-KO VT technology
Smooth sailing on every drive
The Derubis monocoque vehicles are mounted on AL-KO chassis with one or two axles. The Delta semi-trailing arm axle compensates for the slightest of bumps, while the hexagonal rubber suspension installed in the chassis provides a more even ride. Thus equipped, the caravan glides as smoothly over the road as a ship on a glassy sea.
The GRP monocoque's resistance to corrosion and gradual moisture creep is further advanced with AL-KO VT's fully galvanized lightweight chassis. There is no chance of anything being shaken loose here, nor of anything eating away at the connections.
This comfort package is completed with the Mammut manoeuvring system from AL-KO, which allows caravans to be manoeuvred by hand into any tight spot almost effortlessly. The LevelC premium hydraulic leveling system then ensures that the vehicle also comes to a stop there in a level and stable manner.
Vehicle safety is paramount
Preventing swinging, shortening braking distances
"To further enhance vehicle safety, AL-KO VT provides the AL-KO Trailer Control (ATC) System," says Christoph Neher, Southern Region Sales Manager for AL-KO VT. "The ATC automatically responds to vibrations in the caravan vehicle combination. The sensors detect even slight lateral accelerations and automatically brake the caravan if the swinging movements reach a critical level."
Hardly any of this is perceptible for the driver of the towing vehicle. The automatic brake pad adjustment (AL-KO AAA Premium Brake) also contributes to the vehicle's optimized safety. This ensures that the brakes' response time always remains equally short from the start to the end of the system's life.
Monocoque enables a whole new caravan experience
GRP housing delivers more than just a new look
Derubis' experience in boat and yacht building opens up new possibilities for mobile homes. These do not always have to be high end. A mobile office, purpose-built from the ground up, can also benefit from the advantages of GRP construction. AL-KO VT does its utmost to round off this fresh caravan experience.
Interview with Lejla Kraljević
More diversity in the caravan market
Co-founder of Derubis Caravan Lejla Kraljević is sure that, as both a woman and a manager, she is perfectly placed to provide new impetus in the caravan market. Read our interview with her here.
Would you agree that the caravan market is still clearly male-dominated?
Kraljevic: I personally haven't met another female CEO in this industry if that's what you're asking. But there are, of course, a number of women who take on responsibilities at various levels in the caravan market, including in sales or product development. A lot has changed in recent years. That's a good thing. Diversity is essential for any industry. It brings new perspectives and promotes innovation. Personally, I am excited about the growth and development opportunities in our industry.
But is it true that it's still mainly men who buy caravans, and predominantly drive them as well?
The fact that it is mainly men who buy and drive caravans does not mean they are also deciding which model it should be. The industry has recognized the demographic shift and is actively working to meet the needs and preferences of women. Here I see both a huge opportunity for manufacturers as well as a real advantage for me personally as a female leader. Very fundamentally, a diverse leadership team allows a company to connect with a broader customer base.
What specifically attracts you to Derubis?
The monocoque design of our vehicles represents resilience, strength, and stability. Looking back on my own career, I can say that these are the qualities I myself represent: Adaptable in dynamic environments and steadfast when it comes to results. In this respect, our caravans and I go together very well.
And why the caravan market?
I like the idea of being on the move. I believe in the possibilities that a caravan can offer people, individuals, and families alike. Much more can be done in terms of quality, innovation and customer satisfaction than has been achieved so far. Caravaning is not just a way of traveling. It's a way of life. For us, it's all about giving customers unforgettable experiences on the road. That's what I work for every day together with our entire team.
Is there anything you would like to pass on to young female employees in particular?
What I want to say is certainly not just for female colleagues wanting to pursue a career:
Follow your passion: Your genuine interest will drive your motivation to succeed and make a lasting impact.
Never stop learning: Stay up to date on industry trends, technological advances and market changes. Attend workshops, conferences, and seminars to expand your knowledge.
Develop your network: Build a strong professional network within the industry. Seek out mentors – both male and female – who can guide and support you in your career.
Take on challenges: Be prepared to face challenges and prejudice along the way. Instead of viewing them as obstacles, see them as opportunities to demonstrate your skills and resilience – including your leadership abilities.
Encourage diversity: Advocate for diversity and inclusion in your company. This is not just advice for female employees.
Set a good example: As you advance in your career, be an example to others by being a supportive colleague and mentor to emerging professionals in the industry.
Celebrate successes: Recognize and celebrate your successes and milestones. This can increase your confidence and motivation.