AL-KO COMFORT DRIVE – when the body actively shapes the driving experience
Motorhomes tend to pitch or wobble. Their high body raises the vehicle's centre of gravity and makes them more vulnerable. AL-KO COMFORT DRIVE compensates for these effects. This increases safety and enhances driving comfort – in other words, it offers state-of-the-art car technology for your home on wheels.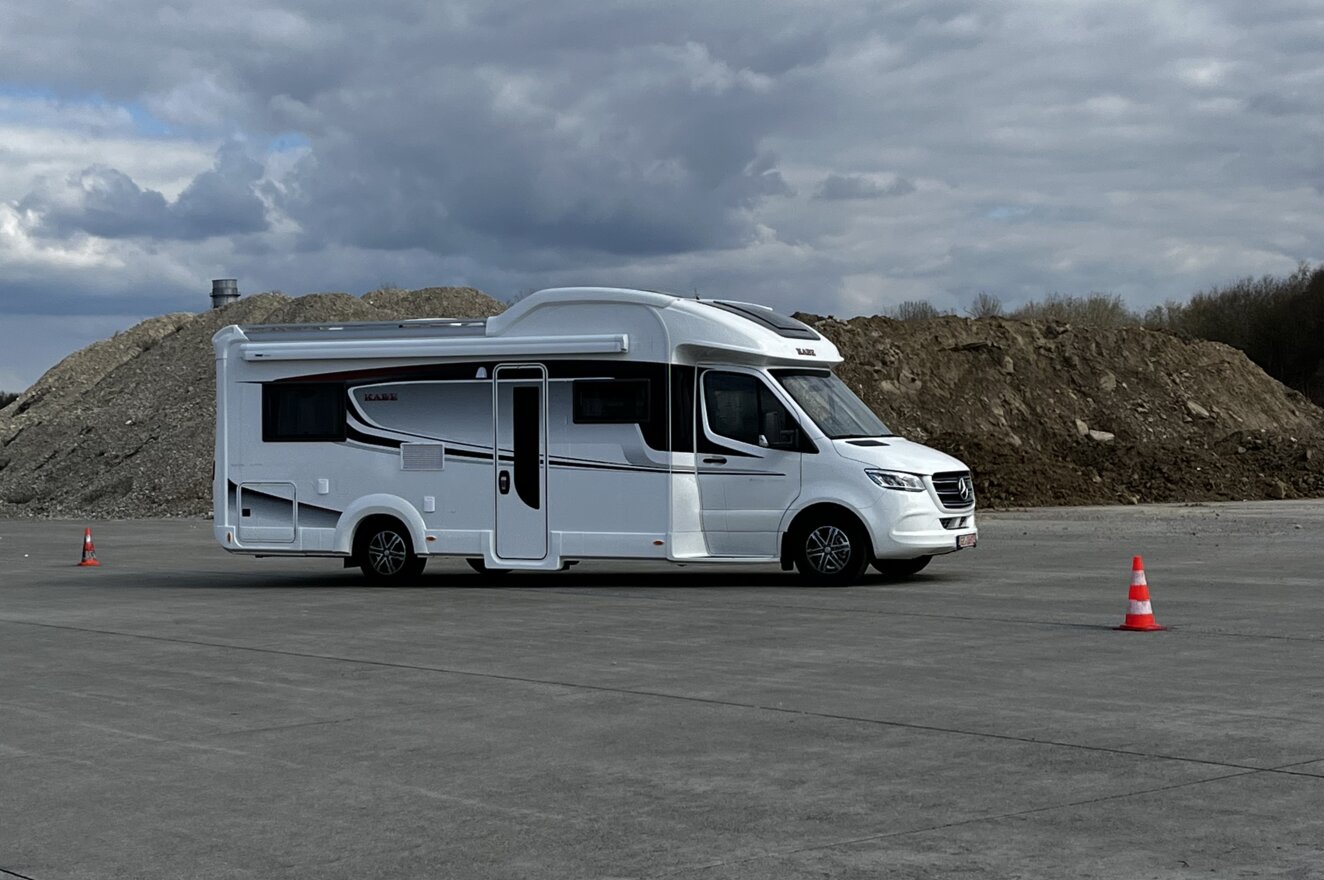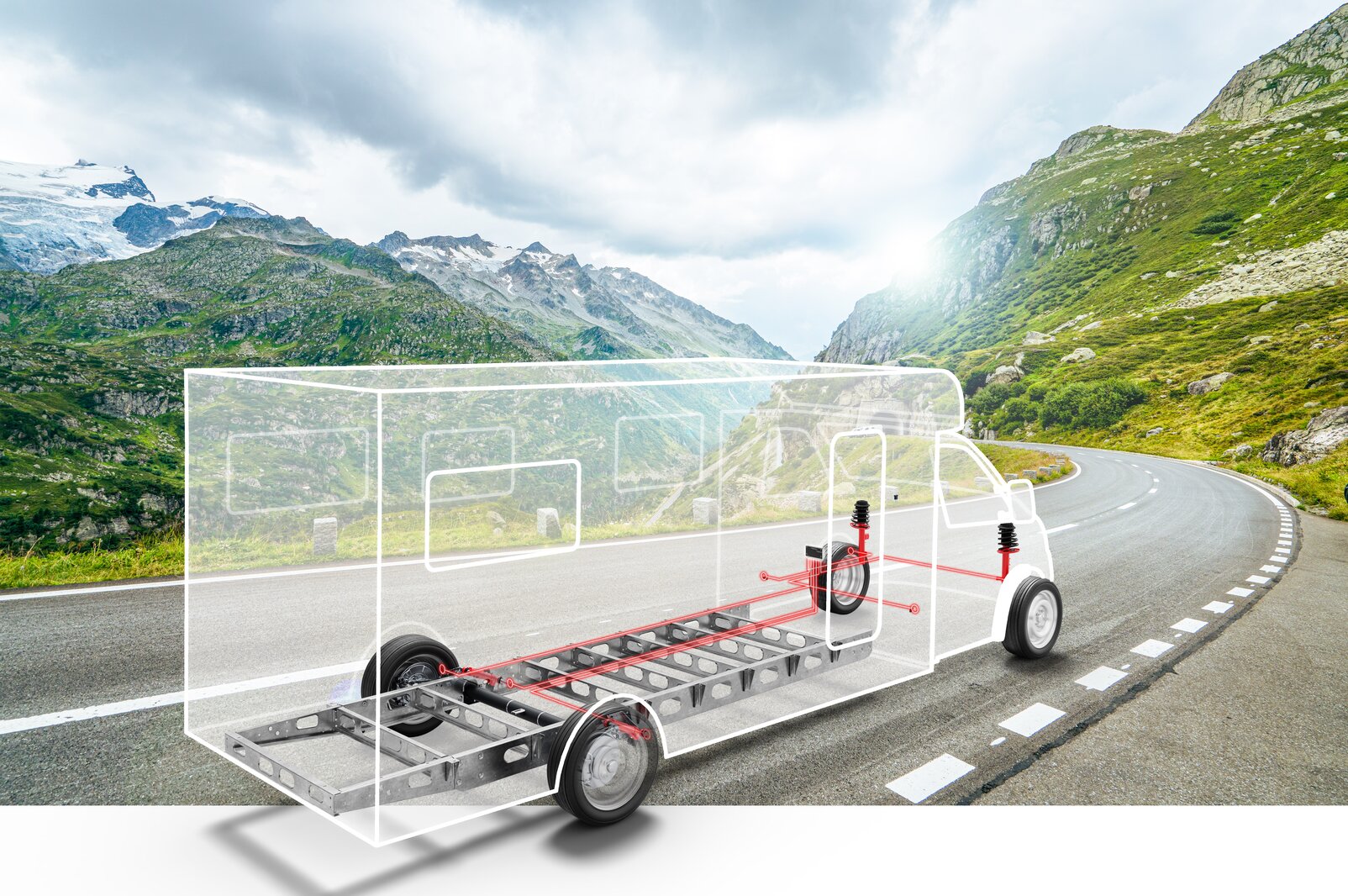 Semi-active suspension for motorhomes
The chassis that helps you stay in control
More comfort and more safety: That's what the new AL-KO COMFORT DRIVE is all about. The vehicle body must be able to withstand any number of knocks and bumps – preferably without the passengers noticing. At least, that's the ideal, not just for car suspension, but for motorhome suspension too.
Together with the damper specialist KW automotive, AL-KO VT presents a semi-active damping system for retrofitting and upgrading motorhomes. It calculates the expected vehicle movement and changes the shock absorbers' settings accordingly – automatically and practically in real time. This significantly reduces disruptive wobbling, pitching, and rolling movements along the vehicle axle and noticeably decreases impacts on the chassis from potholes and bumps.
Increased driving performance with AL-KO COMFORT DRIVE
From a bad rollercoaster to smooth railway tracks
Drivers can feel that the vehicle's response is significantly more direct with the AL-KO COMFORT DRIVE, for example when taking corners. The vehicle snakes less often and brakes more smoothly, with a shorter braking distance. The vehicle adapts to different driving surfaces instantly and compensates for any unevenness – within the given physical limits. This optimises grip and traction, especially on slippery surfaces. Manual counter-steering is reduced to a minimum, relieving the burden on drivers. The system supports emergency braking by changing the shock absorber characteristics as well. This also shortens the braking distance.
AL-KO COMFORT DRIVE makes the vehicle body more intelligent
The vehicle as a computer model
Acceleration sensors on the vehicle body and wheel mounts continuously measure the real-time vehicle behaviour. Based on these measurements, AL-KO COMFORT DRIVE uses a virtual vehicle model to calculate the vehicle's movement in advance and controls the spring systems accordingly in a highly dynamic manner. In addition, AL-KO COMFORT DRIVE is connected to the vehicle via a CAN-BUS interface and controls it within the vehicle-specific ESP configuration.
The shock absorber characteristics are intrinsically changed by modifying the oil flow of the rebound and compression damping. The interaction of all these factors allows automatic scaling of the control under different loading conditions or crosswinds. All control processes occur within milliseconds. For drivers, this means an instantaneous driving response.
Two driving modes for an individual driving experience
Normal & Comfort
AL-KO COMFORT DRIVE is constantly active. It offers a choice of two driving modes: Normal or Comfort. Basically, Normal mode is set by default. Even this level offers significant changes in driving performance and vibration reduction. If Comfort mode is activated for a long motorway journey, for example, the system compensates for unevenness with even more sensitivity. The system's control unit is located in the seat box.
AL-KO COMFORT DRIVE available as a retrofit kit
AL-KO customer centres at your service
AL-KO COMFORT DRIVE will initially be available for motorhomes on the Mercedes-Benz Sprinter base in conjunction with the AL-KO AMC chassis. On Mercedes-Benz-based mobile homes, the original Mercedes-Benz spring is used in the front McPherson strut in order to achieve the standard standing heights. Installation can be carried out by any AL-KO customer centre or a certified wholesaler.
AL-KO VT and KW automotive
Longstanding business partners
These two companies are linked by more than just their long business partnership of many years. In 2021, KW automotive took over AL-KO's Damping Technology business in order to create synergies and invest in further innovative products. The new AL-KO COMFORT DRIVE is one of the fruits of this alliance, which the two companies, with their combined market power, have made available to their customers worldwide.