'British-style' camping
The royal family, pubs and left-hand driving: When Europeans think of the UK, these associations might spring more readily to mind than caravanning and campervan life. But that's not entirely justified, because Brits love camping just as much as the people from mainland Europe. What's different about caravanning on their side of the Channel?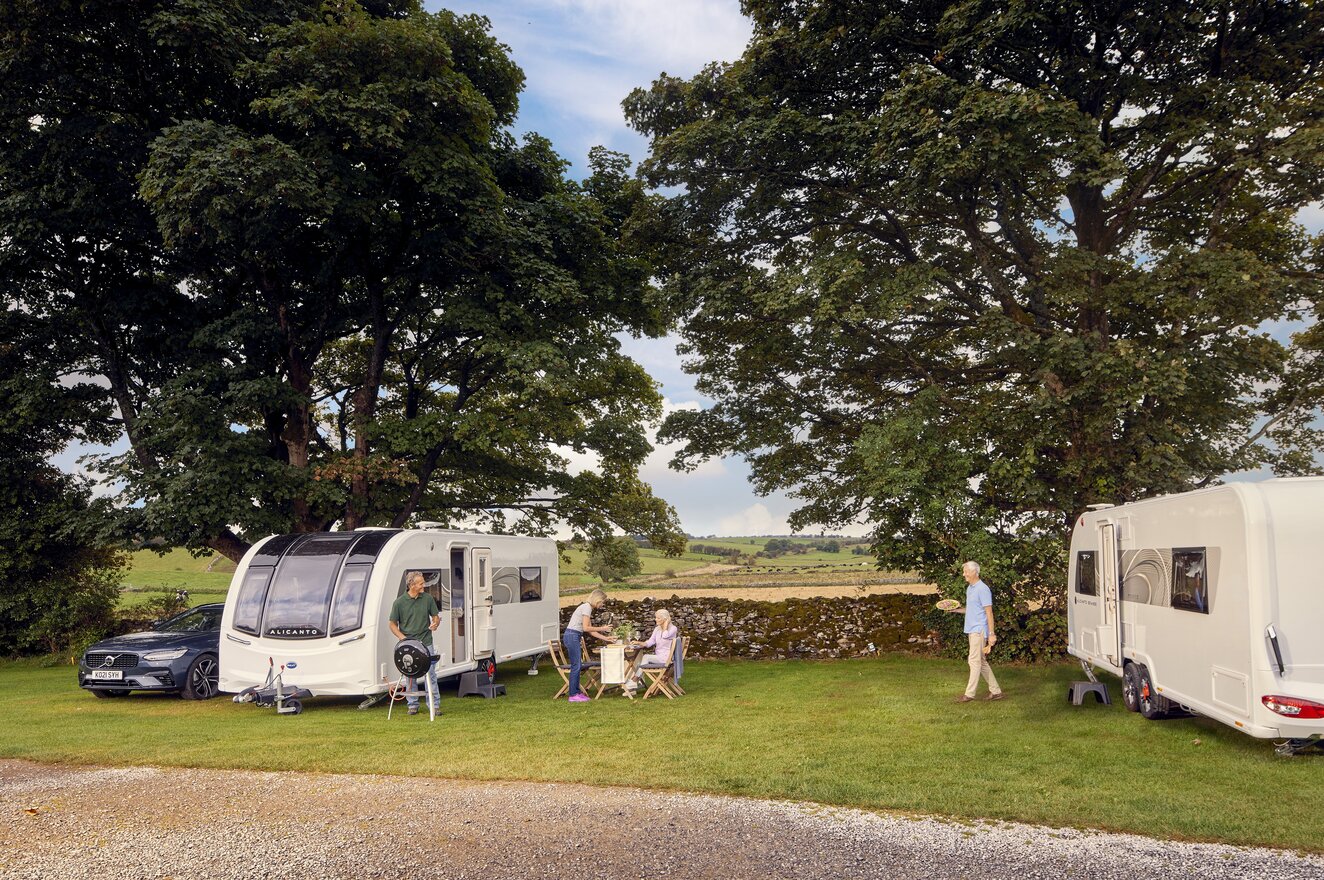 Enjoying free time with friends and family. © Alan Bond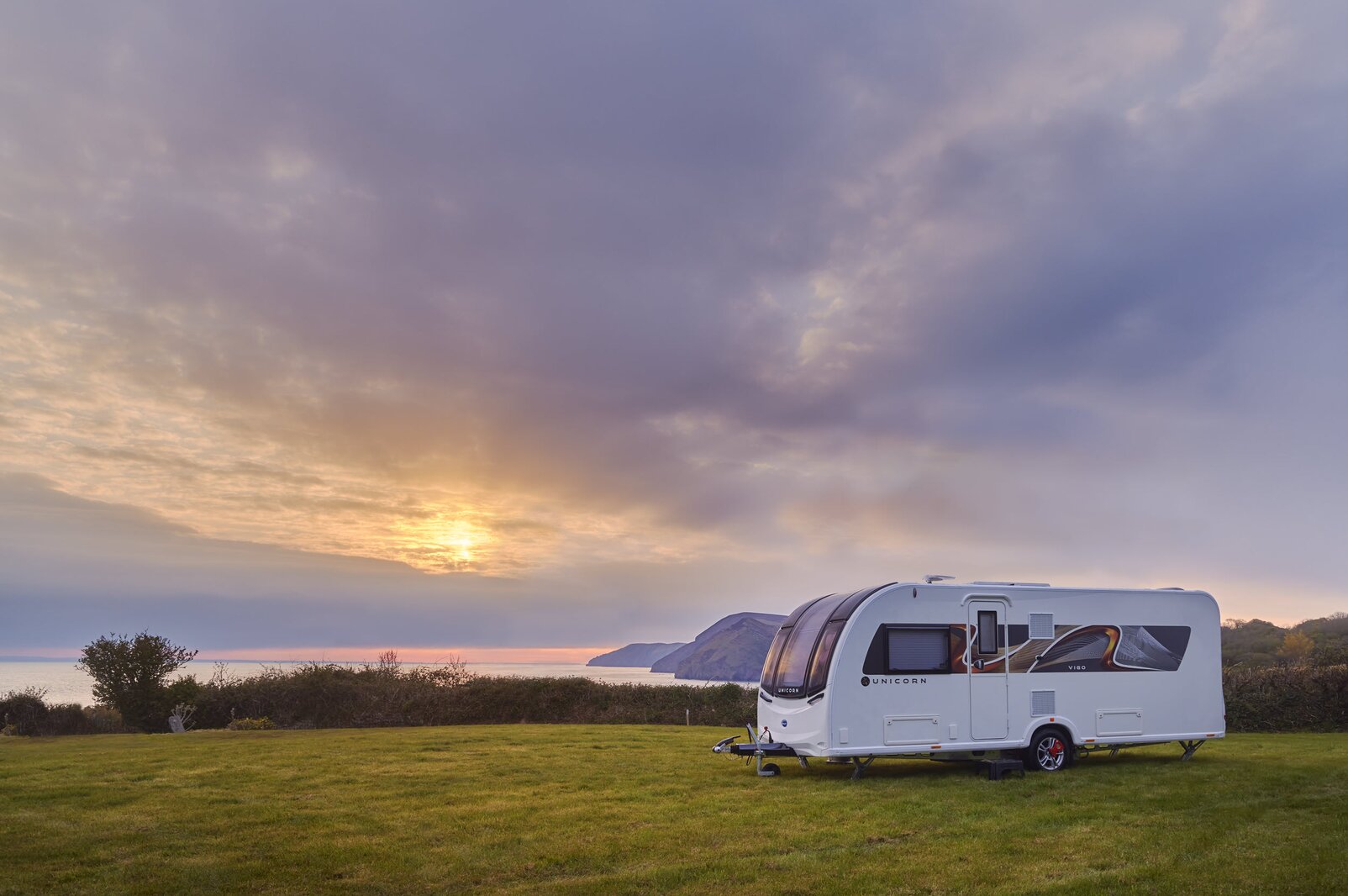 Our customer Bailey of Bristol, one of the largest leisure vehicle manufacturers in the UK, shows us how to go camping 'British style'. For more than 75 years, the caravan and motorhome manufacturer has been advising and supporting its customers in their search for the right leisure vehicle – so they know what they are talking about. And AL-KO VT supplies the perfect products to go with their range. Let's sum it up in brief: Brits like it big, comfy and with as much luxury as possible.
Life left-handed – camping in Great Britain
Individuality starts with the pitch
The first thing that will immediately catch the eye of anyone from outside the UK: All the motorhomes and caravans have their doors on the 'wrong' side. Of course they do, because parking on the side of the road and getting out have to be just as safe in left-hand traffic as in right-hand traffic on the mainland.
"The island has a fantastic network of campsites – thanks to organisations such as the Caravan and Motorhome Club or the Camping and Caravaning Club, which create and maintain the sites," explains Cristina Dorador de los Santos, Marketing Communications Manager for Bailey of Bristol. Many sites offer different pitch types, such as a choice of gravel or grass, as well as with or without awning pitches. And if, despite their very well-developed network, Brits do want to leave the island, they are very happy to travel to sunnier climes such as France or Spain.
Caravans and motorhomes
A little more luxury allowed
And what of their aspirations in camping vehicle terms: How does the UK like to camp? The floor plan of a house reflects the character of its occupants – and that's just as true for the layout of a caravan or motorhome. Should the bathroom be right next to the bedroom? Is an extra shower desired? Where does the big, cosy bed go?
The answers are as individual as the motorhome and caravan owners themselves – but English campers almost always agree on one thing: It should feel luxurious! A BBQ, oven, microwave, solar panels, safety systems – the demands are high and the ideas seemingly boundless. "In previous seasons, models with an island bed – either lengthwise or crosswise – and washroom in the middle of the caravan were particularly popular," explains Cristina Dorador de los Santos.
AL-KO VT offers a safe basis for motorhomes and caravans
From chassis to accessories and safety systems
Beneath all the functional luxury, the reliable, safe basis for motorhomes and caravans is still key. For this, Bailey of Bristol works with AL-KO: We supply the chassis for caravans and some motorhome models, along with accessory systems such as the anti-snaking system (ATC) for caravans and trailers as well as wheel locks. "We do not offer level systems such as the fully automatic HY4 levelling support system as standard, but customers can of course have it retrofitted on an individual basis," adds Cristina Dorador de los Santos. Because the sky is (almost) the limit when it comes to the increasingly bespoke and luxury requirements of English campers. For example, with the comfortable motorhome seats and seatbelt frames from AL-KO's subsidiary Aguti.
Peter Eustace, Managing Director of AL-KO Vehicle Technology in the UK, adds: "Bailey of Bristol has been a customer of AL-KO in the UK since before ALKO purchased B&B Trailers in 1982 and merged the two businesses. Our relationship draws its strengths from the quarterly business review meetings with senior team members from both companies and close R&D collaboration. AL-KO performs a quarterly audit of the chassis assembly area at Bailey. This is done by a trained AL-KO technician and in cooperation with the Bailey production team leader as well as the quality manager. We check that the workers are correctly trained, using the correct tools and that torque settings are at the required levels."
Big vehicles, big dreams
The great value of leisure time
In recent years, demand has increased for 8-ft-wide caravans (2.45 m) in particular. And couples even like to go one size up, preferring to buy a caravan designed for four people to give them more room. Because just a few centimetres more than the standard length can make a huge difference in terms of space. But it's not just about space and openness – it's about freedom above all. A relaxed attitude to life. Socialising together. Relaxing with friends and family – that's 'British-style' camping, too.
The British are sociable campers, perhaps even more so than the Germans. In typical English weather, they still like to spend their time in convivial gatherings – both inside and outside the caravan. Cosy and comfortable on a nice pitch, with a great view – and of course, the door on the 'right' side. The British way.