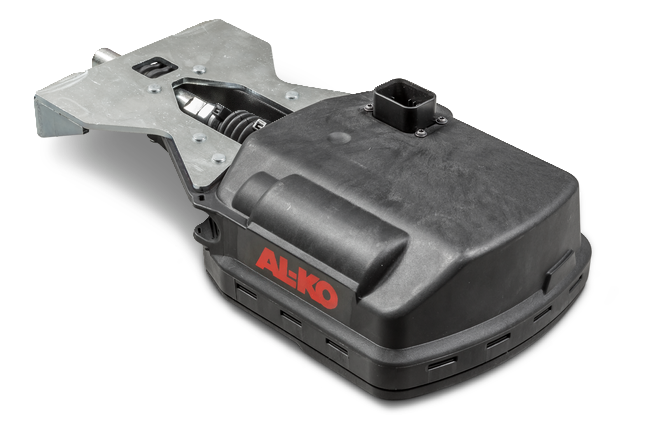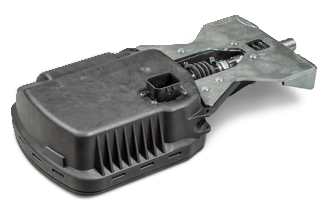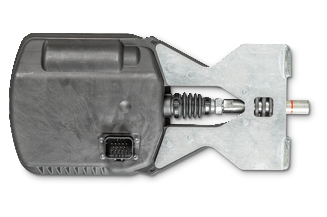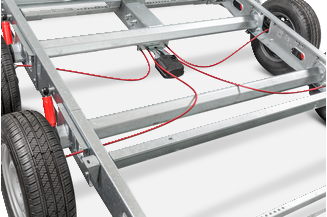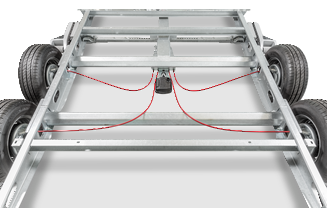 Description
ATC for commercial trailers
Like driving on rails – The new AL-KO safety system for commercial trailers
The tried and tested safety system from AL-KO with improved responsiveness has now been released and is available for all trailer types. The continuous signal evaluation as well as "attention mode", which the system switches to in the case of an imminent danger, allows the ATC to respond faster than ever. The ATC constantly controls the trailer's driving response. Sensors detect dangerous lateral movements directly on the trailer axle, even before an ESP system for trailers installed in the car is able to sense the pendulum movement. The trailer will immediately – without any action on the part of the driver – brake gently and return to a stable driving condition.
The emergency system responds automatically when the vehicle combination's swaying exceeds limit values.
Sensors react even to slight lateral accelerations.
The trailer immediately brakes automatically. The driver barely notices this correction.
Braking automatically puts the trailer back on track, i.e. there is little risk of a rear-end collision due to sudden, sharp braking, and an overtaking manoeuvre is not affected.
Your benefits:
Responds quickly and effectively to all common hazardous situations such as

Avoidance manoeuvres
Changing lanes
Overtaking
Gusts of wind
Ruts
Overloading

Faster brake engagement
Use up to 3.5 tonnes GW
Optimised weight & design
Horizontal installation (more installation space and ground clearance)
General operating permit available
Note: The ATC for commercial trailers is not capable of mitigating, nor designed to mitigate, grossly negligent driving behaviour or unfavourable loading conditions (e.g. high centre of gravity with a narrow trailer) to such an extent that accidents can always be completely prevented. The ATC for commercial trailers never absolves the driver from due diligence.
| Article number | Chassis | Weight |
| --- | --- | --- |
| 1733032 | Single axle trailer | 1.301 kg - 1.500 kg |
| 1733033 | Single axle trailer | 1.501 kg - 1.800 kg |
| 1733034 | Single axle trailer | 1.801 kg - 2.000 kg |
| 1733035 | Single axle trailer | 2.001 kg - 2.500 kg |
| 1733036 | Single axle trailer | 2.501 kg - 3.000 kg |
| 1733037 | Single axle trailer | 3.001 kg - 3.500 kg |
| 1733031 | Single axle trailer | 750 kg - 1.300 kg |
| 1733038 | Tandem | 1.300 kg - 1.600 kg |
| 1733039 | Tandem | 1.601 kg - 2.000 kg |
| 1733040 | Tandem | 2.001 kg - 2.500 kg |
| 1733041 | Tandem | 2.501 kg - 2.800 kg |
| 1733042 | Tandem | 2.801 kg - 3.500 kg |