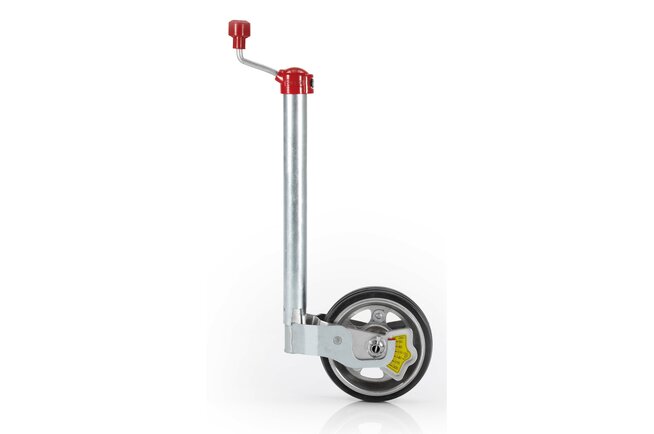 Description
Jockey wheels
Jockey wheels on the caravan aim to make your day easier. Nevertheless, if you have tried to manoeuvre your caravan on a soggy camp site, you will know that the reality is often quite different. Narrow wheels work well on hard ground, but can be a hindrance on soft ground. They leave deep furrows or even sink. If the caravan gets stuck in the mud, you will need to be feeling strong or have a helper to release it. Even manoeuvring aids often fail to help in this situation. Particularly when using a manoeuvring system such as the AL-KO MAMMUT, the right jockey wheel on the caravan is of decisive importance.
Caravan jockey wheels from AL-KO offer these advantages
AL-KO provides jockey wheels for caravans in a variety of versions, meaning that you can find the right model for virtually any caravan. With a load capacity of 300 kg, they are designed with high loads in mind and are continuously easy to manoeuvre. The hand crank is easy to turn and can even be removed from some wheels. If you need to replace the wheel, for instance, if it has been damaged, this is easy to do so yourself. Special tools or a workshop visit are not required.
The choice is yours: Plus or Premium product line
AL-KO offers jockey wheels for caravans in the Plus or Premium product lines. What they both have in common: They are finished to a high standard and are corrosion-resistant, due to being hot-dip galvanised. A slide bearing is used as the wheel bearing. Jockey wheels from the Plus product line are available in several designs, such as solid rubber, soft rubber or inflated with air. Depending on the model, the wheels have a static load capacity of 150 to 300 kg or a dynamic load capacity of between 90 and 180 kg. They include an easy to turn crank with thrust block and are also available in an extended version.
The Premium jockey wheel for caravans is available in one version, which is not only finished to an excellent standard but also offers a degree of extra comfort. The static load capacity is 300 kg, while the dynamic load capacity is 180 kg. The caravan jockey wheel comprises a solid rubber wheel with steel rim. The crowned wheel is suited to both hard and soft ground. On the latter, you can take advantage of the wide contact area, which prevents the wheel from sinking. Thanks to the crowning, the wheel only uses a small contact area on hard ground and can therefore be easily manoeuvred. Any unevenness in the ground such as kerb stones can be effortlessly overcome, thanks to the swing arm suspension. The crank fits comfortably in your hand and can be simply removed when not in use. A rather interesting fact: This caravan jockey wheel features a scale. Measure the nose load of your caravan with the integrated wheel load indicator. A separate nose load scale is therefore no longer required.
Your benefits:
Premium product line
Corrosion protection: hot-dip galvanised
wheel bearings: slide bearings
swing arm suspension available
removable crank and wheel
Plus product line
Corrosion protection: hot-dip galvanised
smooth crank, extended version
| Article number | Max. nose load in manoeuvring mode (in kg) | Diameter | Product line | Weight | Tyres | Rim | Max. Trailer load when stationary (in kg) |
| --- | --- | --- | --- | --- | --- | --- | --- |
| 1221695 | 180 kg | 230 mm | Premium Profi | 9.8 kg | Solid rubber | Steel | 300 kg |
| 1222435 | 90 kg | 215 mm | Plus | 5 kg | Soft rubber | Steel | 150 kg |
| 1222436 | 90 kg | 200 mm | Plus | 5 kg | Solid rubber | Steel | 150 kg |
| 1222437 | 180 kg | 200 mm | Plus | 7 kg | Solid rubber | Steel | 300 kg |
| 1222438 | 120 kg | 260 mm | Plus | 5 kg | Air | Steel | 200 kg |
Jockey wheels
Perfectly suitable for our manoeuvring systems.