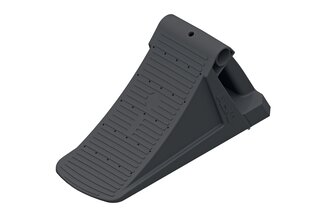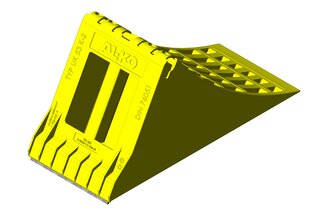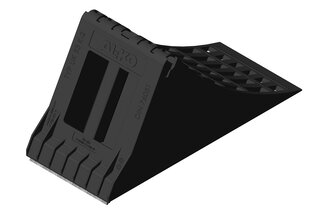 Description
PLUS wheel chocks
Park your trailer properly
Wheel chocks secure your trailer against movement – regardless of whether the trailer is coupled to the towing vehicle or parked on its own. The metal or plastic blocks resemble the shape of a small ramp. They are slid underneath the tyres and in this way block the wheels. This prevents the trailer from rolling away on steep or uneven terrain.
You can also use wheel chocks to secure the trailer during loading and unloading. In this way, you ensure that the trailer is reliably secured against movement, if for instance, you want to unload it with a forklift. The wheel chocks are placed in front of the wheels in the direction of motion They do not usually replace a handbrake, if a trailer model has one available. They are simply used as an additional function.
Wheel chocks for trailers are required by law
Wheel chocks are not just a useful accessory for trailers. In many cases they are even required by law. According to § 41 paragraph 14 of the German Road Traffic Licensing Regulations (STVZO), tandem axle trailers, which are not semi-trailers, rigid-axle trailers or centre-axle trailers, and have a permitted total weight of more than 750 kg, require a wheel chock. Semi-trailers, three-axle and multi-axle trailers as well as rigid-axle trailers and centre-axle trailers, whose permitted gross weight exceeds 750 kg, require two wheel chocks.
The wheel chocks must be stowed with care. To ensure they are always to hand, the wheel chocks must be fastened inside or on the trailer, and in such a way that they are firmly attached and do not rattle or even be lost. Special holders keep the chocks in place, chains or hooks may not be used.
AL-KO offers wheel chocks in two different product lines. All wheel chocks comply with DIN 76051 Edition 11/92. This DIN is recognised in all countries of Europe. However, regulations of specific countries must be complied with. The wheel chocks boast a high-quality, ergonomic design and are characterised by resistant materials. Some of the wheel chocks include a handle, which can be used to move them into position more conveniently. You can use the wheel chocks in a temperature range between -30 and +60 degrees Celsius. They are also resistant to UV light.
Functional metal wheel chocks from the Basic product line are perfect for everyday use. They consist of a Sendzimir-galvanised steel plate and are spot welded. They do however only offer limited resistance to weather conditions.
The PLUS version is especially robust and is designed for high loads. These plastic wheel chocks have a low weight and offer excellent weather resistance.
Your benefits
Made of plastic, PE
Certified to DIN 76051
Temperature resistant between +60° and -30°
UV-resistant  
Durable corrosion protection
| Article number | Colours | Material | Type | Weight | Wheel load per wedge | Maximum static tyre radius |
| --- | --- | --- | --- | --- | --- | --- |
| 1237250 | black | Plastic | UK 10 K-2 | 0.18 kg | 800 kg | 310 mm |
| 1235990 | black | Plastic | UK 36 KL | 0.6 kg | 1600 kg | 360 mm |
| 1213314 | yellow | Plastic | UK 46 K-2 gelb mit Metall-Gleitschutz | | 5000 kg | 460 mm |
| 1213314 | yellow | Plastic | UK 46 K-2 gelb ohne Metall-Gleitschutz | | 5000 kg | 460 mm |
| 12251517 | yellow | Plastic | UK 46 K-2 schwarz mit Metall-Gleitschutz | 1.92 kg | 5000 kg | 460 mm |
| 1213314 | black | Plastic | UK 46 K-2 schwarz ohne Metall-Gleitschutz | | 5000 kg | 460 mm |
| 1732683 | yellow | Plastic | UK 53 K-2 gelb mit Metall-Gleitschutz | 1.61 kg | 6500 kg | 560 mm |
| 1732682 | yellow | Plastic | UK 53 K-2 gelb ohne Metall-Gleitschutz | 1.39 kg | 6500 kg | 560 mm |
| 1732681 | black | Metal | UK 53 K-2 schwarz mit Metall-Gleitschutz | 1.61 kg | 6500 kg | 560 mm |
| 1732642 | black | Metal | UK 53 K-2 schwarz ohne Metall-Gleitschutz | 1.39 kg | 6500 kg | 560 mm |