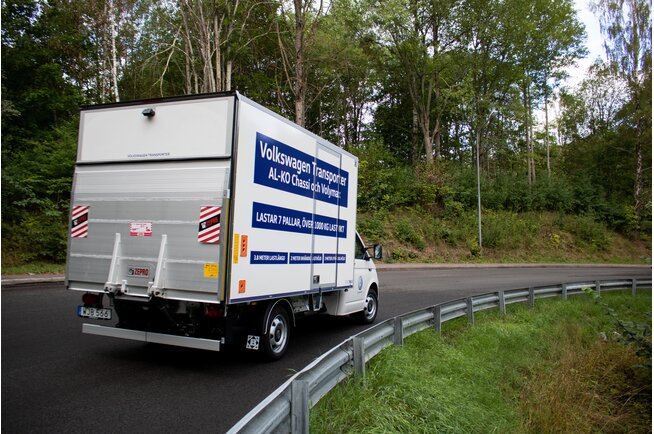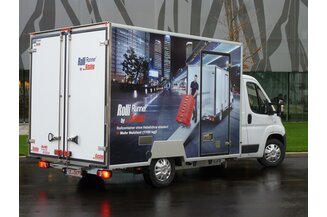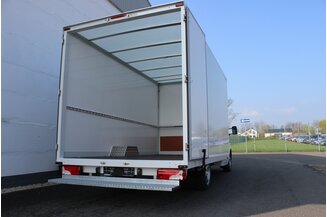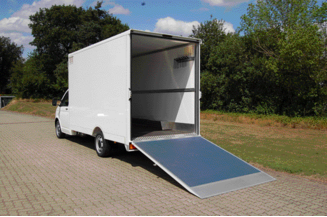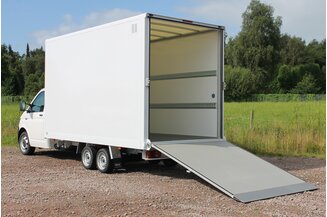 Description
AL-KO chassis for box bodies
Transport goods with safety in mind
The question arises for many companies as to whether they would prefer to buy a prefabricated van or a chassis with a box body. Ultimately, this depends on the intended use. On box bodies, the loading space is separate to the towing vehicle, whereas in a van you can move through from the driver's seat to the tailgate. If this does not matter to you, you can also safely load bulky items in a transporter with a box.
The loading space of vans is often not fully taken advantage of. The side walls are inclined and even the rear section is not straight. Cardboard boxes and filled pallets are sometimes unstable and need to be secured. During braking manoeuvres the load can cause a hazard to the driver – such problems are of no concern on box bodies. In comparison to a dropside van, a transporter with box protects the load against the elements – particularly sensitive goods can be safely transported.
Customise boxes
Customise AL-KO box bodies in line with your requirements. You can also paint it or attach promotional logos. The loading space is also designed according to your exact needs. Tradesmen fit shelves and hooks to store their tools and materials on the walls. If you need to transport clothes or similar, we recommend practical hangers. Interior lighting is also practical in many areas.
Simple loading by ramp
Transporters with AL-KO box body can be extended with a ramp, which makes loading much simpler. A ramp not only accelerates the process, it allows you to conveniently load heavy objects with a pallet truck in no time at all. Moreover, a ramp preserves the health of your employees - laborious lifting of goods with their physical strength is a thing of the past.
The 13" chassis used is a low frame chassis with a low loading edge height. The ramp therefore has a low loading ramp angle, which makes loading a breeze. Optionally order the chassis with Air Premium X2 air suspension and the option of lifting or lowering the chassis.
The benefits of box bodies at a glance
Variable dimensions (wheelbase, overhang, frame length)
Low-frame chassis with low loading/unloading height
High loading/unloading comfort
Tail gate not required
Higher permitted gross weight
Higher
Additional advantages of box trucks with a 13" chassis
No wheel housings required for the body
Very low loading edge height with optional Air Premium X2 air suspension and lifting/lowering function
Easy loading/unloading via loading ramp
Low loading ramp angle
With ESP as standard
Implementation of high load volume (>35m³)
AL-KO chassis for box bodies