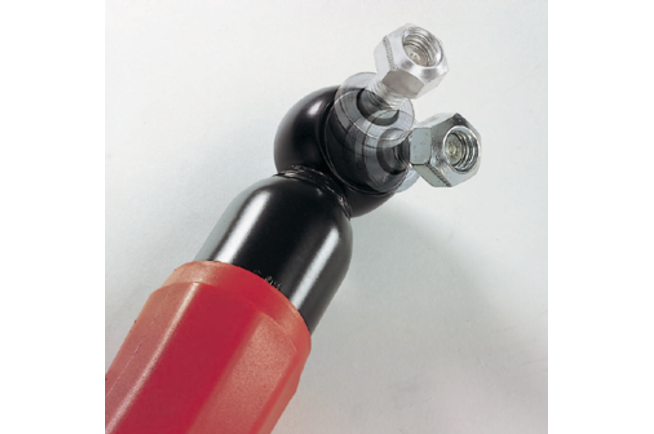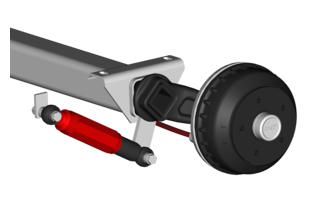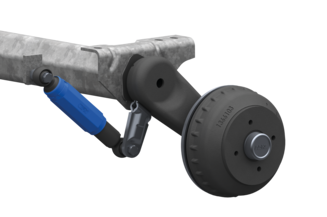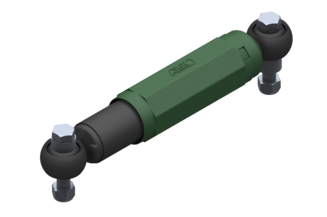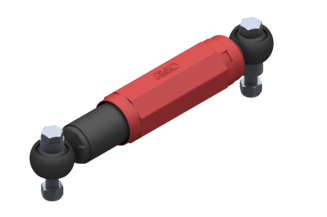 Description
Shock absorbers
Inadequate shock absorption of the caravan body can lead to the trailer bouncing dangerously, even with only small bumps in the road. Your caravan never leaves the ground with shock absorbers from AL-KO: Immediate vibration dampening, improved driving and braking stability and optimum ground contact ensure safe and convenient driving.
Trailers with shock absorbers are safer on the roads
Slight unevenness in the road surface may cause considerable vibrations in the body. This means the following for the caravan: If you want to drive your caravan on the motorway at 100 km/h, you will need to fit the trailer with shock absorbers. However, the shock absorbers also offer increased driving safety and comfort even at lower speeds. After all, missing or inadequate shock absorption of the trailer can quickly become dangerous: If vibrations of the body are not stopped immediately, they continue to develop. This may cause dangerous bouncing of the trailer, which in the worst case scenario results in loss of control of the vehicle combination.
Does your trailer have the right shock absorber?
Even if your trailer already has shock absorbers fitted, you should check whether the body achieves driving safety in its current condition. The problem with shock absorbers for many manufacturers is that they are designed for too high a weight range: Shock absorbers, which are designed to cover too large a range of trailer weights, do not achieve the desired vibration damping in the lower nor the upper range. In the lower weight range, the trailer tends to bounce and jolt due to overdamping. In the upper weight range, the trailer is underdamped; the result being that an improvement to driving safety is hardly noticeable. At AL-KO, you will find the right shock absorber for every trailer. Our AL-KO Octagon shock absorbers are designed for a special trailer weight class, and as such ensure optimum vibration damping in their respective weight range. In order to avoid confusion, the shock absorbers are colour coded according to the permissible gross weight of the trailer or caravan (see Technical Data).
In the AL-KO range, you will also find a low-cost universal shock absorber as well as shock absorbers, in which mechanical components (e.g. cylinders) at particular risk are reinforced if overloaded. Thanks to our experience over the decades in vehicle technology, we only offer durable high-quality products.
Trailer shock absorbers for any chassis
Assembling AL-KO shock absorbers is quick, simple and largely without tools. The swing arms on AL-KO axles for holding shock absorber brackets are prepared as follows:
Bolt-on shock absorber bracket
In certain forged swing arms, mounting holes are provided that make it possible to subsequently screw on a shock absorber bracket.
Plug-in shock absorber bracket
In various hollow swing arms, mounting holes are provided that make it possible to insert a shock absorber bracket there, and then bolt it on subsequently with the shock absorber.
Shock absorber bracket for welding on
For axles with forged swing arms, shock absorber brackets are welded during the building of the axle. They can also be welded according to special guidelines by a specialist workshop during retrofitting.
Thanks to the rubber-mounted articulation connection eyes, AL-KO shock absorbers can be installed at an angle of up to 5° with low wear and in a stress-free position. The screws are integrated into the eyes and along with the nuts are included in the scope of supply.
Your benefits:
Overload protection
Quality seals
Valve made of chrome-plated sintered metal
Piston rod with only 0.1 Ra. roughness
Dust protection between the inside and outside tube
Special oil
Shock absorbers from AL-KO: Optimum driving safety for your caravan
Fit your trailer with shock absorbers from the body specialist: At AL-KO, you will find shock absorbers perfectly tailored to your trailer weight and your frame. Thanks to simple installation in no time at all, you can benefit from improved driving and braking stability and optimum ground contact: Make driving safe and comfortable with shock absorbers from AL-KO.
| Article number | Weight single axle | Weight two axle | Weight | Colours |
| --- | --- | --- | --- | --- |
| 244087 | 4000 kg | 7500 kg | 1.3 kg | black |
| 244085 | 1350 kg | 2700 kg | 1.3 kg | blue |
| 244084 | 900 kg | 1600 kg | 1.3 kg | green |
| 244086 | 2000 kg | 3500 kg | 1.3 kg | red |