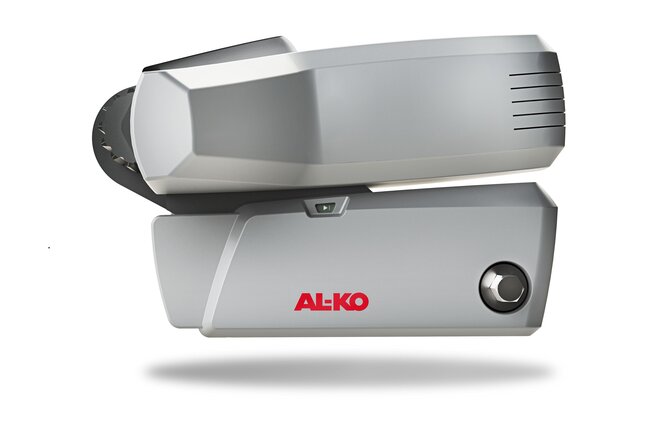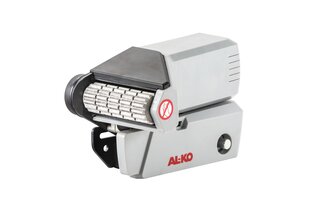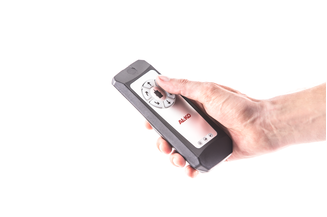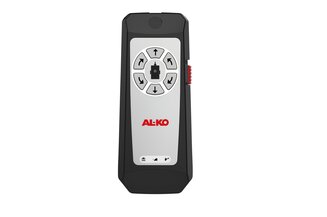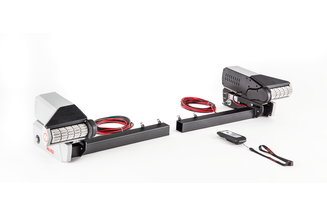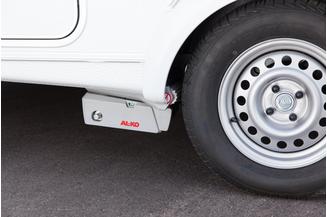 Description
AL-KO RANGER manoeuvring system
The RANGER manoeuvring system from AL-KO is suitable for single axle caravans up to 1.8 t and for tandem axle caravans up to 2.5 t and controls and manoeuvres your caravan right where you want it to go. The RANGER works reliably even in the most confined spaces and on steep terrain. Manoeuvre your caravan with millimetre-precise accuracy and completely effortlessly, thanks to the easy-to-use remote control, into the perfect position on any pitch. Even rotating the caravan around its own axis through 360° is possible. The RANGER manoeuvring system impresses users with its proven AL-KO quality at attractive prices.
Your benefits: 
​AL-KO quality and design
Optimum ground clearance
Ergonomic remote control with lanyard
Suitable for almost any single axis caravan up to 1.8 t and tandem axle caravan up to 2.5 t
Millimetre precise manoeuvring 
Worldwide service network
Power: 
The RANGER overcomes obstacles up to two centimetres in height and with a maximum gradeability of 18 per cent.  
Safety: 
Soft start and soft stop for precise and bump-free manoeuvring
Perfect and tested AL-KO chassis connection​
Protected mechanical system
​LED display on the controller and remote control for overload and malfunctions
Five-year warranty according to AL-KO Warranty Conditions
| Article number | Max. Climbing capacity | Type | Max. Weight vehicle | Weight |
| --- | --- | --- | --- | --- |
| 1731051 | 18% at 1500 kg total weight | Single axle S21 | 1800 kg | 37 kg |
| 1731211 | 18% a 1800 kg de peso total | Tandem axle TS411 | 2500 kg | 74 kg |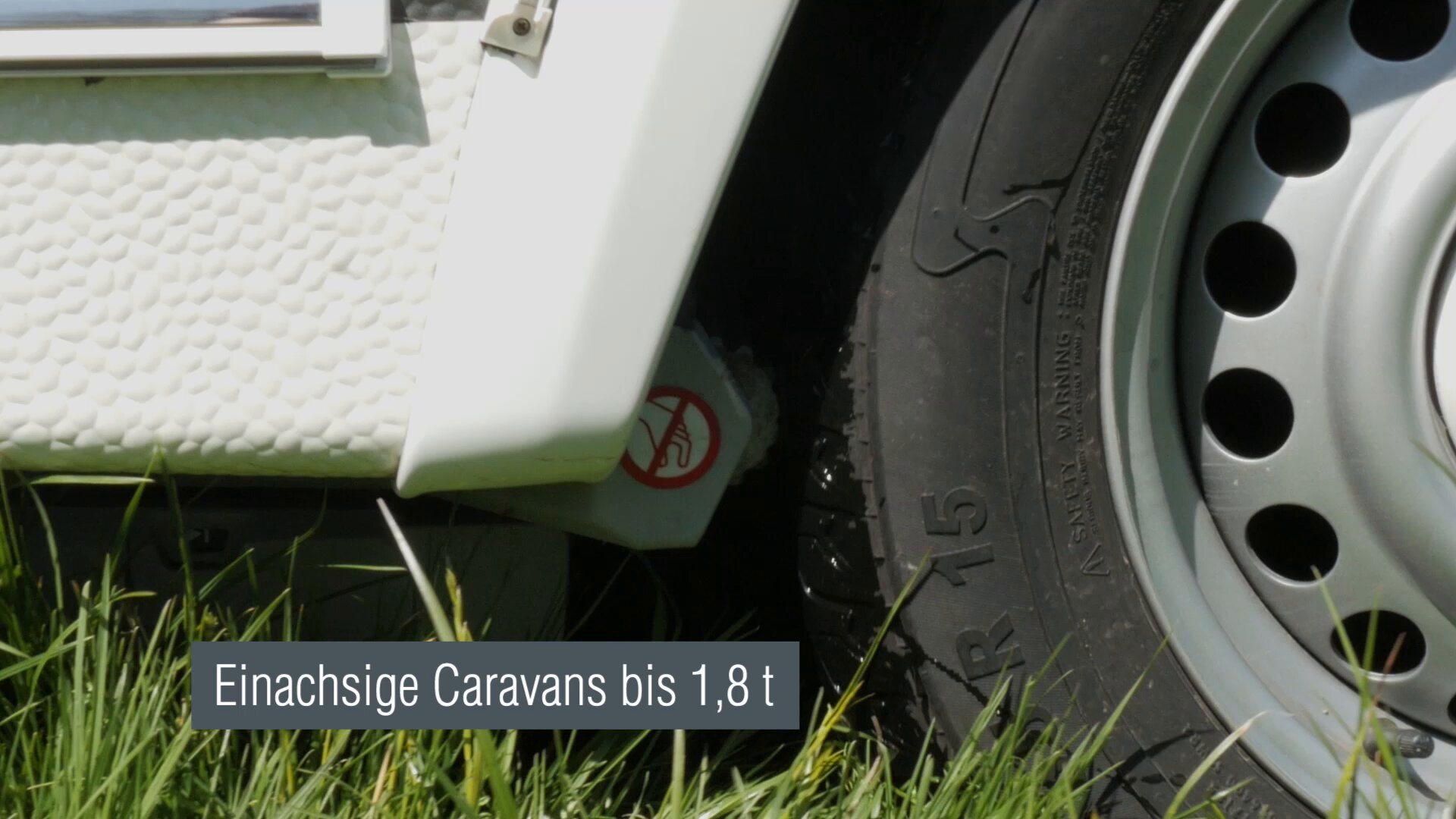 AL-KO RANGER manoeuvring system
The AL-KO RANGER manoeuvring system is available for single and tandem axle caravans.
The RANGER remains stopped when you release the buttons of the remote control, when you turn off the remote control or when you remove the key in the circuit breaker, and it will stop on the slope according to its gradeability.
No, the drives must be returned to the rest position after manoeuvring to prevent damage to the tyres. To secure the caravan against rolling away, please use available wheel chocks and to prevent theft, use corresponding safeguards (e.g. Safety Premium or AL-KO Secure).
AL-KO recommends an AGM battery with a min. 80 Ah (single axle) or 100 Ah (tandem axle) or an AGM battery using spiral cell technology (e.g. Optima) with a min. 66 Ah. A suitable charger must be provided for both versions.
The RANGER has a 2-year basic warranty, which can be extended to 5 years by means of registration. The warranty includes material costs for the entire system (drive incl. rollers, control unit, remote control). Online registration on our special homepage is required for the warranty extension. Registration must be done on our special website at www.al-ko.com/ranger within four weeks after purchasing the product. Please see the included operating manual or the AL-KO homepage for our warranty conditions: www.al-ko.com/ranger.
No, the RANGER cannot be installed directly due to the required manual control (rod) under the frame.
In some circumstances and depending on the installation situation and free space, additional adapters may be required. See the tech. section of the caravan brochure for a quick overview.
Yes, the RANGER can be installed on nearly all SINGLE AXLE caravans up to 1.8 t PTW or TANDEM AXLE caravans up to 2.5 t. The installation space should be checked against the diagram in the technical section of the caravan brochure and the checklist.
We recommend cleaning the drive rollers and the housing using a water hose after use (do not use a high-pressure cleaner!). Do not spray directly into the cooling slots (front and rear). Plastic parts (remote control, control unit) should be cleaned with a soft, dry cloth as required.
Yes, its simple setup allows the RANGER to also be installed by knowledgeable people with the corresponding workshop equipment (e.g. 10mm² crimping tool) while taking into account the required safety measures (supports, etc.).
Installation of single-axle variants is not recommended for safety reasons because in unfavourable situations (crests, etc.) the driven axle has no contact with the ground and the caravan is unbraked and thus this poses a hazard. A tandem variant with 4 drives will be available from 1 January 2017 onwards.
For longer downtimes / over the winter months, the drive batteries should be fully charged and stored according to the recommendation of the battery manufacturer as well as charged on a regular basis using a suitable charger. The remote control batteries should be removed to prevent leakage.
No, the system is maintenance-free. However, we do recommend that the fastenings be checked before each season or at the latest every two years during caravan service in the workshop.
Yes, a drive battery with a suitable charger is required for operation if this is not already installed in the caravan (e.g. as part of a self-sufficient package). In addition, we also recommend using a suitable jockey wheel (e.g. premium jockey wheel) when using manoeuvring systems.
The RANGER is a manoeuvring system for caravans. Its use for other applications is being reviewed with regards to compliance with statutory provisions (use on private roads / spaces) within the scope of further development.