Green Tiny Houses
Tiny Houses are all the rage right now – that's why there are so many different kinds of little dream homes on the market: The spectrum ranges from individual assemblies through luxury-style mini houses to series production for complete mini villages.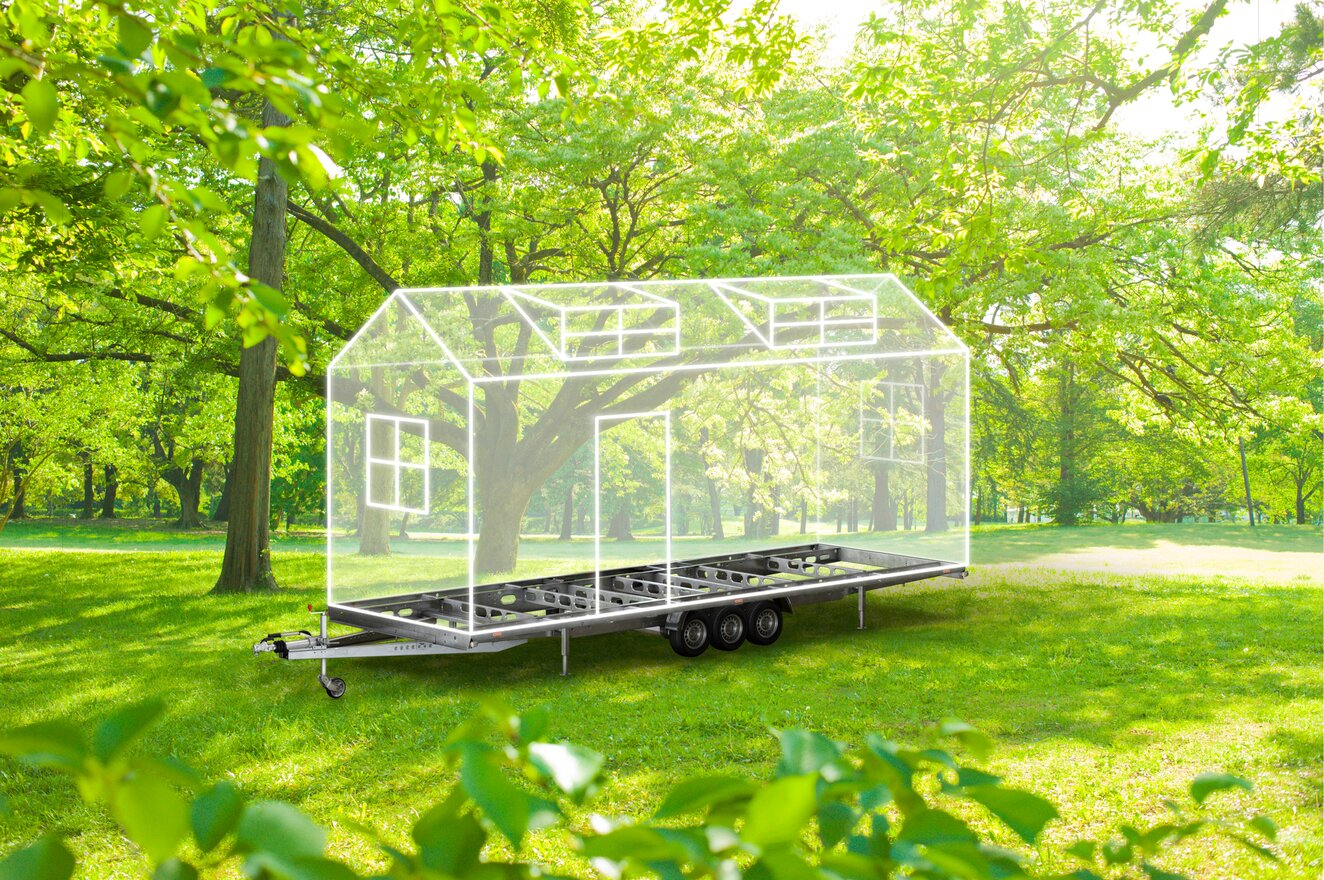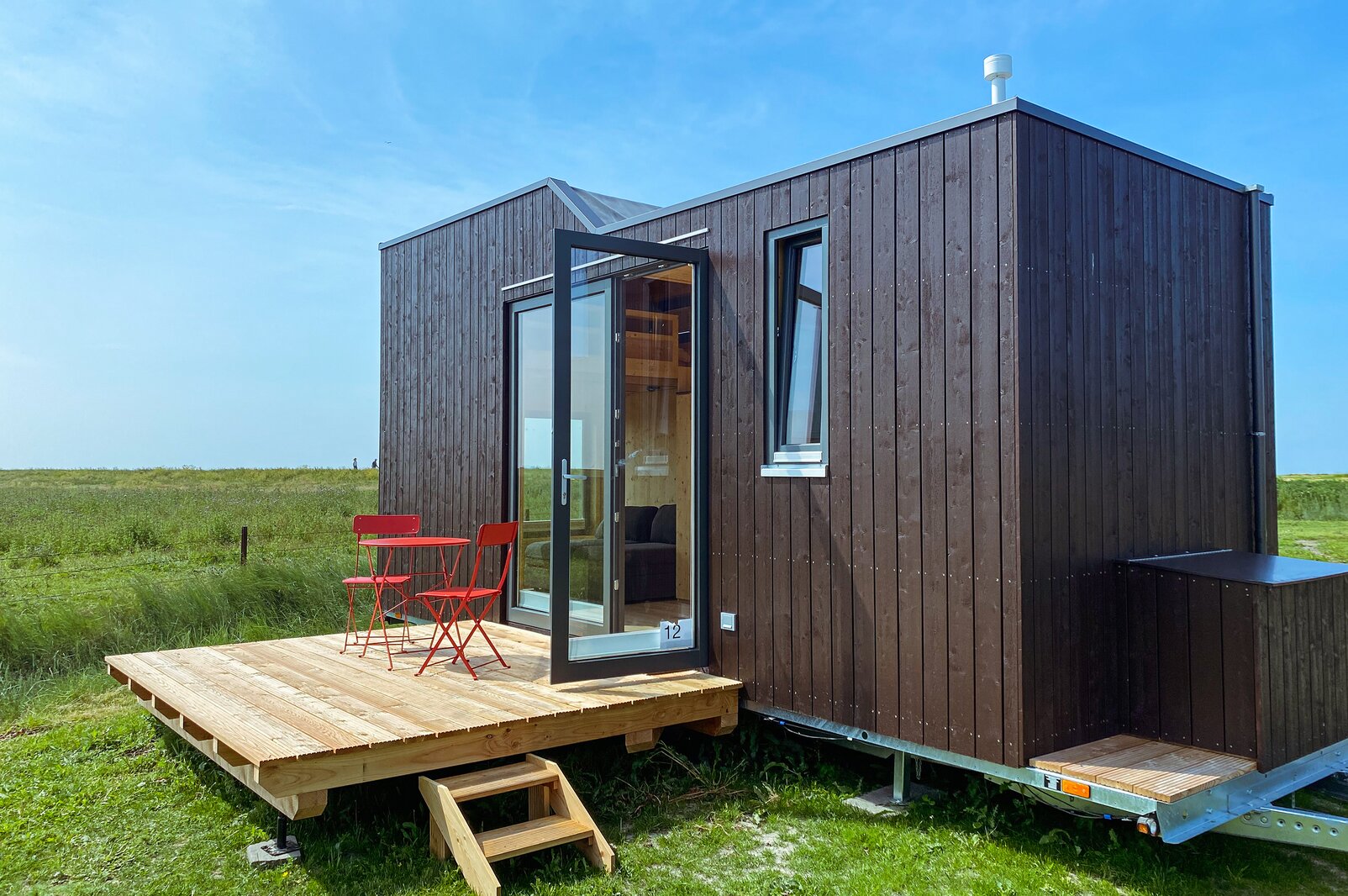 Mini villages in series quality and quantity
Based on chassis from AL-KO Vehicle Technology Group
Life on wheels requires a stable foundation. The AL-KO Vehicle Technology Group chassis are the first choice for many mini-house manufacturers. They stand out for their modular frame concept that allows different body lengths and individual configurations. Hot-dip galvanised chassis components provide reliable corrosion protection. The chassis' dimensional accuracy is so exact that the body can be prefabricated to fit precisely.
Other quality features that mini-house manufacturers appreciate in the AL-KO chassis:
a movable axle module
a patented connection on the chassis
heavy-duty supports
integrated lighting
a prestressed steel frame
the EU certificate of conformity for standard assembled chassis
Decades of experience in the production of high-quality chassis components for trailers and intelligent manufacturing concepts are the foundation for high quality and durability. The result: Product solutions designed to the smallest detail for every type of Tiny House on wheels – whether individual, luxury or series
Green Tiny Villages in East Frisia, Germany
For travellers and remote workers
Green Tiny Houses GmbH & Co. KG from Elmshorn, Germany, has a unique approach: The company specialises in setting up entire mini villages of Tiny Houses. These so-called Green Tiny Villages can be found in various German locations, from the sea to the mountains, for example in the Harz Mountains and on the North Sea coast.
In the East Frisian coastal town of Harlesiel, there are a total of 19 Green Tiny Houses on one campsite. They are ideal for families, couples, friends, individualists and remote workers. The mini village thus offers an innovative way of life for a short break, holidays or working out in the middle of nature.
Visitors can work from the Tiny Office in specially equipped workspaces. The workspaces stand out in particular for their professional equipment. Workers will be delighted by the height-adjustable desks and, above all, the special view of nature through the panoramic window. That's because the Wadden Sea is right on the Tiny House mini village's doorstep.
Green Tiny Houses prioritise sustainability
Focus on sustainable, climate-friendly materials
The "Green" in the Green Tiny Houses GmbH & Co. KG company's name also stands for its corporate philosophy. That is why the focus is on sustainability for the selection of materials and the Tiny Houses' construction.
The various models of mini holiday homes are designed to be climate-friendly from the ground up: Superwood from the Scandinavian forests or specially boiled wood forms the Green Tiny Houses' façades. Both types of wood are considered particularly robust and durable. Seaweed from the Baltic Sea and wood fibre are used for insulation.
Another highlight is a NASA-inspired astronaut shower. The highlight: The water is directly recycled (heated, filtered and purified) while you shower. This can save up to 90 percent of water and up to 80 percent of energy consumption. Also integrated into the Green Tiny Houses: an incinerating toilet that works completely without water.
The facility on the North Sea coast also features a sustainable mini sauna house. One to five percent of the rental income, depending on the location, is donated directly to local nature conservation as well. This is included in the price of the accommodation and is another important issue for Green Tiny Houses GmbH & Co. KG, which wants to redefine sustainability in tourism.
AL-KO and Green Tiny Houses
A tailor-made partnership
A special feature of the Green Tiny Houses: It's not just individual mini-houses that are being built, but entire mini-villages. For this purpose, the company works with predefined designs, just like with terraced houses. These determine the look of the place by ensuring a consistent image. The almost 20 Tiny Houses in Harlesiel are designed in (just) two different styles.
This is where the AL-KO Vehicle Technology Group comes in. Green Tiny Houses GmbH & Co. KG manufactures its mini houses in series. This means the same chassis, dimensions, designs etc. The AL-KO Vehicle Technology Group's chassis are particularly well suited for series models because they are bolted together rather than welded. The individual components are bolted together in such a way that almost one hundred percent dimensional accuracy can be consistently maintained. This ensures that the chassis do not show variations or inaccuracies due to welding distortions. The chassis are easy to assemble and provide a stable, durable foundation for mass-produced mini houses.
The AL-KO Vehicle Technology Group and Green Tiny Houses GmbH & Co on their collaboration
What their managing directors and business sales managers have to say
"We produce our Tiny Houses per village in a uniform layout – and focus on consistency, reliability, permanence, sustainability and stability. Once we have designed the other mini houses of our Green Tiny Villages on the basis of a model house and prefabricated certain parts for them, the most important thing is the substructure on which the Tiny House will stand. This requires dimensional accuracy and precision. The AL-KO Vehicle Technology Group's chassis ensure both. Due to their high dimensional accuracy, the body can be prefabricated to fit precisely. While other chassis often require complex and time-consuming readjustment, an AL-KO chassis can be adjusted in a short time. We were able to significantly streamline our work processes," says Jan Sadowsky, Managing Director of Green Tiny Houses GmbH & Co. KG.
"We were excited about the Tiny House villages concept right from the start – because the AL-KO Vehicle Technology Group chassis have also been specially developed for series production. For example, they have a patented connection. The positive-locking shear cam connection points ensure special fitting accuracy on the chassis. Flat round bolts are used in the area of the body's supporting surfaces, so that there is only a small interfering contour," Pierre Auf dem Brinke, Business Sales Manager North of the AL-KO Vehicle Technology Group, explains the construction method in more detail.
You can find out more about Green Tiny Houses GmbH & Co KG at https://greentinyhouses.com/
You can read more about the Tiny House trend on our blog