Schutz Fahrzeugbau: The professionals for individual commercial vehicle solutions
Whether for tippers, platform or panel beds, bodies for transporter vans, trucks or commercial trailers – Schutz Fahrzeugbau GmbH offers a wide range of individual solutions in various designs and weight classes for vehicles from all major commercial vehicle manufacturers. The market leader for customised vehicle bodies' success story began in 1961 in a small forge. In the following decades, the demand for commercial vehicles and trailers grew. Schutz Fahrzeugbau GmbH expanded its product range accordingly and established itself as a provider of complete solutions in transport and special vehicle construction.
With ever more new body concepts such as the production of airport ground support equipment, cargo and luggage trailers or the purchase and sale of agricultural machinery, the company has been able to grow into a medium-sized vehicle construction specialist with around 100 employees. Today, highly customisable body solutions are offered for all common chassis and produced in large numbers.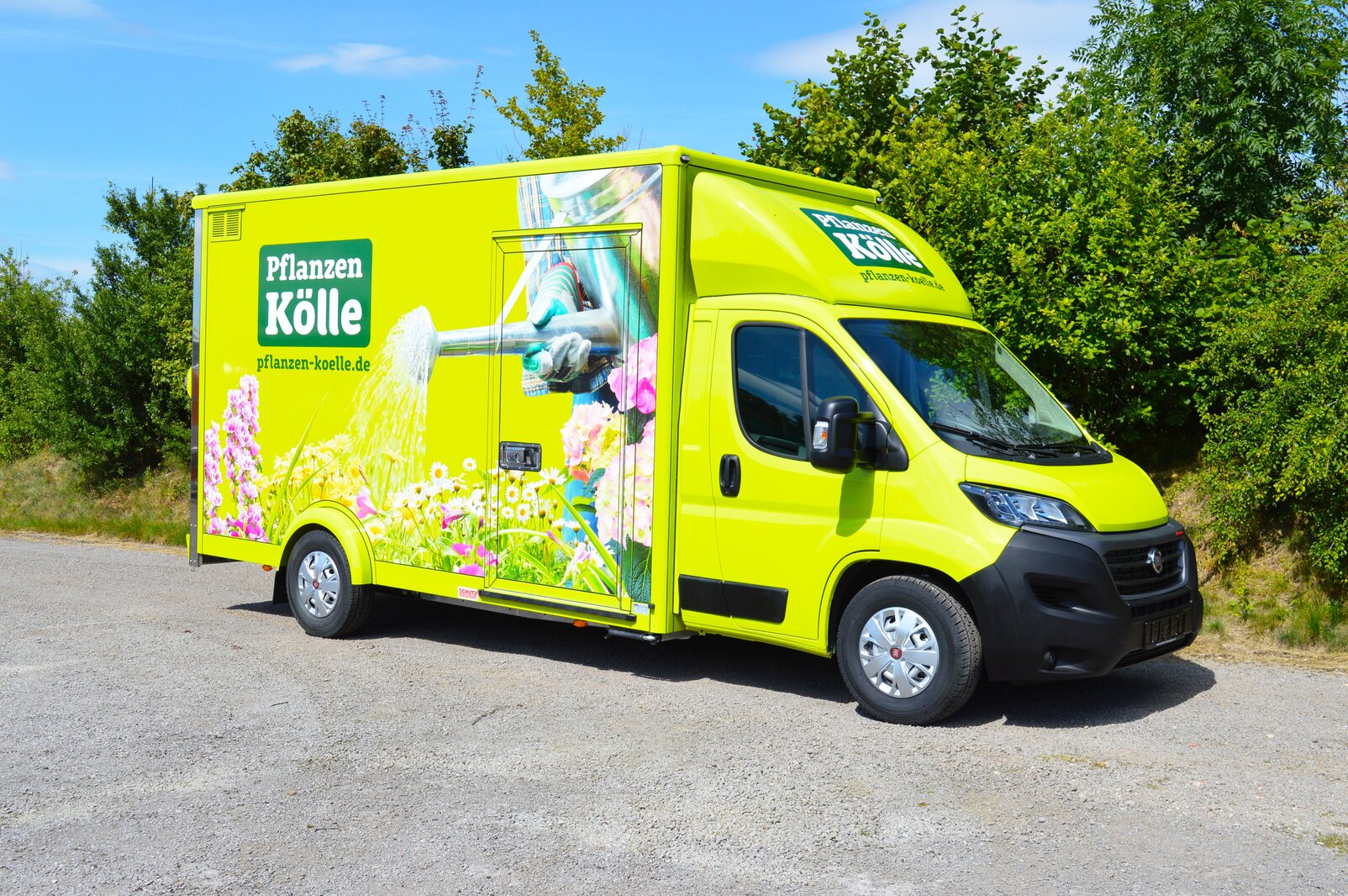 Customised body solutions
As early as the end of the 1960s, the company developed its first body solution for transporting plants, as the neighbouring nurseries were looking for equipment to transport their products. It was not long before this initial support was followed by a full range of products for the gardening industry. Today, the portfolio includes box and iso box bodies as well as tarpaulin bodies. These body solutions are specially made for CC containers designed for transporting potted plants and flowers by trailer, van or truck. CC containers serve as a recognised standard within the gardening industry for plant transport and can also be dismantled to reduce storage and transport costs for empties.
One product – limitless possibilities
Over time, Schutz Fahrzeugbau GmbH developed and manufactured more and more body solutions and complete vehicles based on customer-specific wishes – because each industry needs its own customised body solution. In addition, the vehicles can be equipped with different options for the various target groups. For example, a heated box with an insulating curtain at the rear can be ordered for the optimal transport of horticultural products. For other industries, options such as an integrated power supply, a partial cooling area, good ventilation or energy-efficient LED lighting can be particularly useful. The interior lighting as well as side doors or side flaps, additional lashing strips and much more can also be adapted to individual needs. Today it's not just gardening and landscaping companies or bakeries, laundry services and caterers that benefit from the stable and durable body solutions, but also cemetery gardening companies, road construction offices and municipalities, highway maintenance services, building companies and builders' yards, underground engineering and cable layers, furniture transporters and haulage companies as well as general cargo transporters – in other words, the bulk of the courier and logistics industry, the construction sector and the service industry.
User-friendly solutions thanks to AL-KO chassis
The tried-and-tested low-frame chassis from the AL-KO Vehicle Technology Group are used as the basis for individual body solutions from Schutz Fahrzeugbau. Wheelbases are determined in advance in consultation with the end customer and then implemented accordingly in the chassis. Based on the FIAT Ducato or Peugeot Boxer, the frame height is lowered by up to 218 mm compared to the original chassis. Compared to the standard solution, this AL-KO-specific low-frame concept provides additional user-friendliness thanks to its low loading edge. The low ramp makes access much less steep and ensures that rolling containers can be easily loaded into the vehicle and unloaded again conveniently and quickly from the loading edge. In addition, the installation of an optional rear step can provide more convenient entry and exit for the loading or unloading personnel. This makes the AL-KO chassis a perfect fit for all companies that want to transport cargo in a driver-friendly, careful and time-saving way.
The customer relationship: where ideas are developed together
The collaboration between Schutz Fahrzeugbau and AL-KO Vehicle Technology Group took off a few decades ago. The two companies joined forces for their first joint project as early as the mid-1980s. The collaboration's aim was to develop user-friendly body solutions that can be used by very different industries. The focus was on the customers' individual requirements and special wishes. For its commercial vehicle bodies, Schutz Fahrzeugbau GmbH has always relied on the tried-and-tested AL-KO AMC low-frame chassis as well as AL-KO components such as towbars or air suspensions. "We always know where we stand with the AL-KO Vehicle Technology Group and that it is interested in innovation and wants to help develop new ideas from the very beginning. The company is a solid and reliable partner too. Not just in terms of collaboration; vehicle components and driving safety are also constantly checked and tested. That's what our long-standing partnership is all about,," says Cord Wahlers, Sales Manager Schutz Fahrzeugbau GmbH.