Fit for spring: make sure your trailer is good-to-go
You know spring is in the air when the temperatures start to rise and trailers start to come out of hiding. After being safely tucked away over the winter, it's now time to get your trailer out of hibernation and bring it up to speed.
We'll explain which components need examining more closely and what your trailer's spring check-up is all about with five simple steps.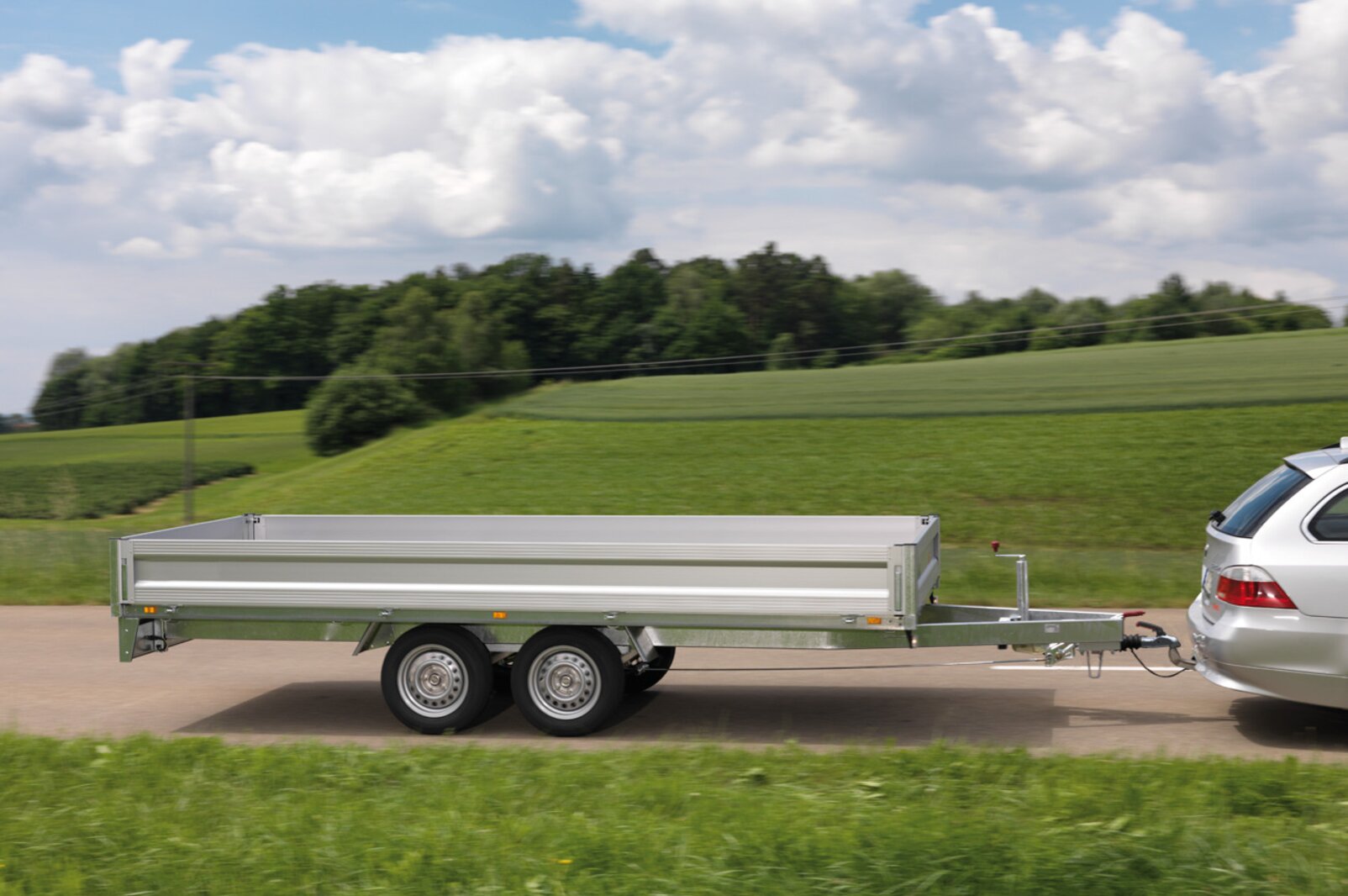 Just like with almost everything in life, the same goes here: safety has top priority. Therefore, you should check all your trailer's important functions before using it. Do this from time to time and especially when bringing it out of its winter hibernation. This will help you avoid unpleasant incidents and nasty surprises, such as faulty lights, tyres and so on. Follow the tips set out below to make sure nothing stands in the way of the official start to spring.
As an initial step, check the condition of the tyres on your towing vehicle, as well as on your trailer. Are the tyre pressure and tread depth within the normal range? Are there any rips or other signs of wear? If so, there's no escaping it - you need to change your tyres!
What's more, you should also test the lights on your trailer before setting off. This can be very time-consuming without any help. However, there are some testing devices out there that can help you to test your lights alone and without a towing vehicle. The necessary electrical equipment includes tail lights, brake lights, indicators, number plate lights, rear fog lights and, if applicable, reversing lights.
The brake rod and drum brake must be readjusted on a regular basis so as to ensure that your brakes perform optimally at all times. Failure to do this can result in an increased braking distance for the vehicle combination. Make sure that the wheels do not lock and stick to the required service and maintenance intervals. This work should be carried out by experienced staff at a specialist workshop.
There are numerous AL-KO service points where you can have your brakes readjusted. Visit https://www.alko-tech.com/de/servicestutzpunkte-fur-anhanger-und-caravan to find a workshop near you.
Digression: The AL-KO Automatic Adjustment Premium Brake
Automatic adjustment offers an alternative to manual adjustment. As such, AL-KO has made decisive improvements to braking technology with its patented solution: theAAA (AL-KO Automatic Adjustment) Premium Brake. As soon as the brake pads have too much slack, the brakes themselves automatically makes the necessary correction. This protects the brake pads, ensures optimum braking performance over the wheel brake's entire service life and thus reduces braking distance by up to five metres when travelling at a speed of 80 km/h. This innovative technology makes for optimal brake adjustment and keeps you safe on the road.
But be careful: although the system automatically sets the optimum clearance, this does not mean there's no need for proper maintenance.
3. Service the towing hitch and jockey wheel
It's relatively quick and simple to take care of the towing hitch. First of all, any dirt and grim should be cleaned off the ball head of the towing hitch with a rag. The same applies to the towing ball head on the overrun device as a matter of course. If the coupling head is rusty, clean it carefully with fine-grained sandpaper.
As a general rule: if the towbar is damaged or affected by severe rust, it's probably no longer roadworthy.
Furthermore, you should check the jockey wheel and steady legs for functionality and stability. Jockey wheels are stable, reliable aids for manoeuvring. To keep it that way, they should be checked regularly and moving parts of the components should be lubricated. When choosing jockey wheels , you can rely on the quality and safety provided by AL-KO. They are available in different designs and have a load capacity of 150 kg to 1,500 kg depending on the model. Whether fully or semi-automatic - you're sure to find the right jockey wheel for your needs from the wide range of products on offer by AL-KO.
Even if your trailer looks good on the outside, a glance at the lower base might tell a different story altogether. The corners especially should be checked for moisture and any damage repaired immediately. If necessary, you can proof the lower base with an effective protective layer,
but if rust has already formed, this won't be sufficient. Due to the high safety risk this poses, you should immediately visit a specialist workshop and consult an expert if this is the case.
Just like your car, you must take your trailer for a TÜV every two years. This is a test similar to the MOT in the UK. Do not forget to bring your vehicle's registration document with you to the test. The type plate on the trailer should also be clean and legible.
As a side note, it pays off to do this on time, in the truest sense of the word, because: if you miss the deadline for the main inspection by more than eight months, you'll have to pay a 60-Euro fine and you'll also get a point on your driver's licence.
Stick to these tips and your trailer will be ready for use again in no time. AL-KO would like to wish you safe travels!