The right supports - for a steady caravan wherever you are
The right caravan support set-up is part of a successful holiday for every camper. This can be achieved with the help of simple manual corner steadies, but using electric and hydraulic supports is even more convenient.
We're here to show you the differences between each AL-KO system and answer the frequently asked question of whether supports can also be used for jacking up - when putting your mobile home into hibernation for the winter, for example.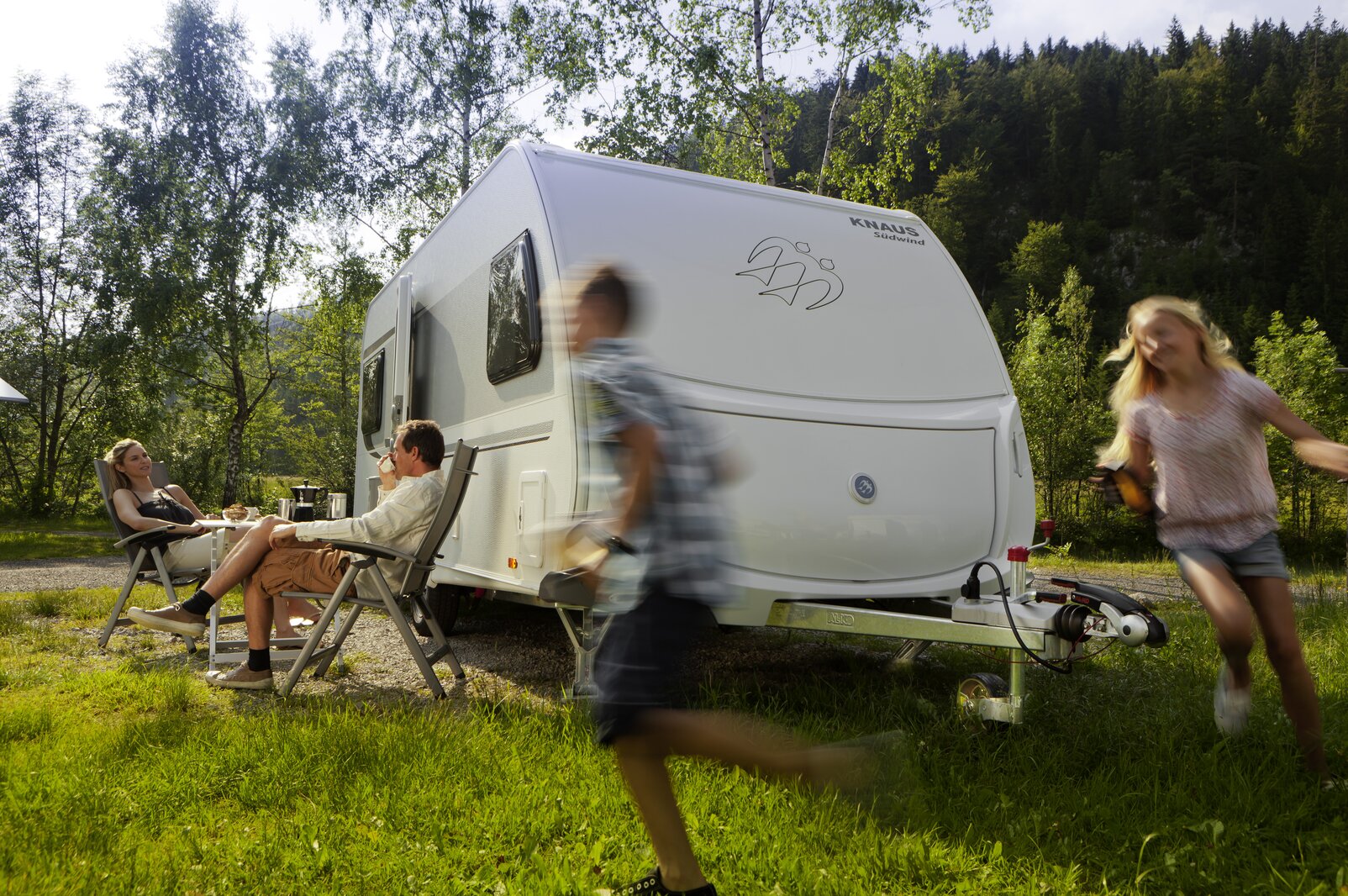 Mechanical supports
The classic
Suitable for any campers who like to ensure their vehicle stays steady through cranking by hand, these supports provide a perfectly secure stance on any terrain. They are easy to mount and are available in different versions to suit every chassis. However, if you park your caravan on soft ground, such as sand, mud or snow, it's all too easy even for the best support to sink in. It is therefore advisable to use a stable base (e.g. wooden boards, stone slabs or AL-KO Big Foot steady pads).
Top tip: many campers use a cordless screwdriver to crank their supports up and down. This is certainly more convenient than cranking up your supports by hand, but we have to advise against it as using power tools poses the risk of lifting up the caravan. This can damage not only the body, but also the thread and screw mount. If you want to use a cordless screwdriver, then only do so with the utmost caution and make sure that this is not done at full power.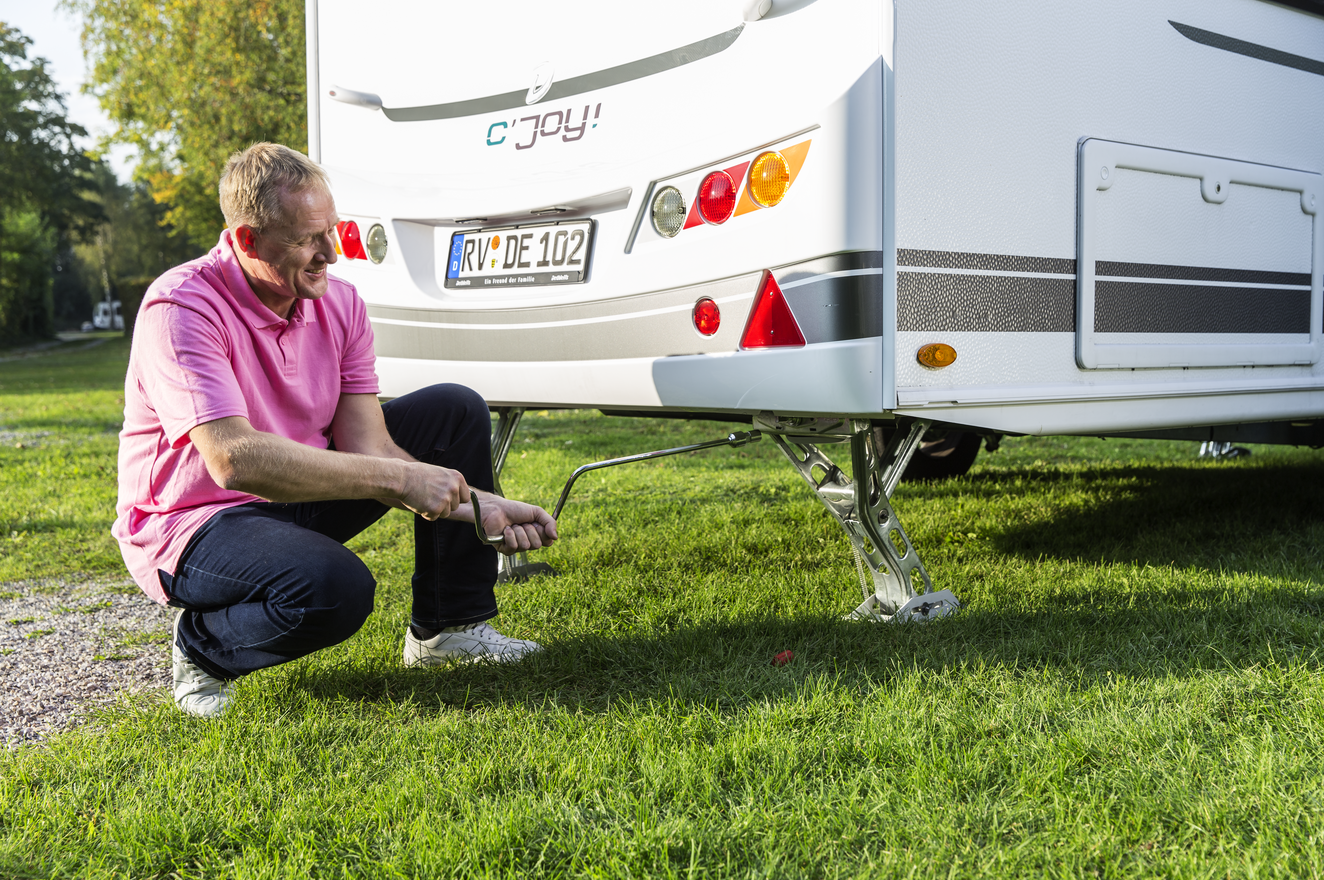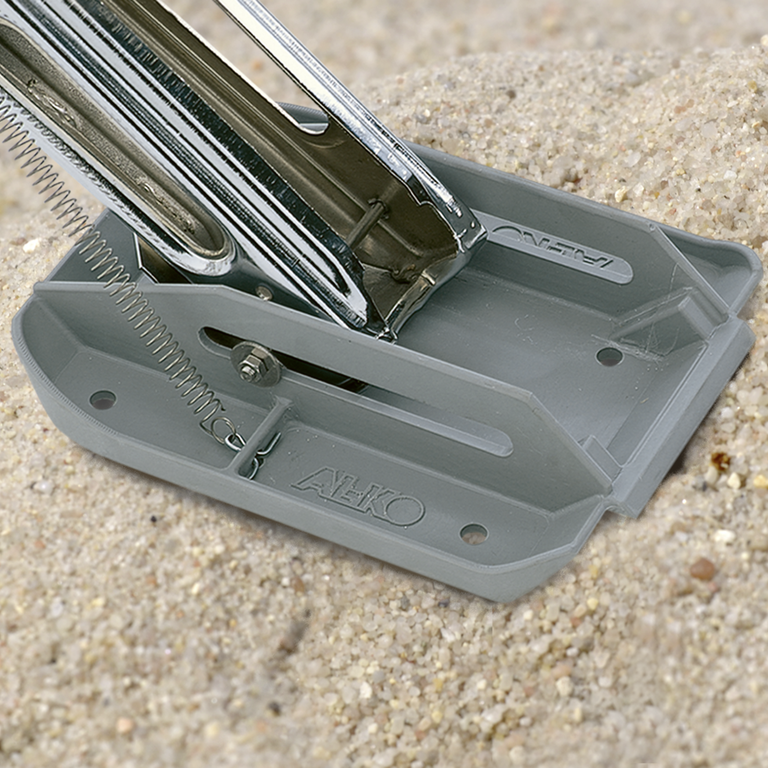 AL-KO corner steadies are available in two versions: as style supports that can carry up to 1,000 kilos and as premium steadies that can support up to 2,500 kilos.
For certain ground conditions, such as soft or uneven surfaces, it makes sense to use the AL-KO Big Foot pads. This accessory is extra wide, at 20 by 18 cm, and thus offers an enlarged contact area for your supports Mounted directly onto the supports, the "flat feet" provide additional safety for your caravan when it is parked, making it virtually impossible for it to side slip on bad ground conditions.
They are also a much more elegant solution than placing boards underneath. When the supports are folded in, Big Foot pads can be placed directly onto the caravan's lower base.
Retrofitting mechanical AL-KO supports with Big Foot pads is child's play. They can be fitted to any AL-KO style or premium steady produced in 2001 and later, and even older supports can be modified so AL-KO Big Foot pads can be used. To this end, all you have to do is drill mounting holes according to the instructions.
Electric supports
For that extra bit of convenience when parking
Those who have grown tired of cranking and no longer feel like doing squats when setting up their caravan will find a convenient alternative in support systems with electric motors. Electric supports are perfect for anyone who wants to take care of their back and stay as relaxed as possible when parking their caravan. Campers who like to travel often and regularly change from pitch to pitch will be particularly pleased with the additional convenience.
Top tip: electric supports are even more advantageous on small pitches. Caravans can be driven as close to hedges or other boundaries as possible because you no longer need any space for manually cranking down.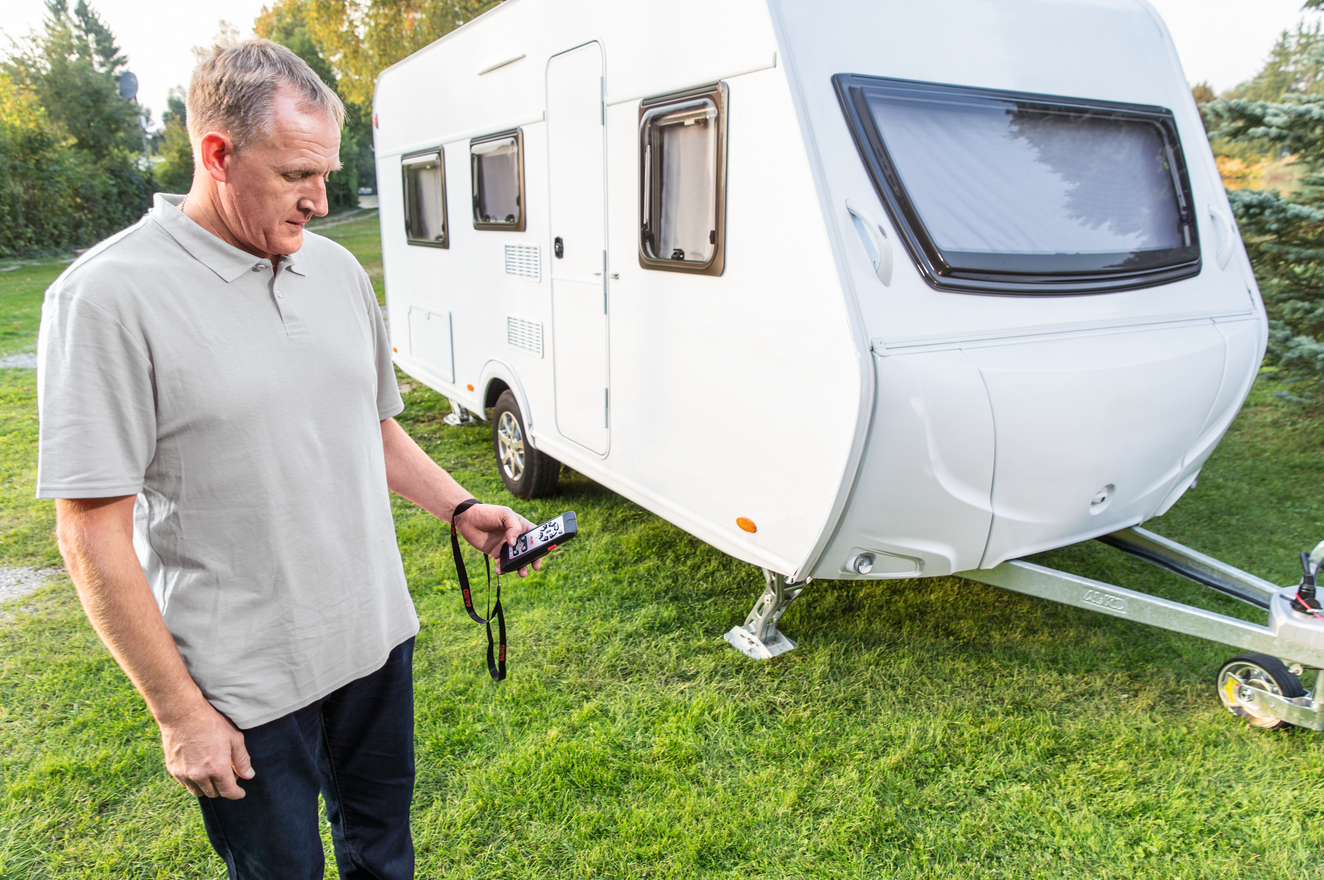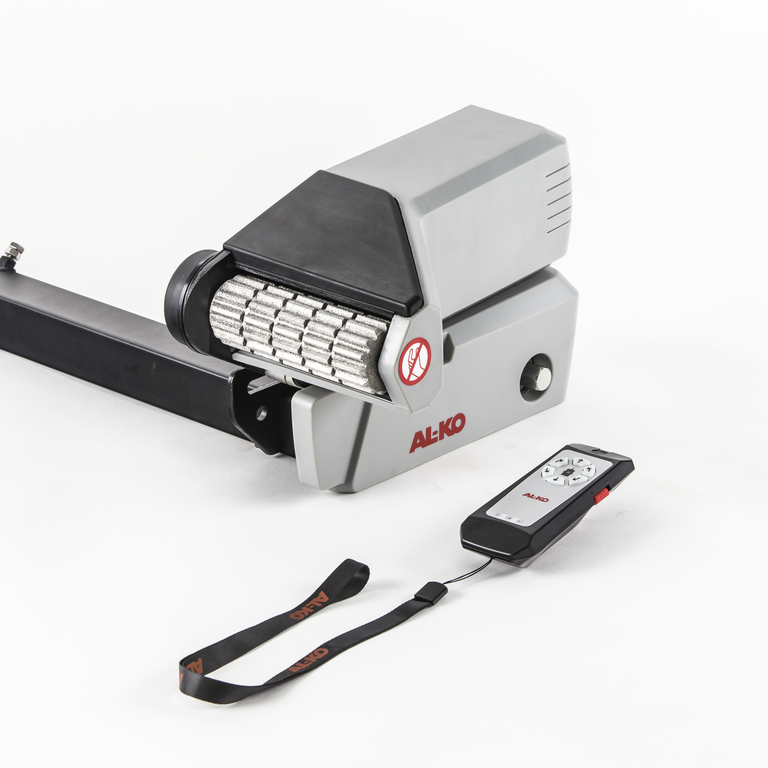 UP4 electric support system by AL-KO
Setting up your caravan with the UP4 electric support system by AL-KO is convenient and also much quicker than with a hand crank. Using a remote control, all four supports can first be electrically extended and then individually controlled to get them to the correct level. This way, you can save time when setting up, securely parking your caravan at the touch of a button without any effort at all.
UP4 is compatible with caravans of up to 2.5 tonnes and is protected against corrosion thanks to its hot-dip galvanised metal parts, so your supports can enjoy a long service life. The premium version also has AL-KO Big Foot pads fitted as standard, providing the necessary stability on soft ground.
And yet another advantage: the electric support system is perfect for combining with the AL-KO Ranger manoeuvring aid. The two of them together form a real dream team. While the AL-KO Ranger safely manoeuvres your caravan to its intended place, even on steep, narrow terrain, the UP4 gets the supports into the correct position at the touch of a button. Both function via a single remote control, making them very user-friendly.
What's more, pesky thieves don't stand a chance against the UP4 support system. A built-in anti-theft device means that the supports can only be moved manually with a special key, meaning unauthorised access is impossible.
UP4 supports fit every AL-KO chassis and can also be retrofitted.
Hydraulic caravan supports
The Rolls-Royce among support systems
When you're on the road with your caravan and finally find a nice place to spend the night, your mind is on one thing and one thing only: setting up, then sitting back and relaxing. But inclined angles are everywhere and there's hardly any parking space about that makes for an easy caravan set-up. Setting up takes away precious holiday moments when you spend time using spirit levels and placing chocks rather than relaxing.
But there is a solution: with hydraulic steady legs, the stress of setting up and aligning your caravan is finally a thing of the past. They get your caravan level in a fully automatic process, all at the touch of a button, and in just a few minutes, your caravan is perfectly parked, both on the longitudinal and transverse axis, and your holiday can get underway.
LevelC hydraulic steady legs from E&P Hydraulics
All it takes is a quick two minutes to get your caravan level with the levelC hydraulic steady leg system from E&P Hydraulics.
The fully automatic process uses a total of six hydraulic supports to do a great job. In an initial step, two main supports attached to the right and left of the axle extend and thus level the caravan out widthways, whilst the longitudinal axis is aligned in a second step. Instead of mechanical corner steadies, the LevelC system uses hydraulic Big Foot corner steadies to bring the vehicle into a perfectly level final position. This is done with the help of an electronic spirit level built into the control unit.
The system can be controlled via:
A fixed control panel.
A small touchpad that forms part of a charging station. This station is installed as a fixed feature in the caravan, but can also be removed at any time. Then the tablet functions as a wireless remote control and is used to control the entire system from outside.
A smartphone app that has the same user interface as the tablet.
There's hardly any other way of setting up your caravan that's as fully automatic and as quick as this one. By first aligning the transverse axis of your caravan and then moving on to align its longitudinal axis, combined with the parallel movement of two supports at a time, your chassis is protected against damage from torsional forces.
As mentioned, LevelC is available as a complete system with six hydraulic supports, but can also be ordered as a compact system with two hydraulic axle supports and four mechanical corner steadies.
Real added value: levelC is compatible with almost every type of caravan and can be dismantled and re-installed in another caravan at any time.
Why mechanical and electric caravan supports do not replace a jack
It says it in the name - supports should be used to support a parked vehicle. Contrary to what many campers may think, supports are not designed to adjust and level a caravan, but only to provide a stable position. If they are used to lift a caravan from a parked position, for example to level the vehicle or change the tyres, considerable forces act at certain points on the chassis. In this way, the chassis can warp and the structure can become damaged.
The only exception: the levelC hydraulic caravan supports from E&P can be used to lift up the caravan. Unlike other support systems, the two levelC hydraulic main supports attach to the rams of the main axle. This means that the main load is transferred onto the frame via the large supports near the axles and there is therefore no risk of twisting.
Wheels should always be changed with the help of the AL-KO jack, a device which has been specially designed for AL-KO chassis and attaches to the chassis in such a way that no damage occurs. The AL-KO jack is available in a mechanical version for caravans up to 2,000 kilos and in a hydraulic version for caravans up to 3,000 kilos.
Jacking up over the winter - necessary or unnecessary?
Jacking up over the winter is a topic of constant discussion on camper forums. In fact, bodies are so solidly built nowadays that they can cope well with long periods being parked up. Nevertheless, the tyres and the spring pack in the axle will be happy if some load is taken off during this time. This can be achieved by means of safety stands placed on the frame near the axle. This is the most stable part of the entire body. The caravan can also be propped up with the supports as an additional measure.
However, it is also sufficient to take the weight off the vehicle over the winter using the crank supports alone. To avoid any damage to the chassis, only take the weight off the caravan and do not lift it out of the suspension completely. This means lifting the axle only slightly, which is clear to see from the wheels. You can see that weight has been taken off the vehicle correctly if the wheels are not floating in the air, but still have slight contact with the ground.
Top tip: the dent in the tyres caused by the caravan's own weight is no longer visible.