Ambulances, horse transportation vehicles, snack vans and official vehicles - there is an entire array of possibilities with the AL-KO chassis
Whether sales vehicle or platform vehicle, ambulance or livestock transport - thanks to many years' worth of experience, AL-KO has the right lightweight chassis for every customer's needs. What options are available? Which field needs which solution? Read on to find out everything you need to know about the AL-KO lightweight chassis.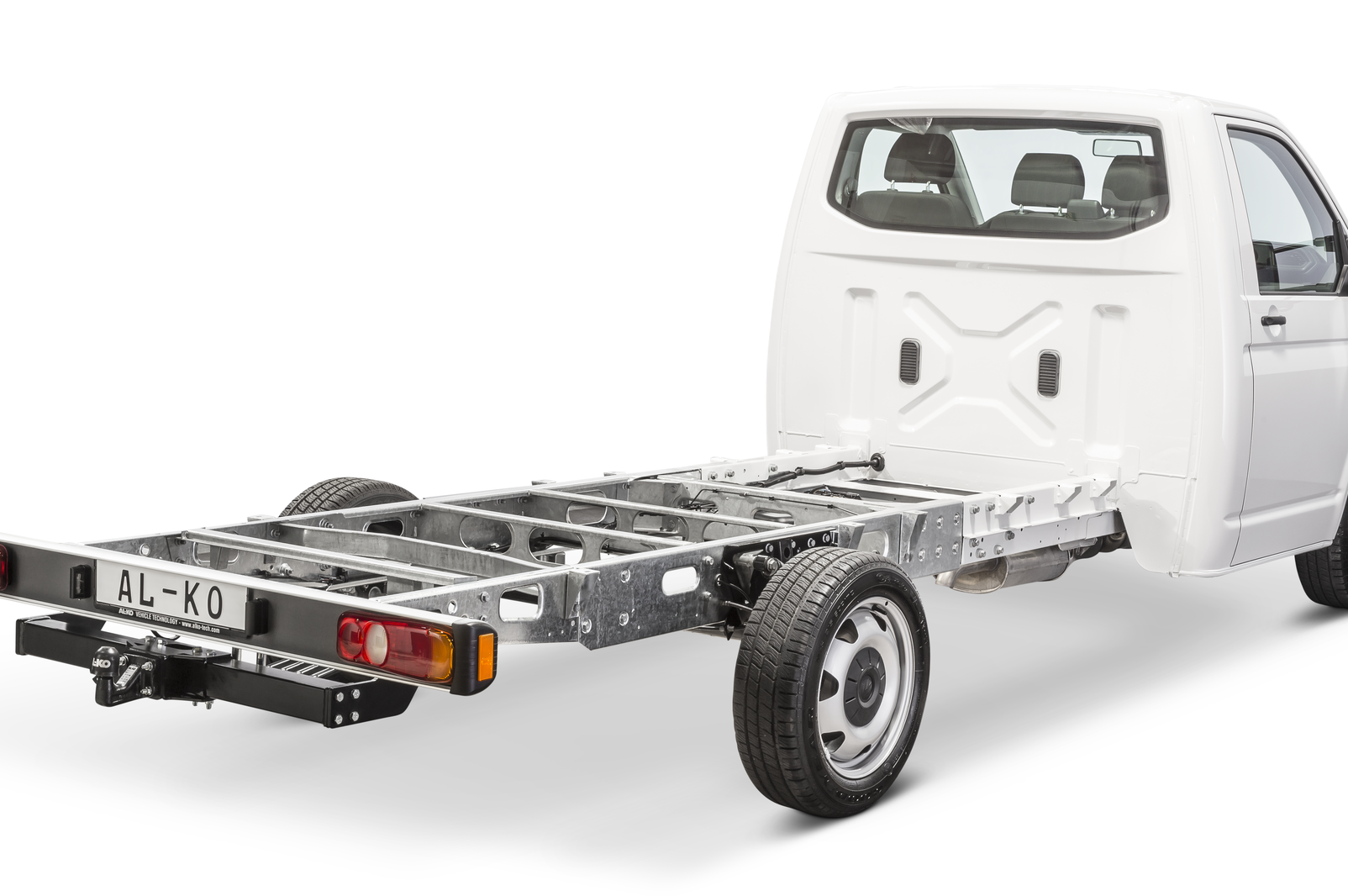 Different functions with versatile vehicle body solutions
AL-KO chassis and their variable wheelbases have been winning people over for years now thanks to their high levels of functionality and versatility. They form the basis for diverse vehicle body solutions with flexible dimensions and can always be customised and adapted to individual customer requirements. The tandem torsion guide rear axle with 13-inch tyres enables bodywork with a low, level loading area without wheel arches on it. AL-KO vehicle technology therefore offers the greatest possible flexibility and a high level of driving comfort, thus contributing to driving safety.
Body manufacturers remain free to design the layout of the loading area. From tradesperson vehicles to animal transporters, through to official vehicles, vans are available in the design desired.
AL-KO lightweight chassis: the advantages
Thanks to the AL-KO lightweight chassis and the associated low weight of the frame construction, vans can be loaded with even more goods and thus benefit from a higher payload. The hot-dip galvanised frame construction protects the chassis from corrosion at all times. Depending on what you use your van for, the wheelbase and frame length can be individually adjusted to increase the load volume. Low-frame and low-floor chassis set themselves apart with a low loading edge, making loading and unloading cargo a convenient process.
Chassis design - high-frame, low-frame or low-floor
AL-KO has three different starting models available: high-frame, low-frame or low-floor chassis. The selected platform then determines whether it is a matter of a 2-axle, 3-axle or 13″ chassis.
2-axle and 3-axle
The AL-KO 2-axle and 3-axle are impressive pieces of kit, available as high- and low-frame solutions with variable dimensions. The wide-track body and Electronic Stability Program (ESP)/Electronic Stability Control (ESC) ensure maximum driving safety. The 2-axle has a permitted gross weight of up to 4.5 tonnes, the 3-axle up to 5.0 tonnes.
AL-KO chassis 13-inch technology
The AL-KO chassis with 13-inch rear axles also offers the possibility of adjusting the wheelbase, overhang and frame length. Long load lengths are also possible. A high payload and higher permitted gross weight make for even more effective goods transportation. Powerful disc brakes deliver what they promise: (braking) performance - even in dangerous situations. The following features make AL-KO models unique.
Lowered frame
Compared to the original guide frame, the AL-KO body is up to 220 millimetres lower. The low entry height makes loading and unloading much easier. Since the vehicle's centre of gravity is lower than in other vans, driving becomes much safer. In addition, aerodynamics are improved thanks to the low overall height of the vehicle. The patented shear cam connection ensures that there is a firm bond with the van's cab at all times.
Lightweight construction and corrosion protection
The use of high-strength steels ensures even more stability, while the "C-profile" design provides maximum frame rigidity. All chassis components have undergone stress optimisation and hot-dip galvanised chassis offer optimum protection against rust.
Suspension
Air Premium X2 and X4
Impeccable suspension is a must-have, especially for heavy weights. This is why suspensions are precisely adapted to the permitted axle load. Independent wheel suspension also improves the driving response, which in turn leads to increased levels of safety.
The different suspension systems on offer from AL-KO will always keep you safe and completely comfortable on the road. The components provide a noticeably better driving experience! The Comfort Suspension front strut is formed from a unique combination of a high-performance damper and coil spring, a package perfectly harmonised with the actual weight of the vehicle. Any bumps are absorbed and steering wheel vibrations and noise inside the vehicle are reduced.
The counterpart to the rear axle is theAir Premium X2, a 2-circuit full air suspension based on an electronically controlled, fully automatic air suspension system. Thanks to an innovative wired soft-touch remote control, it can even be raised or lowered manually. The Air Premium X4 is an automatic 4-circuit full air suspension system. Air suspension struts at the front and air bellows at the rear serve to automatically align the vehicle to the optimum driving level and ensure that it is also perfectly level when stationary.
The different areas of application
AL-KO vehicle bodies are used in the following base vehicles. Click on the links to find out specific information about the chosen vehicle.
Volkswagen Transporter
Volkswagen Transporter commercial vehicle chassis 13 inch
Fiat Ducato commercial vehicle chassis 13 inch
Fiat Ducato, Peugeot Boxer, Citroen Jumper
Platform vehicles are an excellent way to transport other vehicles or machinery. Compared to all other configurations, platform vehicles are open at the top.
Vehicles with box bodies have long been used in a wide range of industries. The closed unit means large load volumes can be achieved. The fixed structure makes it possible to secure the goods to be transported and also to kit out the interior with sophisticated equipment, shelves or hanging fixtures, for example.
A special type of configuration is what is known as the refrigerated box. Here, too, the AL-KO chassis impresses with its variable dimensions - wheelbase, overhang and frame length are available in different versions. Optimum axle load distribution, perfectly coordinated suspension and a high frame strength ensure maximum stability and safety. The low centre of gravity also makes the vehicles insensitive to crosswinds. You can also choose to integrate the torsion bar and air suspension systems mentioned above into box and refrigerated box trucks.
Ice cream vans, snack vans or sales vehicles for bakers tend to be distinguished by their large sales hatches. One door is usually found on the opposite side or at the rear. In addition to convenient loading and unloading, the low chassis height enables customer contact at eye level. Sales vehicles are available as 2-axle vehicles, 3-axle vehicles and 13" chassis.
The greatest happiness on the earth lies on the back of a horse, and in transporting them. Thanks to the AL-KO chassis and matching body, transporting animals no longer requires a huge amount of effort. The low loading ramp angle is designed in such a way that horses and other animals can easily find their place in the vehicle. The side entrance to the vehicle also puts the horse more at ease.
Authorities and organisations with security-related tasks
Ambulances, fire engines and road safety education vehicles - with AL-KO lightweight chassis, even official vehicles have a safe, reliable base. The optimised suspension systems benefit passenger transport, above all, but also mean that sensitive loads can be transported without getting damaged. The small loading ramp angle also makes work more convenient for organisational vehicles.