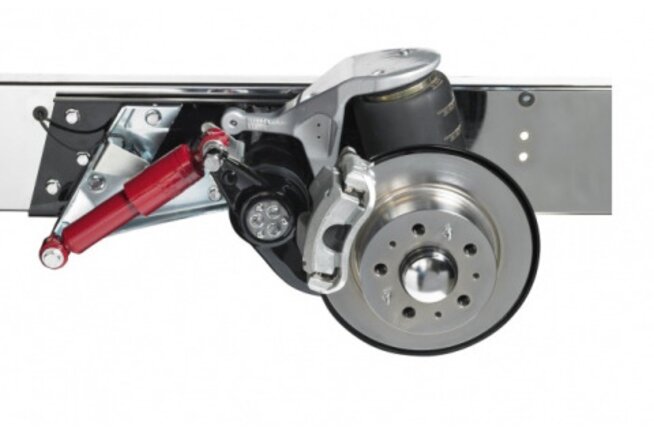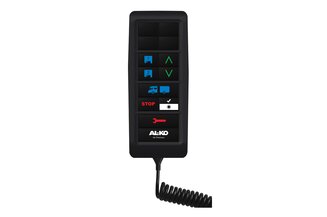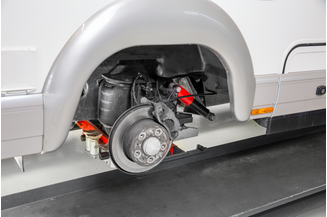 Description
Air Premium X2
The full air suspension for dynamics and comfort
Motorhomes do not tend to be gentle fields of application for the majority of standard springs. The springs are permanently exposed to a heavy weight owing to the interior finish and equipment and loading is often uneven. Steel springs soon lose their tension under these conditions and the vehicle therefore loses some of its driving comfort and stability. Another consequence is the often seen sloping rear. Air suspension systems from AL-KO eliminate this problem.
The fully automatic and maintenance-free Air Premium X2 air suspension system ensures optimum suspension comfort at the AL-KO rear axle(s). An electronically controlled, fully automatic air suspension system is responsible for the principle of the 2-circuit full air suspension. The Soft-touch remote control can be used to automatically level or manually set the vehicle. The rear axle of the motorhome can be lifted, for example, for rough terrain by up to 40 mm, for comfortable loading or entry it can be lowered down to 50 mm. At the push of a button, the Air Premium X2 returns the vehicle to the driving level.
The air suspension system, an electronic spirit level, enables automatic levelling of the vehicle when parked. Moving the motorhome to a straight position on the pitch is therefore quick and straightforward, without involving time-consuming measurements and re-adjustments. You can raise or lower your motorhome while travelling at up to 25 km/h with just the push of a button. This means driving onto a ferry no longer poses a problem.
Your benefits:
Optimum suspension comfort with high driving stability
Adjustment track in the axle range of the rear axle(s): raising approx.
Greater ground clearance by manually increasing the slope angle
Automatic, load-independent level control on AL-KO rear axle(s)
Increased driving comfort on AL-KO rear axle(s)
Manual lowering or raising possible up to a speed of 25 km/h​
For original equipment and retrofitting
100% maintenance-free
Self-sufficient air supply thanks to built-in compressor
Built-in emergency running function
Also for vehicles with ESP
Fiat-/Bosch clearance certificate for ESP option
Important information:
2-circuit full air suspension for AL-KO chassis rear axle(s) based on Fiat Ducato, Peugeot Boxer and Citroen Jumper (type X250)
System for 2-axle and 3-axle vehicles possible
For original equipment prices please contact your body manufacturer directly. Retrofitting on request
Setting the actual axle loads and suspension level of the vehicle during installation