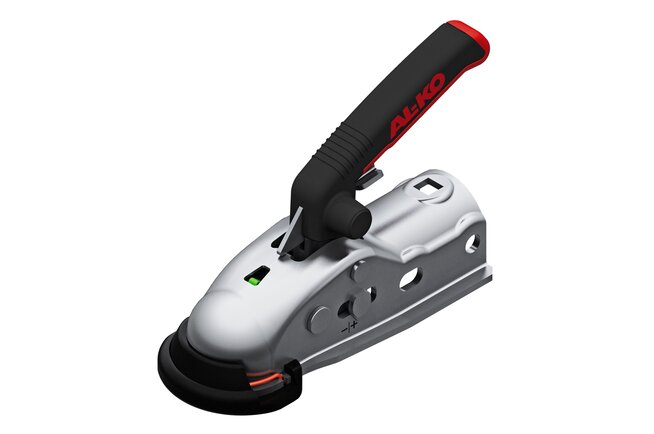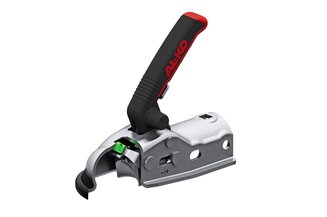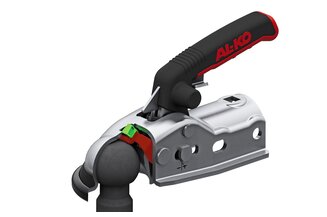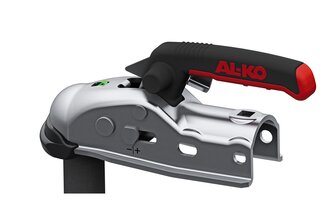 Description
Coupling head AK 161 / AK 270
For braked trailers up to 2,700 kg
AK 161 / AK 270 coupling head for braked trailers up to 2,700 kg is the safest of its kind. The hand grip points diagonally upwards and indicates to the operator that the hitch is open. Only when the coupling head is correctly positioned on the towing hitch of the vehicle is the internal green securing lever activated so that the hitch can be securely locked. This prevents unsuccessful locking.
The soft-touch handle comprises a solid metal core with an ergonomically shaped soft plastic coating. In addition, the projection on the end of the hand grip serves as an anti-slip protection. The wear indicator provides information about the condition of the hitch and the vehicle's towing hitch. As long as the marking is in the positive range, the towbar is OK.
The Soft-Dock is already provided as standard. The user's shin is thus protected against injuries, while the car is protected against scratches. AK 161 / AK 270 is optionally available with a lock to provide effective protection against fast access when the trailer is coupled or uncoupled.
Your benefits:
Securing lever for flawless hitching
Prevents unsuccessful locking
Improved ergonomics thanks to Soft-Touch handle
Wear indicator
Soft dock as standard
Optional lock accessory
| Borehole | D-/Dc-value | Material | Tightening torque | Type | Max. Trailer load when stationary (in kg) | Weight |
| --- | --- | --- | --- | --- | --- | --- |
| horizontal + cross | 21.6 kN | Steel | 75 Nm | AK 270 | 120 kg | 2.700 kg |
| horizontal + cross | 14.95 kN | Steel | 75 Nm | AK 161 | 120 kg | 1.600 kg |
Coupling head AK 161 / AK 270
Catalogue
Including Soft-Dock, optional available with spacer and lock