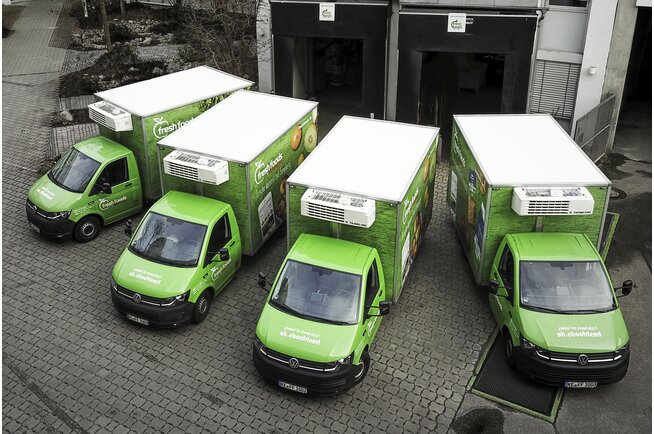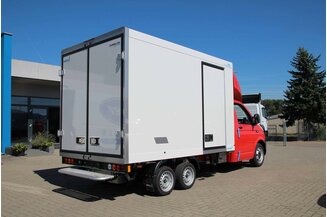 Description
Refrigerated box
Refrigerated box for any dimensions
Commercial vehicles, which are equipped with AL-KO chassis, offer various options when it comes to mounting a refrigerated box on a transporter. The body solutions vary in terms of their dimensions ; wheelbase, overhang and frame length are available in different versions. As such, individual refrigerated vehicles can be built based on the transporter, which meet different functional requirements.
Particularly for companies from the hygiene and food industry, safety and reliability during the cooling processplay a vital role. The stability of our chassis is your guarantee of smooth goods transport. 2-axle chassis are often used for the refrigerated box body. With a permitted gross weight of up to 4,500 kg, payloads of up to approx. 3,000 kg are enabled. Move even more goods with the 3-axle chassis, which thanks to its higher gross weight is able to transport up to 5000 kg. Our solutions for the refrigerated box body enable refrigerated vehicles to be moved with maximum stability and safety – thanks to optimum axle load distribution, perfectly coordinated suspension and high frame strength.
Benefits of refrigerated box body with AL-KO chassis
The dimensions of the basic solution can be selected according to requirements. As such, the wheelbase, overhang, frame length as well as axle and frame track widths can be precisely adjusted to the dimensions of the body. Thanks to the tailored solution, your transporter benefits from an ideal axle load distribution and high roll stability.
An AL-KO chassis offers the highest level of driving comfort at a gross weight of several thousand kilogrammes– close to the comfort of a car. This driving experience is provided by the trailing arm axle, high-performance shock absorbers for the front and rear axle as well as first-class full air suspension. The best prerequisites for transporting chilled goods safety and conveniently.
The low frame chassis enable aframe lowering of up to 220 mm. This makes loading and unloading the transporter a more convenient process. What's more, the refrigerated vehicle consumes less fuel and therefore works in a more cost-effective manner.
The low vehicle centre of gravity of modern AL-KO chassis ensures excellent stability. This means our base vehicles are insensitive to side wind,the cornering response is improved and road holding is optimum.
All our AL-KO chassis are hot-dip galvanised. They are therefore excellently protected against corrosion, which increases their service life.
The refrigerated box body is designed in such a way that optimum use of the loading space is possible. As such, the transporters are more economical and save you time.
The demands placed on refrigerated vehicles vary greatly. Refrigerated box layouts can be individually designed for standard load containers.
Hardly any maintenance or repair work is involved for AL-KO frames. This reduces downtimes and thus saves costs.

Safety you can trust for refrigerated transport
Chassis from AL-KO support you with their reliability and high level of quality when establishing a functioning refrigerated transporter fleet and guarantee safe delivery. At AL-KO, you will find suitable body variants for your refrigerated box body – tailored solutions in line with your individual requirements. Other body solutions offer first-class safety and driving dynamics, thanks to 2 and 3-axle versions as well as the 13" chassis. Moreover, low frame chassis with low loading and unloading height make the loading and unloading process much easier. At AL-KO, benefit from over 80 years of expertise in vehicle technology - become accustomed to outstanding quality!