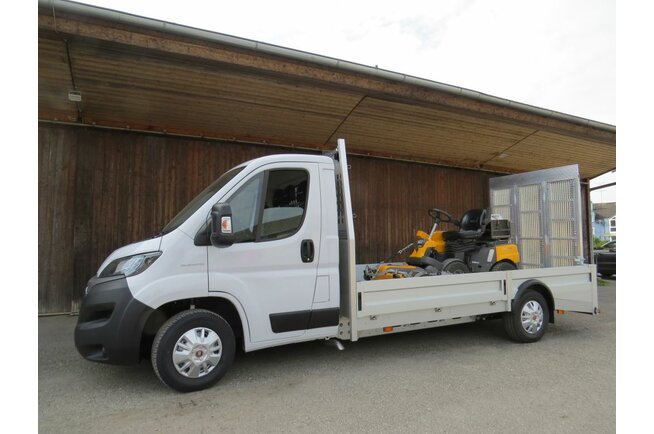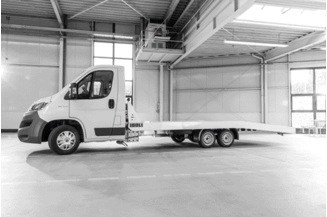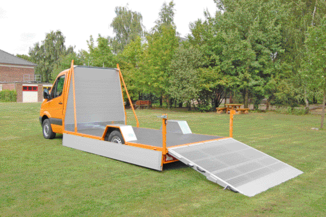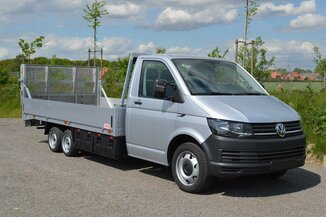 Description
AL-KO chassis for platform vehicles and car transporters
Safe driving a high level of comfort even with heavy loads
AL-KO chassis are a functional and versatile base for the platform body. Various dimensions, axle versions and spring systems are available here. In daily use, benefit from a long loading area, higher permitted gross weight and higher load capacity. Platform bodies with an AL-KO base are therefore ideally suited as car and machine transporters. Our body solutions, which have proven themselves millions of times, contribute towards very good driving characteristics and a high level of driving comfort even with heavy loads – over short transport routes as well as on long motorway journeys. Last but not least, a high level of lane handling and efficient shock absorption contribute towards driving safety. The independent wheel suspension of the chassis plays a key role in driving comfort and driving safety. These are equipped with an efficient torsion bar suspension and enable gentle transport of machines, vehicles and other sensitive loads in the case of uneven roads.
The benefits of AL-KO chassis for platform bodies
The chassis offer a range of functional benefits for platform bodies. You can use low platforms with loading ramps, for example, for simple loading and unloading. On the one hand, the lightweight frame construction reduces fuel consumption and on the other hand enables a higher payload. In contrast to the original ladder frame, AL-KO chassis offer weight savings of up to 100 kg. Indeed, AL-KO chassis are wider and deeper, causing the towing properties and ground position to be further improved. The chassis dimensions can be selected based on your requirements. For building materials and other loads, the loading areas can be optionally fitted with a lifting and lowering function. The chassis for platform bodies are available as 2-axle and 3-axle versions. We also offer 13" chassis for platform vehicles.

The advantages at a glance:
Variable dimensions (wheelbase, overhang, frame length)
Long load lengths possible
Low platform with low loading edge possible
High loading/unloading comfort
Higher permitted gross weight
Higher load capacity
Optionally with Air Premium X2 and X4 air suspension
Lifting/lowering function

The best suspension for the platform body
The optional AL-KO spring systems enable machine parts, vehicles and other sensitive loads to be transported with particularly low material wear. The Air Premium X2 and X4 air suspension systems can optionally be used; instead of torsion bar suspension. Unlike the steel torsion bar suspension, full air suspension involves each wheel being spring-loaded via an air spring strut. This cushions unevenness and impacts in a highly efficient manner. In addition, noise development inside can be audibly reduced.
Further benefits of the full air suspension include automatic level control of the front and rear axle as well as a horizontal position. The gradient angle as well as the distance to the floor are variable here. The spring systems at a glance:
Air Premium X2: The torsion bar suspension is replaced here on the rear axle by full air suspension (even platform vehicles with a double rear axle)
Air Premium X4: In this system, both the front and rear axle have air suspension
AL-KO chassis for platform vehicles and car transporters