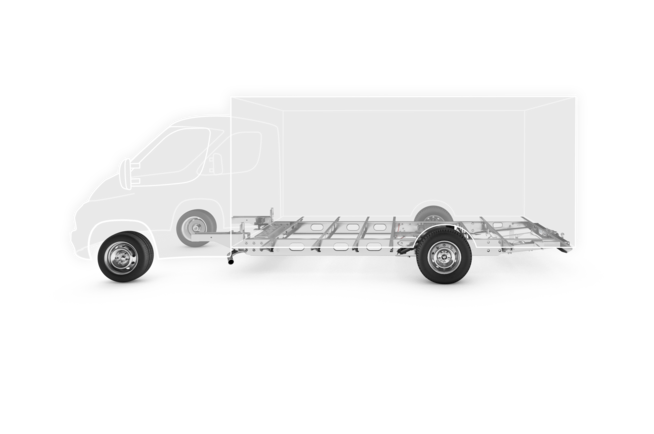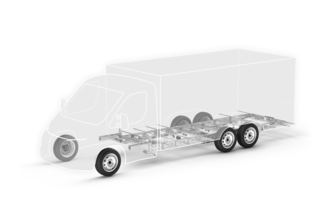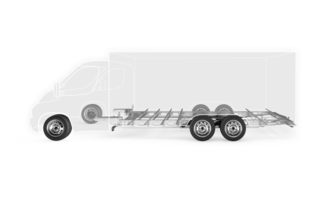 Description
AL-KO commercial vehicle chassis for Fiat Ducato, Peugeot Boxer, Citroën Jumper
The AL-KO chassis based on the Fiat Ducato, Peugeot Boxer and Citroën Jumper offer optimum axle load distribution, perfectly tailored AL-KO trailing arm axle and an innovative low frame chassis concept, among other things.
Low frame chassis
The innovative low frame chassis concept with frame lowering of up to 220 mm from the original frame results in a lower loading edge and/or frame height and a correspondingly reduced total vehicle height. The lower vehicle centre of gravity also significantly improves road holding, cornering response and cross-wind susceptibility.
Flexible frame dimensions
Variable wheelbases and overhangs in conjunction with the offered axle and frame gauges enable a customised solution for nearly all body types and transport requirements for optimal axle distribution.
Long service life
Hot dip-galvanised frame parts guarantee optimal corrosion protection.
Increased payload
Thanks to intelligent lightweight construction technology.
Easy to service
Bolted frame parts are easy to service, ensuring shorter periods of downtime for repairs.
Trailing arm axle
The perfectly coordinated AL-KO trailing arm axle with independent wheel suspension and torsion bar suspension ensures impressive, car-like suspension comfort.
For the highest demands for comfort, the AL-KO Air Premium full air suspension systems with automatic level control, lifting/lowering and auto-level function is also available as an option.
Wide track chassis
The larger rear axle gauge, up to 310 mm compared to the original series chassis, has considerably improved roll stability, thus ensuring excellent driving dynamics, the best possible safety and outstanding driving comfort.
New generation ESP
ESP (electronic stability program) is now also available as a standard additional safety feature.
AL-KO commercial vehicle chassis for Fiat Ducato, Peugeot Boxer, Citroën Jumper
Warranty work to the base vehicle is carried out by the retailer network of the base vehicle manufacturer.