Tiny House Manufaktur
The dream of owning a home of one's own is hugely significant for many people. Besides the usual questions about the neighbourhood, transport connections, childcare and schools, people are increasingly asking themselves how big their home should be. Tiny houses are currently in vogue.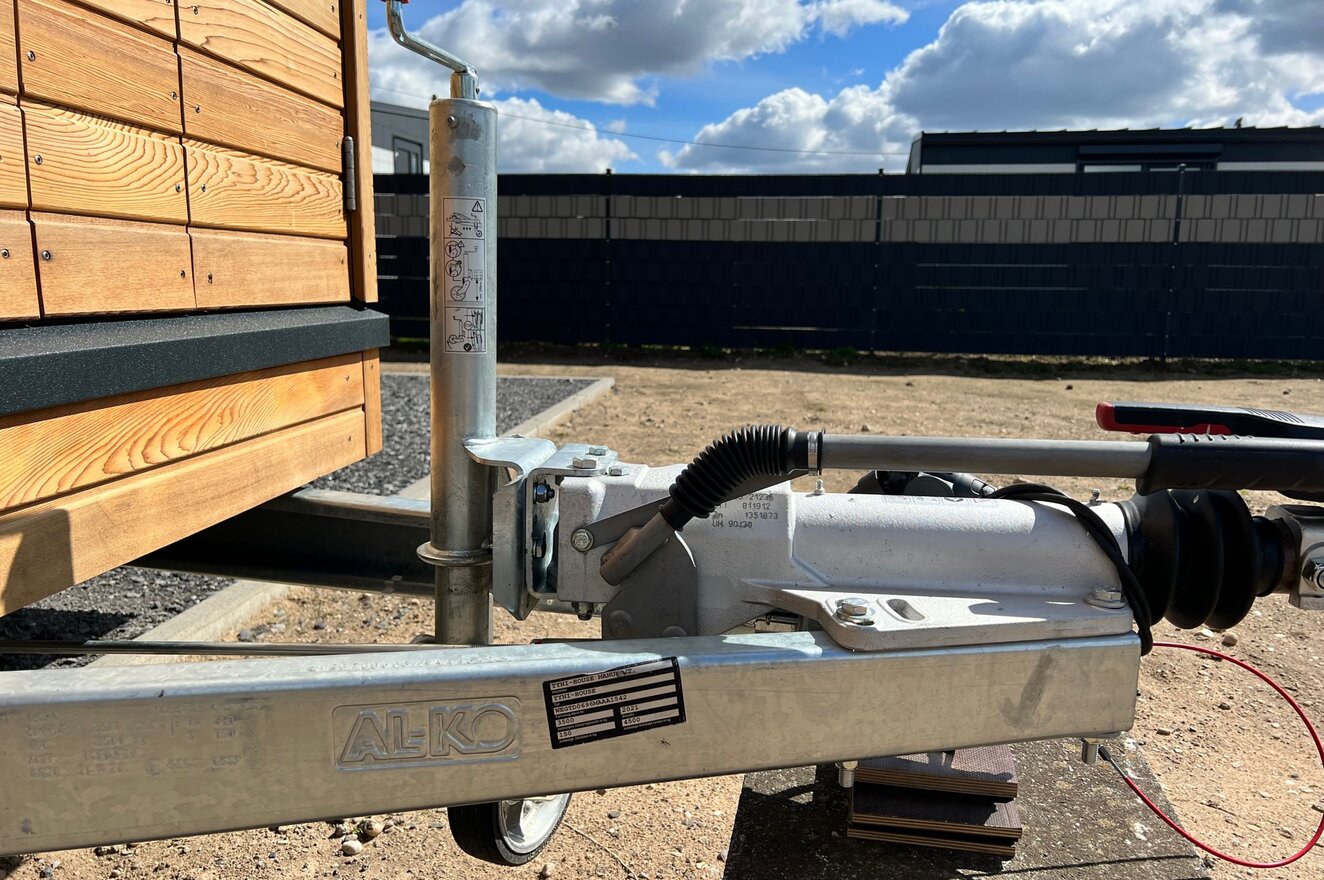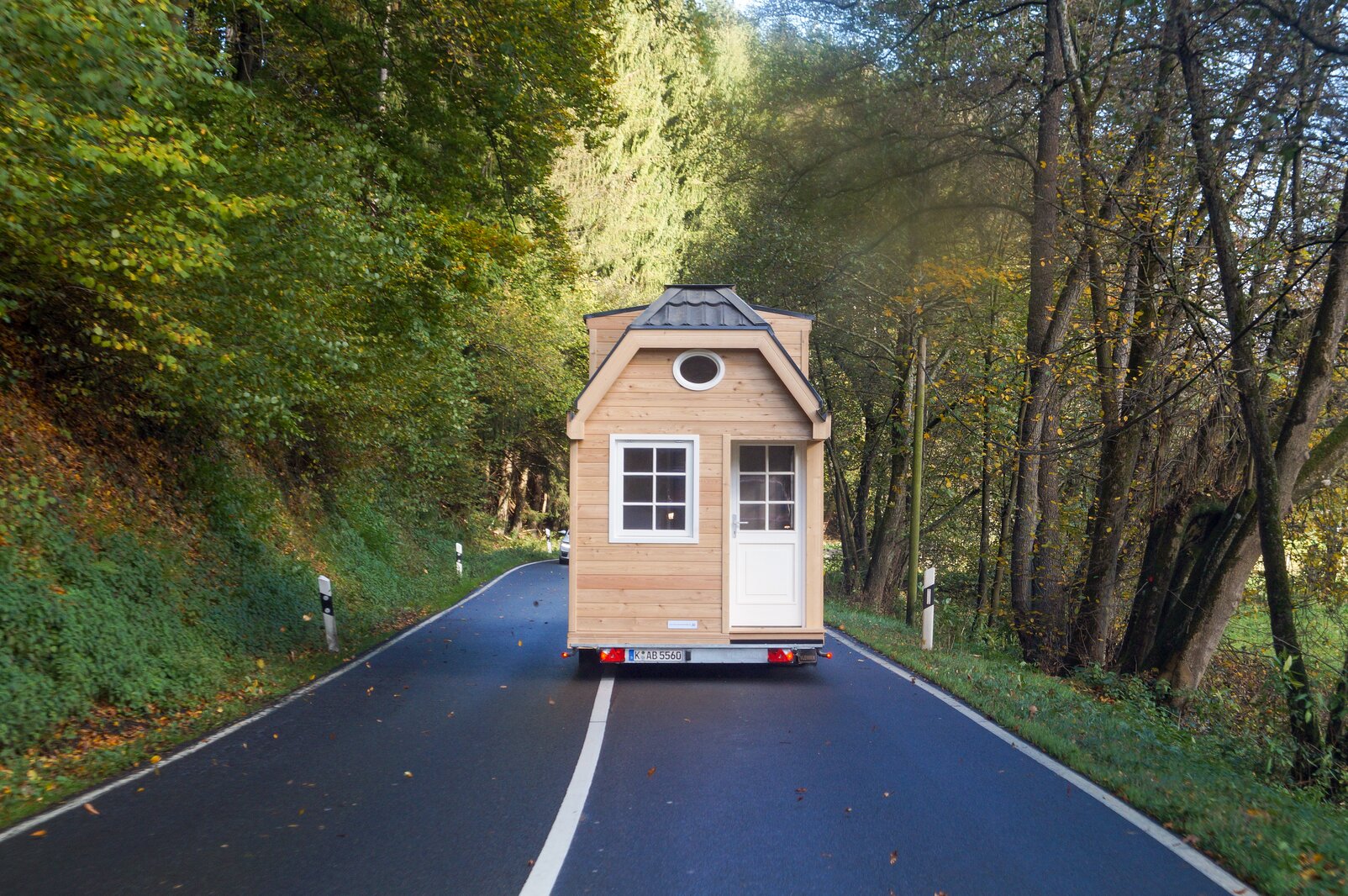 The first choice for mini-house manufacturers: chassis from AL-KO
High quality and ecological construction
Life on wheels requires a stable foundation. The AL-KO Vehicle Technology Group chassis are the first choice for many mini-house manufacturers. They stand out for their modular frame concept that allows different body lengths and individual configurations. Hot-dip galvanised chassis components provide reliable corrosion protection. The chassis' dimensional accuracy is so exact that the body can be prefabricated to fit precisely.
Further quality features that mini-house manufacturers appreciate:
a moveable axle module
a patented connection on the chassis
heavy-duty supports
integrated lighting
a pre-stressed steel frame
the EU certificate of conformity for mounted series chassis.
What forms the basis of the high quality and durability of the product solutions for every type of Tiny House on wheels – each of them well designed down to the smallest detail? Decades of experience in the production of high-quality chassis components for trailers and intelligent manufacturing concepts – whether it's for individual, luxury or series production.
The Tiny House Manufaktur in Cologne
Tailor-made retreats on wheels
The Tiny House Manufaktur, based in Cologne with nine employees, has been active in the Tiny House sector for six years now. Michael Heller, master carpenter and creative head of the company, launched the craft workshop. He thus combines his many years of professional experience with his dream of giving people a tailor-made retreat in the form of a Tiny House. A place that allows them to forget their hectic everyday (work) lives. The focus is on quality and harmonious design. Ecological construction is also particularly important to the manufactory.
The Tiny House Manufaktur plans and develops mini houses in accordance with the customer's wishes and offers three different stages of construction:
a basic structure,
a shell and
the ready-for-occupancy version.
Carefully selected materials as well as a harmonious, precise implementation of each customer's respective dream are the foundations of the Tiny House Manufaktur. The skirting boards and angle trims made of solid wood show great attention to detail.
Sustainability, ecology and regionality as corporate DNA
Local wood, natural waxes and sheep wool
The Tiny House Manufaktur builds its mini-houses using exclusively local wood from sustainable forestry. It also uses natural wood waxes and oils instead of lacquers. Insulation and a comfortable atmosphere are ensured through the use of 80-millimetre-thick sheep's wool, cured with biological methods. Customers can choose from other natural insulation materials such as hemp, flax or wood wool, depending on their personal preferences. The company subcontracts work that it cannot carry out itself to other craftsmen from the region.
Individual, tailor-made design of the Tiny Houses
From simple and quaint to luxurious and unique
Michael Heller and his team do their best to realise their customers' wishes on an individual and customised scale – starting with collaborative discussions and ideas for design and furnishing.
A sleep loft or rather a high ceiling? A large, open space with an integrated bathroom? Pitched, gable or hip roof? There are hardly any limits when it comes to implementing customer requests – with the exception of road traffic regulations, of course. So nothing stands in the way of your little dream home!
Tiny House Manufaktur's collaboration with AL-KO
Two companies that share the same values
Quality and individuality are topics that are also close to the heart of the AL-KO Vehicle Technology Group. This provides the foundation for the Tiny House Manufaktur's mini-houses. Why are the AL-KO Vehicle Technology Group's chassis particularly well suited to customised production? Because their modular frame concept with different body lengths and a standard selection from a range of almost 20 frame chassis leave plenty of room for individuality.
The variety of products, high quality and durability help Tiny House Manufaktur meet all of its customers' requirements and wishes for their personal little dream house. In addition, the frames offer high flexural strength and rigidity. Heavy-duty supports attached directly to the chassis allow for alignment on site. The axles and drawbar can be adjusted depending on the axle load. Thanks to the frame's dimensional accuracy, the Tiny House can be built directly on it. The construction lengths vary from 5.40 to 8.40 metres, giving customers flexibility when designing the size of their Tiny House. Thanks to the different construction methods, there are 20 series variants for customers to choose from.
"The high quality of the chassis as well as the wide range of frames was and is crucial to our decision to work with the AL-KO Vehicle Technology Group. As a craftsman's workshop, it is particularly important for us to be able to respond to individual customer wishes – and for this, the foundation, or chassis in our case, also has to be right. With almost 20 different models and the ability to additionally offer various body lengths through a modular frame, there are hardly any limits to the superstructure, i.e. our customers' little dream home," says Michael Heller, master carpenter and creative head of Tiny House Manufaktur.
"We very much value our collaboration with the Tiny House Manufaktur in Cologne. Together we stand for quality and high value. It is important to us to provide the right frame for every Tiny House and to offer our customers a wide choice here. In recent years we have built up expertise with different materials such as steel, aluminium and fibreglass. This resulted in our clear commitment to steel as the preferred material: it has by far the best CO2 balance from production to recycling," says Joachim Götzl, the AL-KO Vehicle Technology Group's Sales Manager for Central Germany.
You can also read more about the Tiny House trend here on our company blog: