König Trailer GmbH: The specialist for commercial vehicle bodies and its König EXTEND
König Trailer GmbH developed from an agricultural machinery repair workshop. Over time, the company began to specialise in commercial vehicle bodies. Today, König Trailer GmbH is particularly renowned for its special vehicles, which are manufactured in small series. König Trailer works in direct dialogue with customers to develop bespoke transport solutions together. Quality and precision are the keys to its success here, as well as the ability to reliably connect various trades with each other. Last but not least, innovation is a top priority at König Trailer. Modular assemblies for the interior and exterior of the trailers are a new addition.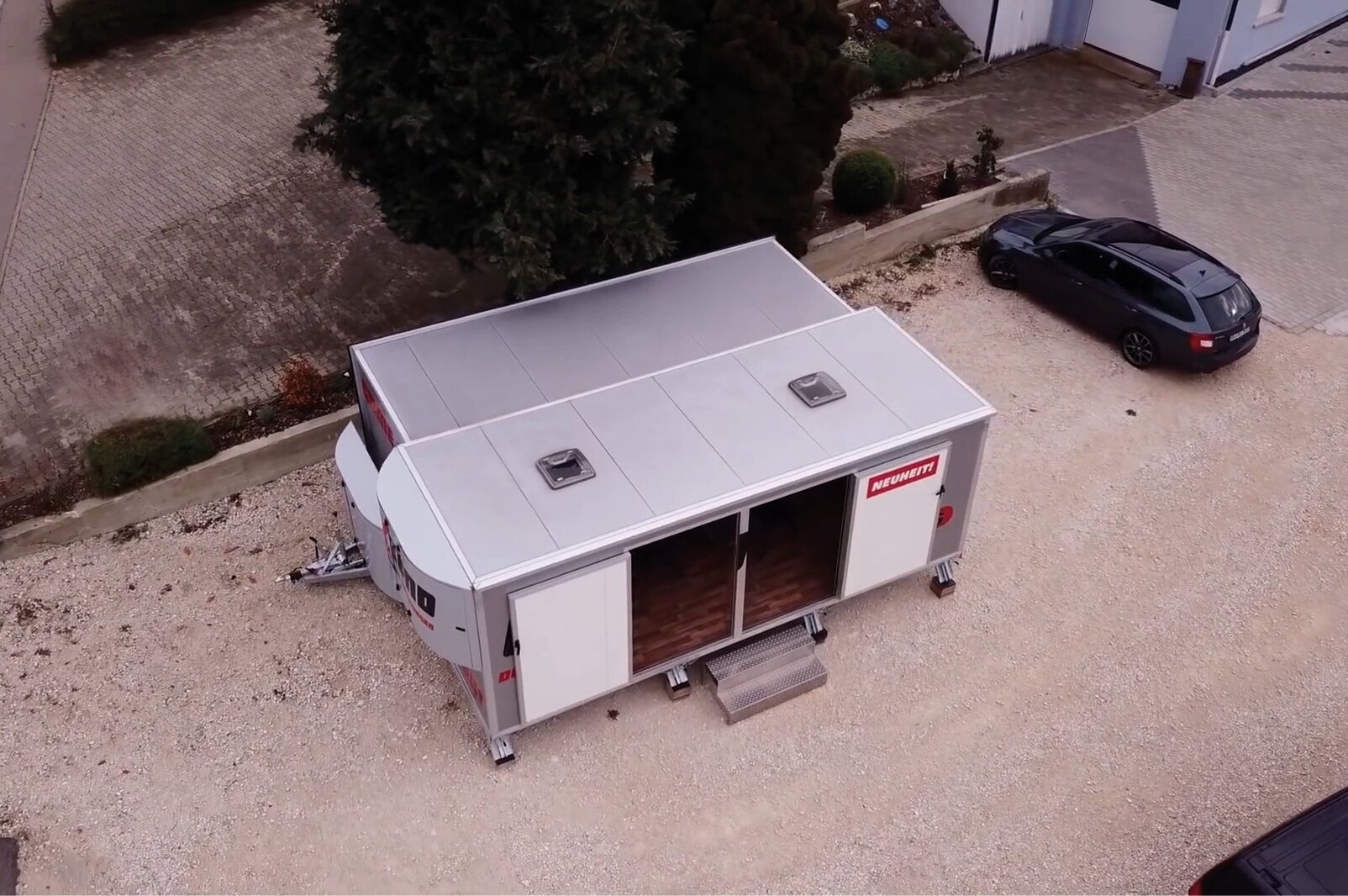 König EXTEND: The slide-out with a difference
A slide-out on a motorhome allows the living area to be extended electronically and increases the interior space considerably when parked. Unlike classic versions, the outer shell of the König EXTEND moves outwards, while the inner shell remains in place. This doubles the volume of the König EXTEND when parked, while the extended part remains variable. The trailer's floor area can thus be completely covered and furnished when pushed together. When extended it offers additional usable space.
More room for living
A caravan often means a lack of space. That's where the König EXTEND comes in, which is driven as a classic box trailer. When parked, however, it doubles its volume and thus offers more room for living. When extended, the result is an accessible indoor area that can be created in a few simple steps without the use of electricity or other tools. A practical additional detail is that the folding floor (which serves as an outer wall when pushed together) can optionally be used as a terrace or a presentation area.
Ready for any situation
The König EXTEND's flexibility and options to adapt it to individual requirements make the trailer ready for any situation. It is suitable for commercial use, e.g. by the police as a mobile operations centre, by the Red Cross as a first-aid standby vehicle, as a mobile training room for laser eye surgery, or as a mobile dental practice. The König EXTEND can also be used as a permanent camper or overnight accommodation for assembly workers.
Quality and safe driving pleasure
Pure comfort: The König EXTEND can be assembled and disassembled quickly and easily when used as a caravan. The König EXTEND is also offered in different weight variations, so that it can transport even heavy items such as a smart car or jet ski. The permissible maximum weight is 3,000kg for the standard version. A two-axle trailer ensures more nose load as well. The weight is easier to distribute, especially with a variable interior, and can be better balanced when driving. In addition, all components are designed for maximum durability and are winter-resistant. So nothing stands in the way of year-round use with consistent quality. König Trailer's latest project, XTRAIL, once again raises the bar for off-road trailers. Based on an AL-KO axle, the single-axle trailer can take a gross weight of up to 2,100kg.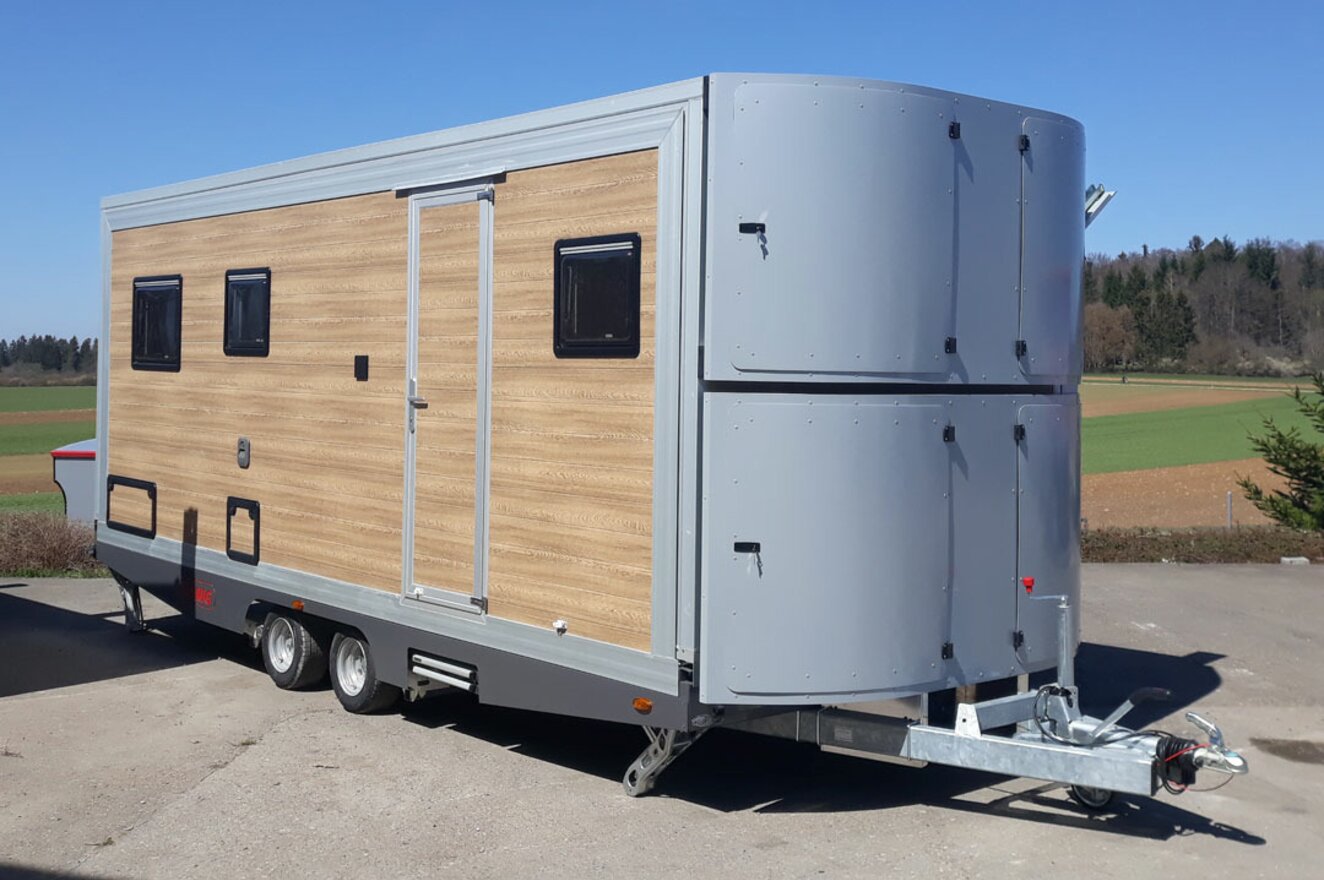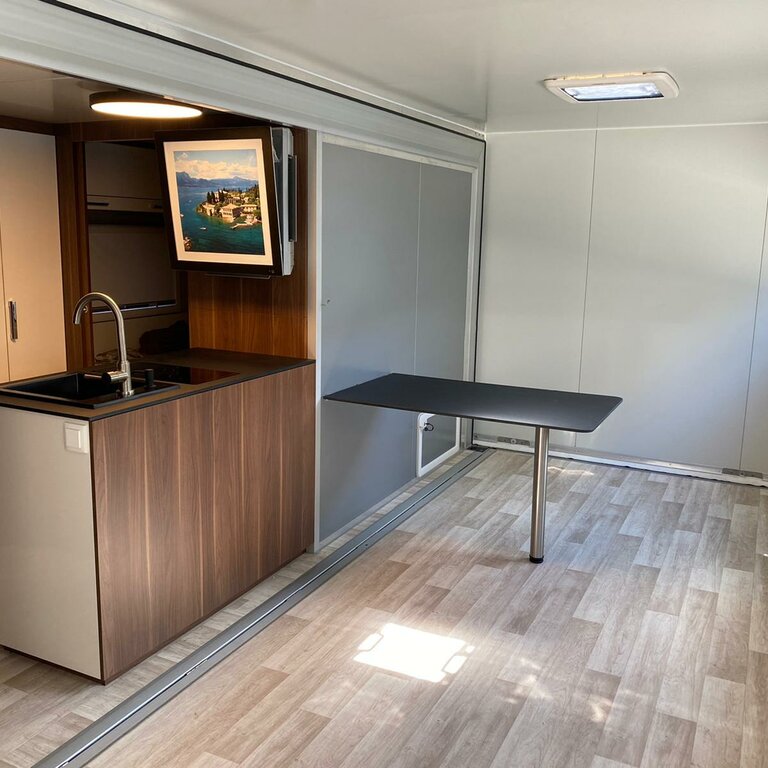 The connection: making the unique possible, together
König Trailer and the AL-KO Vehicle Technology Group have enjoyed a close partnership for many years. Today, AL-KO components are predominantly used in vehicle construction. For example, the König EXTEND was fitted out by the AL-KO Vehicle Technology Group with, among other things, an overrun brake, drawbar, axles and accessories (supports, jockey wheel). Above all, the product quality and reliable service with direct communication channels led to mutual trust. Especially in these challenging times, König Trailer can rely on its cooperation with the AL-KO Vehicle Technology Group. Availability and delivery reliability, even of rare spare parts, are central cornerstones. As a result, the AL-KO Vehicle Technology Group supports König Trailer more and more with new designs as well as current projects centred on modular mobile logistics solutions.
"Our collaboration with König Trailer GmbH has developed into a very special partnership. No matter how seemingly extraordinary König Trailer's ideas are, we are by their side as a partner," says Wolfgang Müller, Area Sales Manager South AL-KO Vehicle Technology Group.