The aCar from EVUM Motors
Originally designed for use in Africa and other emerging countries, the aCar has now also made it onto European roads. The sustainable commercial e-vehicle is the result of a research project at the Technical University of Munich and is designed for agriculture, forestry, municipal work and more.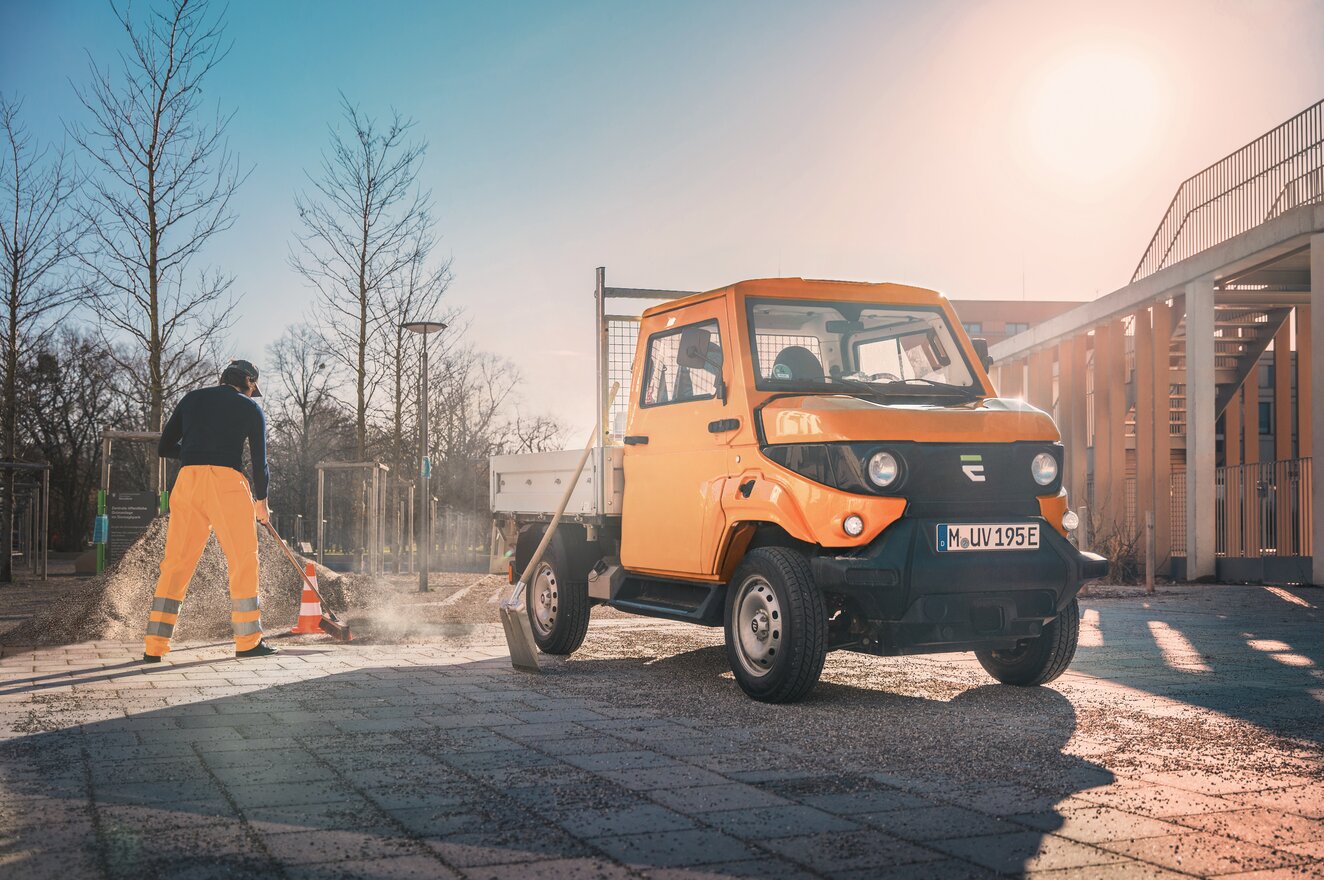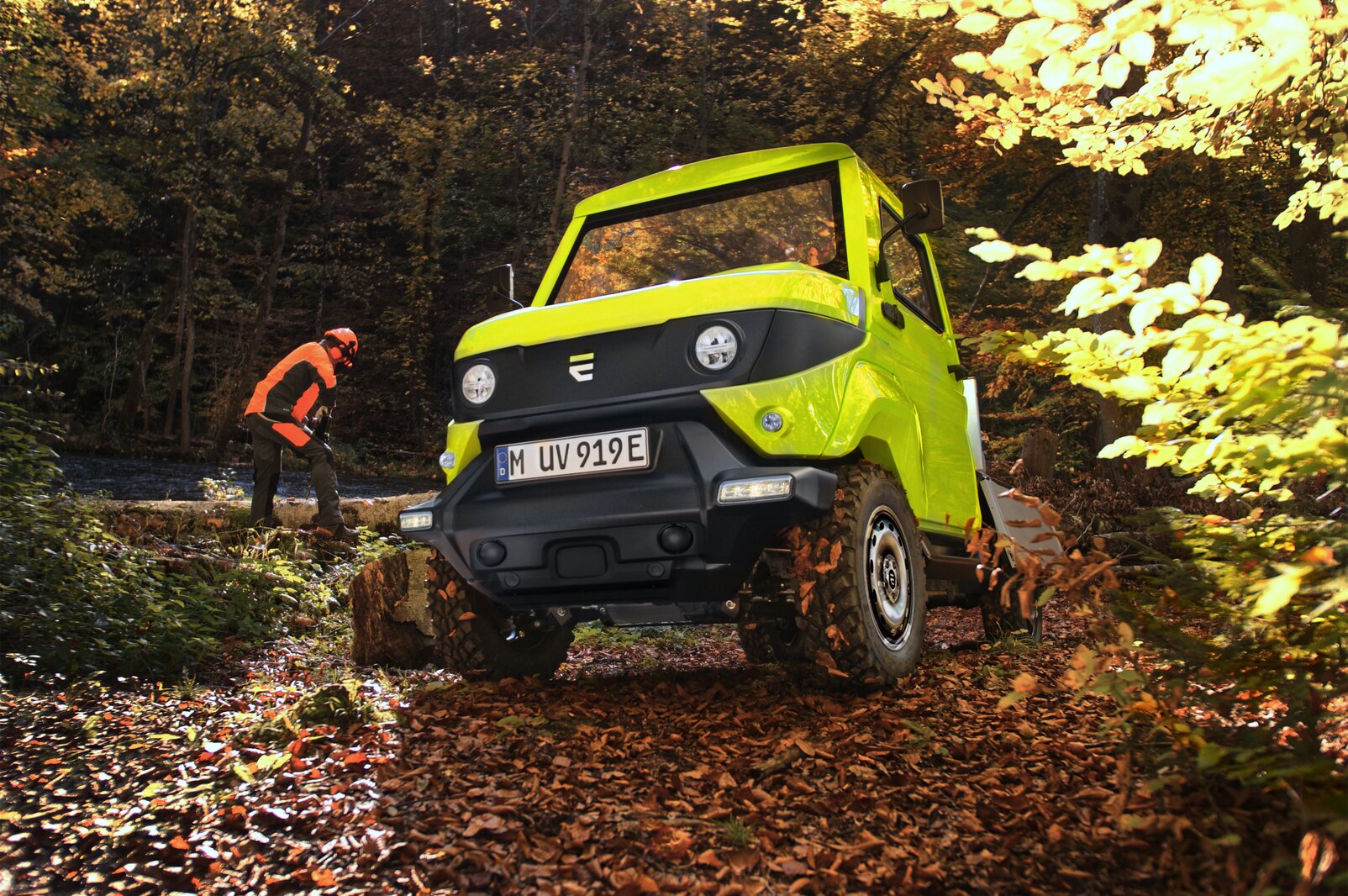 Sustainable e-mobility 'made in Germany'
Cost effectiveness meets environmental friendliness
The aCar's four-wheel electric drive is particularly impressive. As a 'new kind of commercial vehicle', it combines cost effectiveness with environmental friendliness. Whether in agriculture, commerce and industry, municipal use or demanding leisure applications, the robust and manoeuvrable e-transporter is also an economical and environmentally friendly commercial vehicle alternative for a wide range of tasks in this part of the world.
Sustainable e-mobility for Africa
A research project from TU Munich
The history of EVUM Motors began as a research project at the Technical University of Munich. Its aim was to build a simple, robust and all-electric commercial vehicle for Africa and other emerging markets. Since then, it has developed into an independent company that has been mass-producing the EVUM aCar since 2020.
Since its foundation in August 2017, EVUM Motors has mainly focused on the German-speaking market. The company is headquartered in Munich and produces in Bayerbach, near Ergoldsbach in Lower Bavaria. From 2024, the aCar will go into international production beyond Germany, Austria and Switzerland – especially with a view to developing and emerg-ing countries, in accordance with its underlying concept.
Sustainability and environmental friendliness as an e-mobility company philosophy
Vehicles that are easy to build and finance
From the very beginning, sustainability and environmental friendliness were the main drivers for EVUM Motors. Deliberately simple in design and geared towards resource conservation, the vehicle's environmentally friendly production directly in the customer's local region was included in its development right from the start. The vehicle must still be affordable to keep electromobility as a competitive option – and to support its establishment in the long term. That's why EVUM Motors wants to launch a vehicle with just the bare essentials. This will allow the e-transporter to be financed and produced even in the poorest countries of the world.
The collaboration between AL-KO & EVUM Motors
Solutions for sustainable e-mobility
EVUM Motors sees sustainability as a factor for longterm strategic success, not just for itself, but for its suppliers and subcontractors as well. This is one of the reasons why EVUM Motors only works with renowned European manufacturers, including the AL-KO Vehicle Technology Group.
The long-established German company supplies the rear chassis for the aCar together with a drivable rubber suspension axle, for a straightforward connection to the e-drive and brake system from EVUM Motors. Rubber suspension axles from AL-KO Vehicle Technology provide a spring softness similar to that found in the automotive industry. This technology, which has been continuously optimised since its launch, enables smooth, stress-free driving with the aCar.
Lightweight chassis from the AL-KO Vehicle Technology Group
Ideal for the aCar
The lightweight chassis from the AL-KO Vehicle Technology Group is particularly suitable for the aCar from EVUM. The variable concept behind the chassis simultaneously allows modular use of the battery packs as well as the greatest possible protection for the battery. Thanks to decades of experience and expertise, the chassis and axle are as durable and robust as ever – for example, thanks to hot-dip galvanised steel for the best corrosion protection.
"These are qualities that EVUM customers from the agricultural, logistics and municipal sectors particularly appreciate. In addition, a longer wheelbase is being planned to offer open basic designs and therefore high flexibility for body manufacturers.
The seats, towbar and the LED light brackets come from the AL-KO Vehicle Technology Group, namely Aguti and Sawiko respectively," says Manfred Schmid, Senior Business Development, Light Commercial Vehicles at AL-KO Vehicle Technology.
What managing directors & sales managers have to say about the collabo-ration
Statements from EVUM Motors & AL-KO Vehicle Technology Group
"The aCar is our small contribution to making the world a better place. Consciously simple in design and geared towards resource conservation, the vehicle concept enables us to manufacture the vehicles in an environmentally friendly manner directly in our customers' local area, and that's what we have focused on throughout the product's development. This concept is our contribution to ensuring that prosperity is distributed more fairly around the world and that people in developing and emerging countries are also integrated into the global economic cycle. We really appreciate having AL-KO Vehicle Technology Group's backing and support on this path," say Dr.-Ing Martin Šoltés and Dipl.-Ing. Sascha Koberstaedt, founders and managing directors of EVUM Motors GmbH.
"Quality and high value, and the durability and robustness of our products, have always been part of our corporate DNA. So the issue of sustainability is accordingly very close to our hearts as well. For example, in recent years we have experimented with different materials such as steel, aluminium and fibreglass – and drawn corresponding conclusions. For us, this resulted in a clear commitment to steel: from production to recycling, it has by far the best CO2 balance. With this in mind, we are delighted to be working with EVUM Motors GmbH and the aCar to contribute to greater electromobility, sustainability and environmental friendliness in the commercial vehicle industry. It is also particularly nice for us as a group of companies to have two other DexKo Global subsidiaries on board, Aguti and Sawiko," says Karlheinz Spägele, VP Sales Commercial Trailer & Light Commercial Vehicle.
You can see the aCar in action, from agriculture and forestry to commerce, industry and municipal work, in these videos. The green commercial vehicle's core data can be found here. The AL-KO Vehicle Technology Group recently presented the joint project with EVUM at the IAA Transportation trade fair.