Whether in snow or on black ice - how to drive safely with a trailer in winter
When it's snowing outside or black ice has turned the streets into an ice rink, the show must still go on for many of you: work has to get done and trailer and transport have to get to site.
Vehicle technology specialist AL-KO has put together some tips for you on how to drive and brake safely with a trailer despite snowy and icy conditions.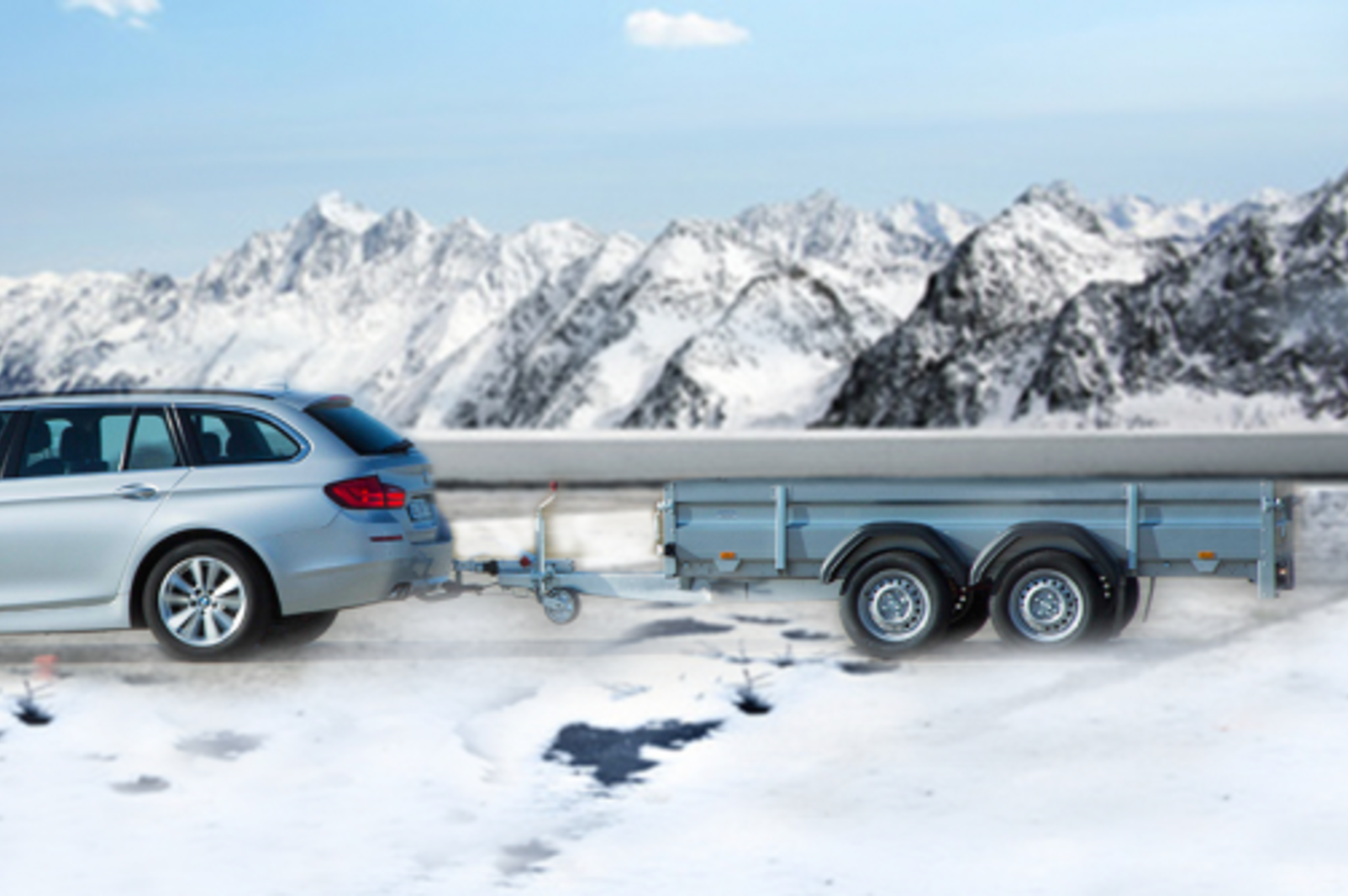 Why is driving with a trailer dangerous in winter?
Driving a vehicle combination is generally more demanding than driving a car without a trailer. During the winter months, manoeuvring a combination requires even more tact than under "normal" conditions: in dicey situations, e.g. on black ice, it is even more difficult to keep control of a heavy vehicle. Therefore, the first thing to do is to be especially sensitive when you brake and keep a bigger distance from the vehicle in front than usual.
Top tip 1: optimise the stability of the vehicle combination
According to road traffic regulations, you are not obliged to have winter tyres on your trailer, but we recommend putting them on nevertheless. This way, your driving experience will be not only safer, but also more pleasant.
To further stabilise driving response, you should retrofit your vehicle with coupling heads, for example the AKS 3004 or AKS 3504 from AL-KO.
The advantage for you: operating the stabilisation handle presses four special friction pads against the car's coupling head from the left and right as well as the front and rear. The stabiliser effectively suppresses any swaying and pitching, movements that occur more frequently on icy roads.
De-icer spray protects the hitch from freezing up
Before the first frost arrives, treat your trailer hitch to some de-icer spray. This way, the safety indicator, which signals whether coupling is correct, continues to be movable and does not freeze. If it is already frozen, the spray helps with thawing. When your trailer is not in use, protect the hitch from moisture and ice. For example, the various air-permeable, water-repellent weather protection hoods by AL-KO ensure optimum hitch protection.
Top tip 2: secure your cargo
As braking conditions are more challenging in adverse weather conditions, it is all the more important to properly secure the goods being transported. There is a range of different safety equipment available for this purpose, from nets to tarpaulins and through to lashing equipment, such as tension belts, ropes and chains. As a general rule, all securing devices must be in perfect condition. Please make sure to observe the relevant safety instructions in the operating manual. We have made a summary of all the important details in this regard for you here .
Top tip 3: take a longer braking distance into consideration
If the road is covered with snow, the braking distance for a vehicle without a trailer can quadruple. Therefore, you should drive more slowly and even more carefully. You can also add equipment to your trailer to optimise its braking characteristics. AL-KO Vehicle Technology has made decisive improvements to the braking technology on trailers with its AAA (AL-KO Automatic Adjustment) Premium Brake patented solution.
AAA Premium Brake: for increased safety when braking
Modern car trailers have what is known as an overrun brake. This technology means that as soon as the trailer starts running into the braking car, braking is initiated. The deceleration of the towing vehicle is transmitted to the drum brakes on the trailer via a brake rod and Bowden cables. The brake rod and drum brake must be readjusted on a regular basis so as to ensure that your brakes perform optimally at all times. If this is not done, the braking distance for the vehicle combination can increase.
To make sure that you are always on the safe side, get an upgrade with the AAA Premium Brake . If the brake pads have too much clearance, the high-performance brake makes the necessary correction through automatic self-adjustment. This protects the brake pads, ensures optimum braking performance over the wheel brake's entire service life and thus reduces the braking distance by up to five metres - a decisive advantage when driving with a trailer in winter.
Check your Bowden cables more closely in winter
Another aspect that you should keep a closer eye on in winter is your Bowden cables:
Trailer brakes should be able to do a reliable job come rain or shine, under all operating conditions. Any moisture penetrating the Bowden cables can lead to corrosion and freezing. A professional tip is to hang the middle of your Bowden cables high so that no standing water is able to freeze. If you feel unsure, you can have the height of your cables checked at a workshop and corrected if necessary. The ideal solution is to use special holders for axle Bowden cables as well as modern AL-KO Profi Longlife Bowden cables, which allow moisture to escape and permanently maintain brake system functionality.
If you find any white rust on galvanised chassis components, don't worry. This is caused by a corrosion process promoted by the effects of moisture, snow and de-icing salts in winter, but it does not generally mean that components are defective in quality. It can help if you wash off any winter salt solution on the trailer with water after taking a journey or if you clean the affected areas with a brush.