No room for risk - this is how you secure your trailer load
At least once a day, you hear the traffic announcement on the radio "Caution, objects in the road". A warning that shows how important it is to secure your load properly, as enormous forces arise as soon as it gets moving. The result: people and goods are in danger!
Did you know that even a crate of mineral water weighing only 14kg transforms into a flying object weighing almost 1,400kg in an impact at 50km/h? It's best not to imagine how bad the force of an object with a higher weight would be. This makes it all the more important to secure your load correctly. We're here to show you how to do it and what you need to pay attention to!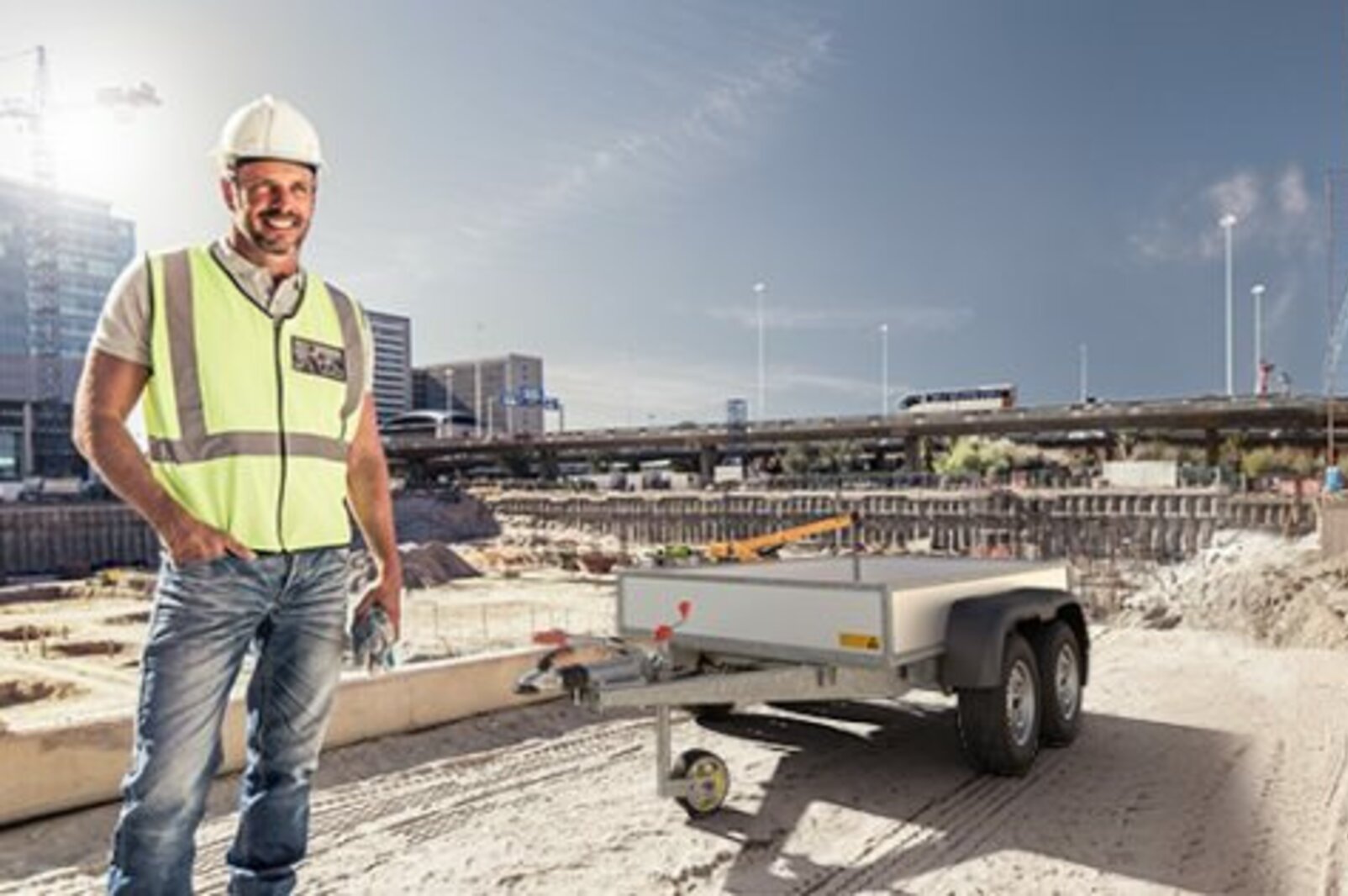 What the law says about securing loads
According to Section 22, paragraph 1 of the Road Traffic Regulations, the load, including load-securing devices and loading equipment, must be stowed and secured in such a way that they cannot slip, fall over, roll back and forth, fall down or generate avoidable noise, even during emergency braking or sudden swerving. In doing so, the accepted technical rules and standards should be observed. You are, therefore, legally obliged to secure your load against slipping and becoming detached. For the sake of completeness, we'd like to mention that this should be done before you set off on your journey as a matter of course.
Proper loading is half the battle
Properly loading your vehicle is essential for your safety as well as for guaranteeing the stability required during your journey. Make sure that your towing vehicle and trailer are coupled so that the trailer does not tilt sideways or move up or down. You should also use appropriate aids, such as wheel chocks or jockey wheels, and ensure proper load distribution with the lowest possible centre of gravity above the longitudinal centre line of your vehicle.
What can help you to secure your cargo
Tension belts, ropes, chains and more
There is a range of different safety equipment available, from nets to tarpaulins and through to lashing equipment, such as tension belts, ropes and chains. As a general rule, all securing devices must be in perfect condition. Please make sure to observe the relevant safety instructions in the operating manual. If you have even the slightest bit of doubt about any equipment, you should either replace it or use an alternative. Non-slip mats, which immensely increase load stability, also come in extremely handy, and edge protection can be used to protect delicate goods or lashing straps from sharp edges.
Securing with nets and tarpaulins
If you want to almost completely cover your load, you can secure it with a trailer net or flat or elevated tarpaulin. Both nets and flat tarpaulins are stretched completely over the side walls and are particularly suitable for light or loose goods, such as garden waste or sand.
If using an elevated tarpaulin, you'll need hoops to pull your tarpaulin over and then you can carefully fasten it down. This can increase the height of your load significantly.
Securing with lashing equipment
The most common type of securing equipment is lashing or tensioning straps. It is important to know how to use these correctly. Good to know: there are different ways of lashing to achieve optimal load securing depending on the model of your trailer. This depends on the position of the lashing rings or eyelets, which are located either on the corner profiles, floor panel or on the inside of the side wall.
As such, there are two possible methods or, if necessary, you can use a combination of both. On the one hand, you can secure your load by lashing it down. The goods are pressed as firmly as possible down onto the loading area with the help of at least two tensioning straps, creating increased friction to prevent slipping. If you attach the load to the vehicle directly using lashing equipment, this is called direct lashing. All forces arising during braking and acceleration are now borne by the lashing straps, which should be attached on each side.
It is essential that you always observe the maximum load-bearing capacity permitted for your lashing system.
Other safety precautions to be observed
Transporting heavy or bulky objects requires even more comprehensive safety features. Suitable securing equipment is just as obligatory as a professional body. Among other things, you should look for a low gross weight, low centre of gravity height and optimum suspension, such as that provided by the AL-KO hexagonal rubber suspension axle system.
For an all-round safety package, AL-KO, the specialist for commercial trailer chassis and accessories, offers numerous high-performance products, such as the AAA Premium Brake and the brand-new coupling heads AK 161 and AK 270.