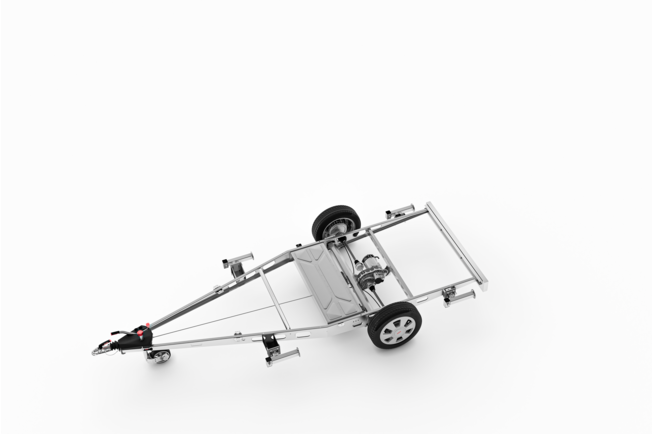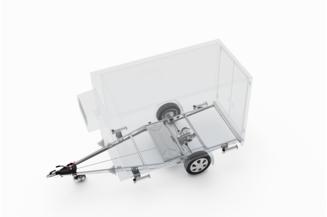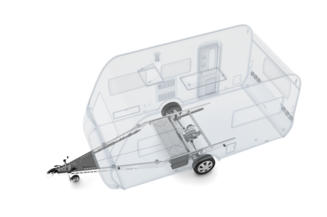 Description
Next generation trailer platform
The range of electric towing vehicles is greatly reduced when combined with a traditional caravan or trailer – in some cases by up to 70%. This would mean a reduction in range from an average of 500 km to only about 100-150 km. Our solution is an electric 48-volt drive integrated in the trailer chassis. This means a higher range can be supported. There are further advantages from the chassis-integrated drive:
Range support – less emission, more range
The 48-volt drive integrated in the trailer chassis actively supports the towing vehicle and thereby increases the range – regardless of whether it is a classic combustion or electric vehicle.
Downhill braking through recuperation
Thanks to the recuperation, which serves as a braking function, downhill braking when driving over mountain passes is more comfortable and more wear-resistant.
 X-TRA Charge Mode – Active Loading
The brake/overrun energy, which can be recovered by the recuperation function in X-TRA Charge Mode, actively charges the batteries installed in the trailer chassis. This energy can be used to support the towing vehicle, thereby reducing fuel consumption.
Anti-Snaking System – Torque Vectoring
An automated and sensor-supported electronic control system transmits safety-relevant data to the electric drive, which powers or decelerates the wheels individually. Sensors guarantee the shortest, situation-specific reaction times. This means that the caravan/trailer can be stabilised in dangerous situations without any action on the part of the driver. In addition, other factors such as the loading condition and environmental influences are taken into account in the analysis.
Trailer Park View Assist
Camera systems and intelligent environmental sensors enable easy parking of the trailer or caravan. Parking becomes a piece of cake, even without a second person directing you. Thanks to the Trailer Park View Assist, you can keep an eye on your vehicle and its surroundings. Be warned in good time of approaching obstacles, in order to prevent a collision with the trailer.
Manoeuvring function
A manoeuvring aid is integrated into the smart electric drive.
Self-sufficiency
Refrigerator, stove, air conditioning system, entertainment and much more can be operated self-sufficiently by the energy storage unit. You therefore do not need to worry about food in the fridge if the vehicle is at a prolonged standstill prior to arriving at the camp site.
Plug-in charging
In addition to the recuperation function, plug-in charging of the drive is also possible.
Your benefits – Connectivity functions:
Effective anti-theft protection by activating the electric immobiliser
GPS tracking for location
Visualisation of the vehicle combination's kilometres driven
Reading out of the battery charge status.
Next generation trailer platform